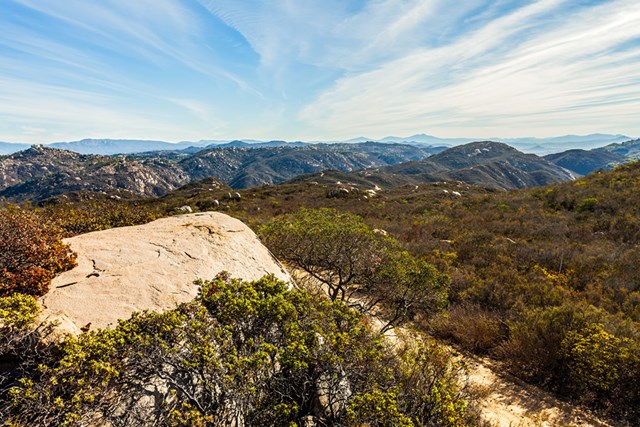 Introducing San Diego County's First Carbon Neutral Community
San Diego-based Newland Unveils Plan Making Sierra the New Green Standard for San Diego County. The Community will Respond to Climate Change through a Variety of Measures. Protects Natural Resources by Preserving 61% of Property as Open Space. Provides a Mix of Homes Instead of Big Box Development to Address San Diego County's Housing Shortage.
Taking environmental stewardship to a whole new level, San Diego-based Newland Communities today announced plans to create San Diego County's first carbon neutral community.
The proposed community, known as Newland Sierra, is situated just off I-15 and Deer Springs Road in the Twin Oaks Valley on the border with San Marcos. The property is currently zoned for 99 homes, as well as approximately 2 million square feet of office and commercial space, which is the equivalent of nearly two Westfield North County shopping malls.
Newland says it will implement an array of green measures to ensure that net emissions produced by Sierra are zero.
"Environmental stewardship is one of our company's highest priorities," said Rita Brandin, Senior Vice President and Development Director at Newland. "Now we're taking this commitment to new heights by creating a community that will have a net zero emissions footprint. We believe that Sierra will become the new green standard for sustainable communities in San Diego County."
Newland Sierra's commitments to become a sustainable community are unrivaled in San Diego County. They include putting solar panels atop every home, charging stations for electric vehicles in every garage, providing a community-sponsored shuttle with service throughout the community and to the Escondido Transit Center, and creating an extensive electric bike-sharing program across the entire community. More than 1,200 acres – 61 percent of the entire property – will be preserved and managed as permanent open space, plus an additional 210 acres of off-site open space will bring Newland's commitment to permanent open space to a total of 72% of the property's acreage.
ALL HOMES WILL BE POWERED BY THE SUN
Newland will require homebuilders to install solar voltaic systems (solar panels) atop each of the community's 2,135 homes across seven distinct neighborhoods. Solar will power everything from televisions to toasters, helping to reduce greenhouse gas emissions. Solar will also be used to power streetlights, as well as every community facility, including recreation centers.
ALL GARAGES WILL HAVE ELECTRIC VEHICLE CHARGING STATIONS
To spur the growth of electric vehicles, Newland will require homebuilders to include electric vehicle charging stations in every garage. They will also be installed at community facilities and in the Town Center. The sale of electric vehicles in the U.S. is projected to hit 41 million by 2040, representing 35 percent of new light duty sales, according to a 2016 report by Bloomberg New Energy Finance. In California, where automakers are being encouraged to develop more emission-free vehicles, Governor Jerry Brown is hoping to increase the number of such vehicles on California's roads to 1.5 million by 2025.
ELECTRIC BIKE SHARING PROGRAM
Newland will develop an electric bike-sharing program across the entire community. The program will include eight bike kiosks with 10-20 electric bikes each, making it the first largerscale community in San Diego County to commit to a significant electric bike share program. 
COMMUNITY SHUTTLE TO TRANSIT CENTER
A community-sponsored shuttle will be available to transport residents to and from the Escondido Transit Center where they can connect with the regional transportation system.
"This is an extremely ambitious undertaking and I applaud Newland for leading the way," said Rorie Johnston, President of the nearby Escondido Chamber of Commerce. "Not only will this reduce greenhouse gas emissions and protect our environment, it will go a long way towards addressing our county's housing shortage to support our growing economy and keep our region prosperous."
Today, only 28 percent of San Diego County families can afford a median-priced home, according to a study released last month by the California Association of Realtors.
"Many of us who live in the area are very excited about Sierra and all the amenities it will bring to our community," said Amber Hirmas, a resident of the Twin Oaks Valley. "With a new grocery store, a dry-cleaner and other convenient retail services, we'll no longer have to drive to other cities to run basic errands."
The property is currently zoned for 99 homes, as well as approximately 2 million square feet of office and commercial space, which is the equivalent of nearly two Westfield North County shopping malls. However, given the region's housing crisis, Newland believes the property is better positioned as a residential community to provide a diverse range of housing for first-time home-buyers to empty-nesters. Aside from the seven residential neighborhoods, Newland is proposing 81,000 square feet of community and retail services, which would include a grocery store, a pharmacy, a dry-cleaner and other desired amenities. When completed, Sierra will produce fewer peak-time vehicle trips than if the property was developed as currently zoned.
Today's announcement coincides with the County of San Diego's release of the project's Draft Environmental Impact Report. The 60-day public review period will give San Diego County residents an opportunity to provide their input directly to the County's Planning Department. For more information: http://www.sandiegocounty.gov/content/sdc/pds/ceqa/SP-15-001/NSDEIR.html
NEWLAND SIERRA PROJECT FEATURES
2,135 homes built across seven distinct neighborhoods
1,209 acres of permanently preserved open space plus an additional 210 acres of off-site open space bringing the total open space set-aside to 72% of the property
19 miles of multi-use trails, bike paths and pathways
36 acres of community and neighborhood parks
Community gardens to promote healthy lifestyles and foster community stewardship
Community-serving retail center of 81,000 square feet to include a grocery store and other much-needed retail services
A K-8 school site
Visit NewlandSierra.com to learn more.
ABOUT NEWLAND
Based in San Diego, Newland has been in operation for more than 45 years and has an unparalleled reputation for integrity, innovation and vision with its peers and customers. The company's experience includes mixed-use development, investment, asset management, and a diverse array of real estate advisory services. Newland has produced more than 140 diverse real estate developments across the United States, 20 million square feet of commercial and retail space, and more than 175,000 residential units that have been sold to builders.