Say "Houston" and people will think many things, some true and others rooted in myth. Like Houston is the nation's most ethnically-diverse city and one of the world's largest seaports (both true). Or that Houstonians all wear cowboy hats and boots (partly true, though you're as likely to see saris and sandals.)
One thing most would agree on: Houston isn't known as a particularly green city.
Whether that's actually true or not, Houston's image is intertwined with its status as Energy Capital of the World. But that's changing, too. The City of Houston is the nation's largest municipal buyer of renewable energy, and the Green Houston initiative is reducing greenhouse gas emissions through ambitious efforts such as adding parks, building bike lanes, and retrofitting older buildings.
One of the newest feathers in Houston's greener cap is the Elyson by Newland community, winner of Green Home Builder's "Community of the Year" award for 2020. Located on the edge of Houston's bustling Energy Corridor – home to more than 300 global and national companies – Elyson might seem like an unlikely winner of this prestigious magazine award. Read on to learn how Elyson is cultivating a new shade of green in a city and state best known for oil and gas.
A legacy dating back to 1898
Sustainability goes hand-in-hand with another Newland cornerstone: creating communities that respect the legacy of their land. Elyson's name honors Ely Freeman, one of the original members of the Freeman family, who first settled this land in 1898, two years after Katy's town was laid out a few miles to the south.
Like so many newcomers who continue to arrive in Texas, the Freemans left their old family home searching for a boundless new opportunity. Shortly after arriving from Centerville, Iowa, they built their first home at what is today near the geographic center of Elyson.
Over six generations, the Freeman family prospered, raising cattle and rice on the fertile Katy Prairie, until selling part of their land to Newland for Elyson.
Today, 21st-century pioneers are settling in Elyson in search of new homes and opportunities to live in the ways that matter most to them. Education is one of their top priorities, and Elyson was intentionally designed so that most of its single-family residential neighborhoods lie within the boundaries of the vaunted Katy Independent School District, regularly ranked as Houston's No. 1 area school district by Niche.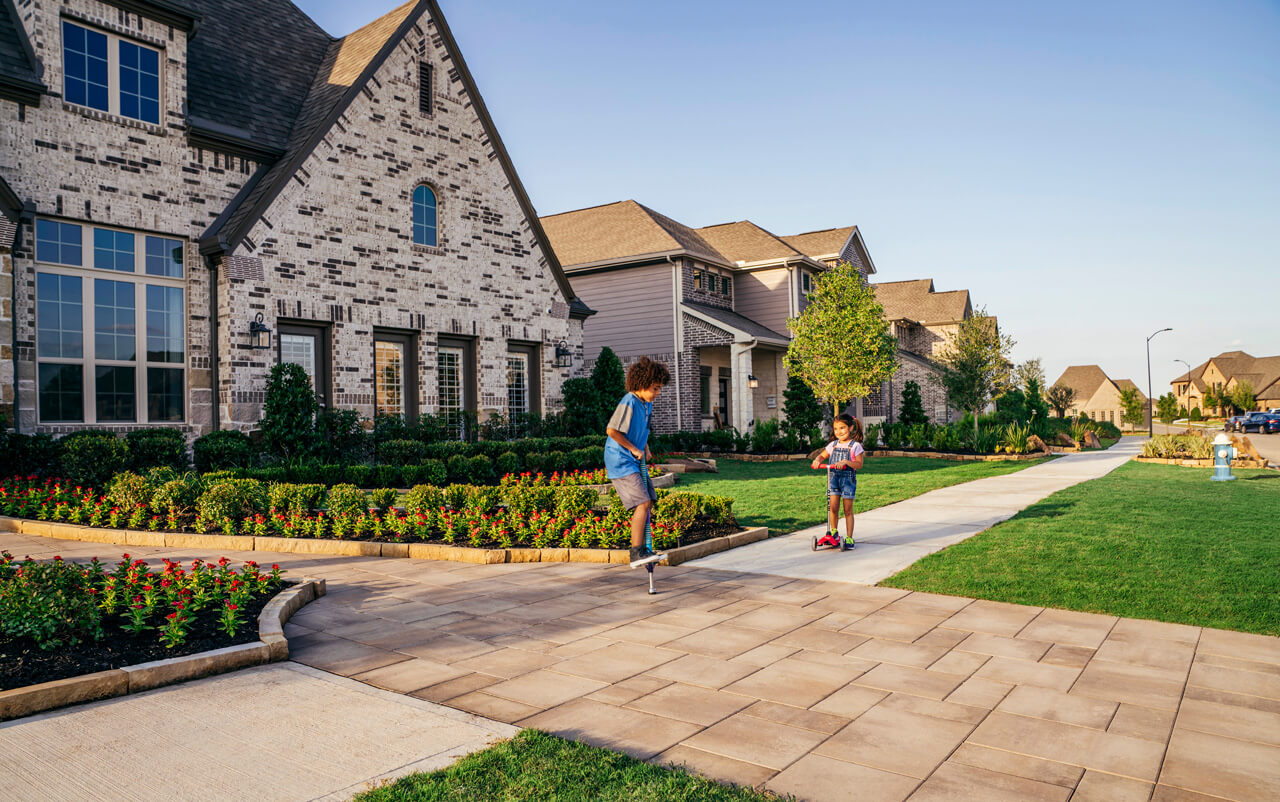 Building a Houston Legacy
Opened in 2016, Elyson by Newland is a community located in Katy, widely considered the most sought-after residential and commercial suburb in the vast Houston metro area, which covers more square miles than New Jersey.
That's just down the road from Cinco Ranch by Newland, a giant 8,100-acre community, which ushered in a host of "firsts" when it opened in the early 1990s, including the largest raw land deal in Texas at the time.
Now completed, Cinco Ranch consistently ranks No. 1 on Niche's list of "Best Places to Live in the Houston Area." Greatwood, a finished Newland community in Sugar Land, southwest of downtown, ranks in the top five on the same list. Also, in Sugar Land, Telfair sold out in a white-hot streak in the early 2000s.
In all, Elyson follows seven successfully completed Newland communities in the Houston area, making Newland a well-known name in the nation's fourth-largest city.
Fast-forward to 2020, four years after Elyson opened, and you'll find a thriving community with more than 1,000 completed homes and plenty of room for more families, with a master plan that calls for nearly 6,000 single-family homes, in addition to planned high-density residential areas.
Building on Houston's reputation as one of the nation's most affordable housing markets, Elyson thrives by offering new homes in a wide variety of styles and price ranges, from the mid $200,000s to the $700,000s. New choices such as patio homes, low-maintenance duplexes, and courtyard homes expand the community's appeal to buyers, including young Millennials and empty-nesters. At the same time, families with children continue to represent the majority of new residents.
Elyson opened its first on-site public school and first shopping center in 2020, and almost 500 acres of additional mixed-use and commercial development are planned for the future.
Recreation is a big part of the Elyson lifestyle, and with a vision for more than 750 acres of parks, lakes, amenity buildings, and natural open spaces, there's plenty of green. Residents will also be able to explore nearly 30 miles by the time Elyson is completed.
Reinventing the Prairie Style
The first amenity, Elyson House, set the standard for a close-knit community that looks to the past for grounding and inspiration for the future for growth and innovation.
As is the Newland way, Elyson House was completed before the first new homes were offered for sale, to provide future residents with a tangible taste of the lifestyle and amenities they can expect to get only better as development unfolds.
Working with Houston-based Studio RED Architects, Newland evolved a new architectural style for Elyson House – an updated and localized rendition of the classic Prairie Style, made famous by Frank Lloyd Wright and others.
With its broad-shouldered layout and strong horizontal lines, Elyson House hugs the surrounding landscape, with natural colors carefully selected to reflect the Katy Prairie's tranquil setting.
Echoed in its main entrance monument and other significant structures, the updated Prairie Style creates a unique and instantly recognizable look for Elyson. It will continue to evolve and create a cohesive look as Elyson opens two more major community centers and additional amenities in the near future.
Attention to detail is also painstaking inside Elyson House, decorated with repurposed materials from buildings that once stood on this land. Along with helping to ground Elyson in its history, reusing these materials prevents them from going to the landfill.
Wood panels from an old grain dryer create a striking ceiling for the fitness center, and corrugated metal from an old barn adds a touch of history to the Teen Room. Salvaged historic materials also decorate Elyson Café, a popular eatery that's also part of Elyson House.
Outside, Elyson House has an event lawn that's actively programmed with resident events, a playground, tennis courts, and a swimming pool that's open year-round to take advantage of Houston's mild weather. There's also a sprawling covered patio where residents gather to watch games on the big-screen TV and enjoy food from the café's walkup window.
Blazing new trails near Houston's Energy Corridor
While Elyson has a natural setting that is tranquil and relaxing, the location is dynamic and energizing.
Elyson was one of the first major communities to open along a new section of the Grand Parkway, Houston's third major freeway loop, connecting two of the region's major highways, I-10 West (also known as the Katy Freeway) and U.S. Highway 290 West (aka the Northwest Freeway). Now virtually complete, the 99-mile-long Grand Parkway is the nation's longest ring roadway.
Elyson is located along the Grand Parkway and is roughly midway between the Katy and Northwest freeways, appealing to residents who work in Houston's thriving Energy Corridor to the south, as well as in vibrant new employment centers to the north.
Situated along a 7-mile stretch of the Katy Freeway, about 15 miles from Elyson, the Energy Corridor is home to more than 300 companies with more than 94,000 workers, making it second only to downtown Houston as an employment center. BP America, ConocoPhillips, and Shell are just a few of the well-known companies anchored here. Many have launched significant efforts to develop renewable energies in addition to their traditional focus on fossil fuels.
The area has also become a prominent healthcare hub, with major facilities from Texas Children's Hospital, Houston Methodist Hospital, and M.D. Anderson Cancer Center. The University of Houston, a Tier One institution, has a new campus near Elyson that has been designated as a flagship location for engineering and nursing.
The Grand Parkway also connects Elyson to ExxonMobil's mammoth corporate campus to the north, which opened several years ago and will ultimately house up to 10,000 employees. Several families have already reported that they chose Elyson because the location allowed them to "split the difference" between one spouse's job in the Energy Corridor and the other's at ExxonMobil.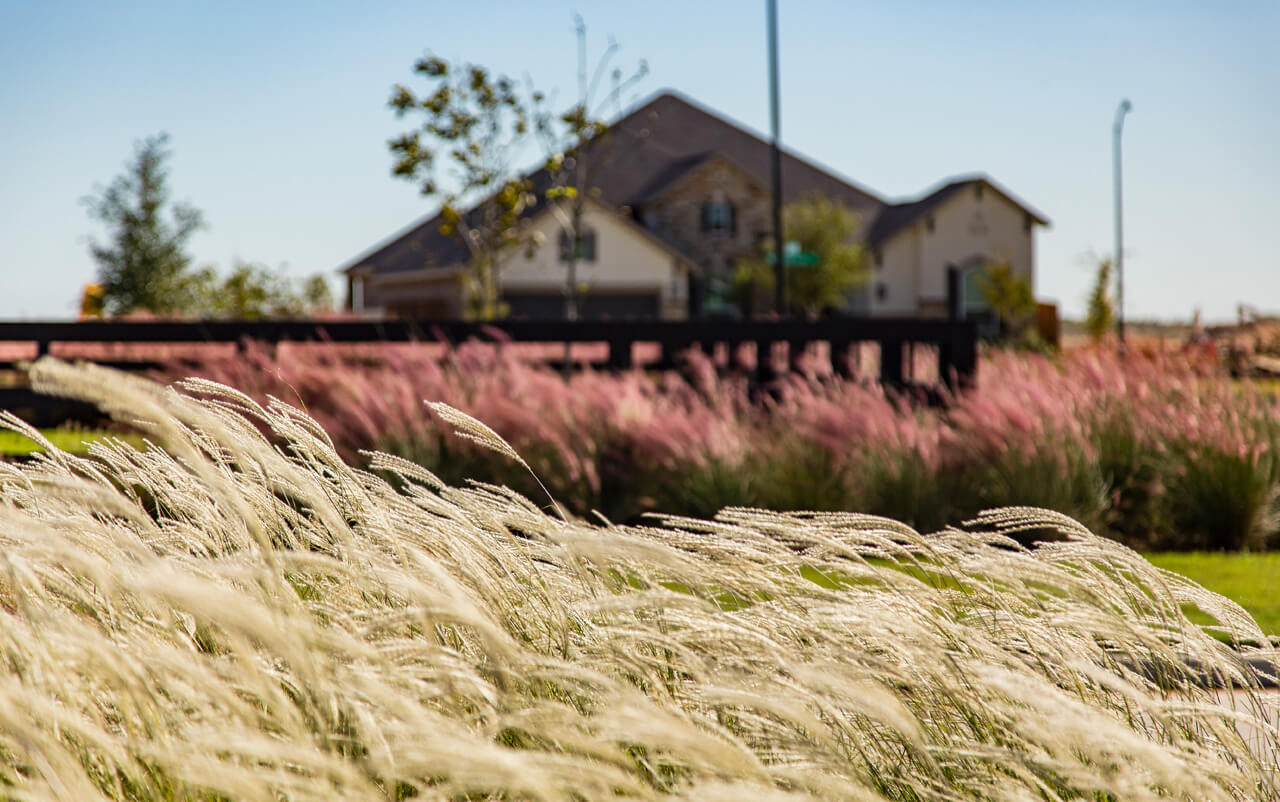 A model for sustainable development
There's no denying it: flooding is a concern in Houston, located on a flat coastal plain just 50 miles from the Gulf of Mexico. While this location has given Houston logistical advantages, such as the nation's second-largest seaport by total tonnage, it has also created challenges.
Elyson's conscientious design offers a regional example for how to balance growth and provide a wide range of new housing options in a growing major city while at the same time protecting properties from flooding, both in the community and in the surrounding area.
Look at the land plan of Elyson, and you see a lot of green space. In fact, more than 20 percent of the overall acreage of Elyson is earmarked for amenities and open green space.
This natural, undeveloped land will be preserved in perpetuity, essentially forming a "green ring" to collect and retain any overland flow of water that approaches Elyson. The system is designed to retain water until it can be safely released into area creeks and other natural waterways and eventually make its way past downtown Houston and into the Gulf of Mexico.
When not retaining water, these green spaces provide beautiful landscaped and natural areas for residents to admire as they drive through the community and enjoy parks and trails.
Scenic lakes, which provide additional water retention capacity during heavy rains, are also part of the plan for Elyson. In many areas, these lakes are lined with waterfront parks and trails highly used by residents, especially during this past year of social distancing.
Elyson commits to sustainable development includes planting thousands of new trees and enhancing the natural Katy Prairie.
As Elyson prepared to open, Newland transplanted more than 30 mature oak trees that needed to be moved to make way for utilities and other vital infrastructure. Most of the trees were planted around Elyson House to create an instantly established look for this new amenity.
"We couldn't stand the idea of losing these big trees, even though it would have been much less expensive to cut them down and plant new ones," said Heather Gustafson, marketing director for Elyson.
Elyson also has its own tree farms, which will provide about 9,000 oaks, elms, pines, and other species to plant along thoroughfares, trails, and amenities as the community grows.
Neighborhood orchards at Elyson invite residents to harvest pecans, figs, and citrus fruits as they enjoy the trails. Throughout its parks and common areas, Elyson embraces native Katy Prairie grasses and flowers for their natural beauty and because they are adapted to require less added water and fertilizers.
Homebuilders in Elyson are also embracing the latest green building and energy-saving practices, offering comprehensive water management systems, complete thermal enclosure systems such as Tyvek, energy-efficient lighting and appliances, state-of-the-art high-efficiency HVAC systems. The community's builders also include Low-E windows, LED light bulbs, and open-cell spray polyurethane foam (SPF) insulation in each of their new homes. Many Elyson builders are also leaders in smart home technologies, which offer added safety and security features and conserve energy and water.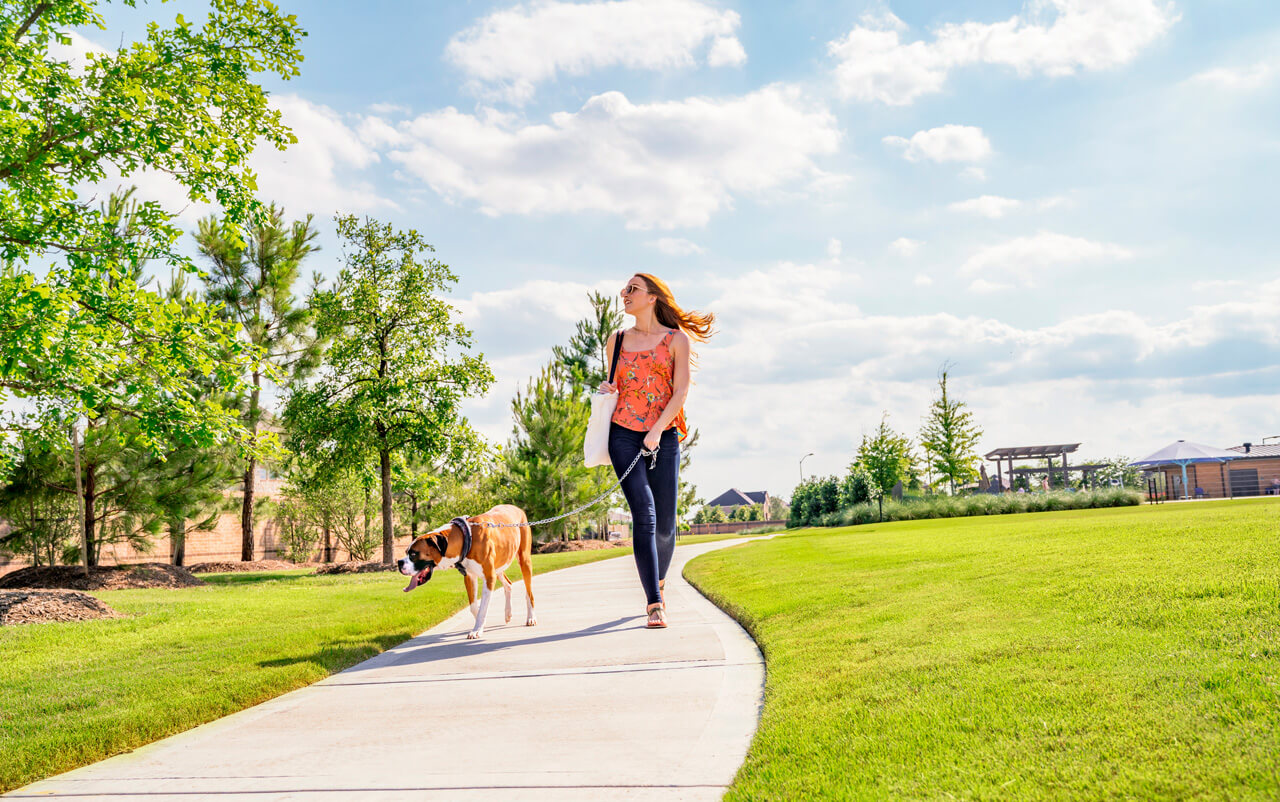 Looking to the future
What can we expect to see from Elyson in the future?
In the first half of 2021, Elyson will open a new model home village with 12 fully furnished model homes, a new welcome center, and a green space where visitors can relax and discuss their home-buying plans.
In 2021, Timber Grove Park will open near the model home village, adding a new fun destination for residents of all ages. Timber Grove Park will offer areas designed to bring adventure and discovery back to play for young ones, with timbers and boulders to clamber over, a hillside slide, and an open playfield. Adults will enjoy relaxing seating areas under large oak trees strewn with shimmering lights.
"Kids of my generation used to roam and play freely in nature. We want to offer our Elyson families the same kinds of opportunities today with Timber Grove Park and future amenities to come," said Rainer Ficken, vice president of operations for Newland, Elyson's developer.
Elyson is also planning a regional park that will include sports fields, a dog park, picnic areas, and an amphitheater for community events. It will also have a 1.5-mile loop trail that will meander through a field of native Katy Prairie wildflowers.
Meanwhile, according to U.S. Census Bureau data, Elyson continues to grow along with Houston, one of the nation's fastest-growing large cities.
A look through the stories of Elyson residents reveals a community as multifaceted as Houston, widely recognized as the nation's most diverse city. Rice University sociologist Stephen Klineberg has called Houston a "prophetic city on the cusp of a changing America." Bearing that out, Elyson residents have hailed from Latin America, the Caribbean, Europe, Africa, and all across the United States. Some have even moved from Cinco Ranch to start a new chapter in Houston's newest Newland community.
In a future that will be both green and diverse, Elyson and Houston are helping to lead the way.