The secret is out. Nowhere does culture, food, history, art, and an incredible landscape come together more elegantly and more impressively than Charleston, South Carolina area. And people are noticing.
Conde Nast's #1 City to Visit has seen robust growth, driven by big economic wins like Boeing, Volvo Cars, and all the related industry that follows in their footsteps. And with jobs, comes workers. Workers who need a place to live, educate their families, and enjoy all the booming Charleston region has to offer.
Positioned along a major interstate thoroughfare between the two transportation giants, Nexton is a mixed-use community that has been a major benefactor of this growth. Brent Gibadlo, Vice President and General Manager of Nexton, humbly admits there was a bit of luck involved in the community's timing.
"When the community initially got underway, Boeing was announced. Fast forward six years, Volvo Cars announce their first US-based manufacturing plant just a few miles from Nexton. In between, others like Mercedes, Bosch, and several tech companies have either settled or expanded operations within a short commute of our community."
The entire region has benefitted from this good economic fortune. But luck alone doesn't explain why Nexton, recognized as Best Land Plan by the PCBC, New Community by the Charleston Homebuilders Association, and recipient of the Charleston Chamber's Rockstar Award, stands out from an increasingly-crowded new home market.
That requires something a little more special, and of course, strategic. Nexton's universal appeal to homebuyers, retailers, and even economic partners began with a vision, a best-in-class team, and a dedication to building a community for how we live today.
Finding True North
Before the first office building, before builders were selected, before a road was lain, the team behind Nexton set a vision. But visions—well, they're a dime a dozen. So the Nexton team turned the vision into a series of cornerstones that would come to impact the big and the small decisions for the growing community.
"We have a true vision, but more importantly, we have cornerstones at the heart of everything we do. As time passes, I think these become even more important. We're continually making decisions. If you don't have guiding principles, it's very easy to get off track. Our cornerstones allow us to track back true north," Gibadlo said.

It's All by Design
Among the most important cornerstones at Nexton is thoughtful design. "To me, thoughtful design means taking the time to get things right. Design means more than how a home or neighborhood looks; it's how everything works together to make modern life more convenient and more fulfilling."
You find this interconnectedness throughout the community. Thoroughly walkable, Nexton's parks and greens spaces are connected via a network of trails and sidewalks, literally knitting the community together. Homes are positioned close to the street with big front porches that encourage neighborly interaction and spur-of-the-moment connections.
The location of Nexton Elementary School, the county's first to provide a digital learning device to each and every student, has also spurred unique experiences. It's located in the heart of Nexton's inaugural village, Brighton Park, and is accessible via trails and back paths. This convenience has inspired a "walking school bus" of sorts. Drive through before the bell rings to see little backpacks safely arriving at school together, led by alternating parents. You'll find the bike rack is also full; bike paths were among the street design's chief components, enabling safer transportation—and fun—on two wheels.
Connectedness flows through to Nexton's commercial areas. "Offices, stores, and restaurants address the street, with multipurpose paths that connect the buildings and the people who work in them. Community is really about people, and the best places are where interesting people have unique opportunities to interact with each other," Gibadlo says.
Variety and Choices
If you could ask Charleston residents what they wanted to see in a new community, what would they say? Brent can tell you. That's because a series of focus groups were integral in determining the cornerstones upon which the community continues to be built.
"People said that the communities they visit all look the same. They've expressed a desire for more authentic places, where they had more choices in home style and layout, but also in the way they live."
Today, Nexton has options for nearly every life stage and demographic. Del Webb Nexton caters to the 55+ active adult crowd. North Creek Village, a smaller entry-level community with two builders. Midtown offers homes from five different builders with a wide range of square footages and layouts, appealing to everyone from the first time home buyers to the empty nester. Nexton also offers a variety of townhomes and three apartment communities.
"The way people live today means something different to different demographics and stages of life. Single parents, multi-generational families, individuals, the conventional family of four, empty nesters, active adults into 80s and 90s—there's no sort of standard to our homebuyers," Gibadlo says. "It's challenging. We can't be all things to all people, so we chose partners who can."
Living more healthfully
"Wellness means more than just squeezing in a few visits to the gym per week or making sure you eat a vegetable now and then," Gibadlo says. "A healthful lifestyle should be built into a community."
And build it in they did. When complete, Nexton will include around 2,000 acres of parks and open space, providing ample opportunity—and variety—in the way residents can get in a workout or breathe in some fresh air. Thanks to the trail network and bicycle lanes, commuters who live and work in the community can take their bicycle; each office building is encouraged to have shower facilities on-site to accommodate bike commutes even during the steamy summer months.
Fitness-focused events also contribute to an overall feeling of healthy living throughout the community. "Events like the Nexton Cocoa Cup 5K and Commit to be Fit are the embodiment of how we think healthy living should fit into modern life: convenient, fun, and dynamic. When you enjoy a healthy lifestyle, you're more likely to stick to it," Gibadlo says.
At Nexton, what you put into your body is just as important as how often you move it. "We wondered, how can we get healthier produce into the community? So we partnered with a CSA (community-supported agriculture) farmer," he explains. Residents can join the Gruber Farms CSA program and receive fresh vegetables delivered right to the neighborhood.
"The HOAs in each village are big proponents and supporters of the Wellness cornerstone. That's where it really comes to life," Gibadlo continues. In Brighton Park, the HOA sponsors events like yoga classes. A Pilates studio is built into the amenity center at North Creek, and Del Webb Nexton has indoor and outdoor pools, several sports courts, and a state-of-the-art fitness center under construction.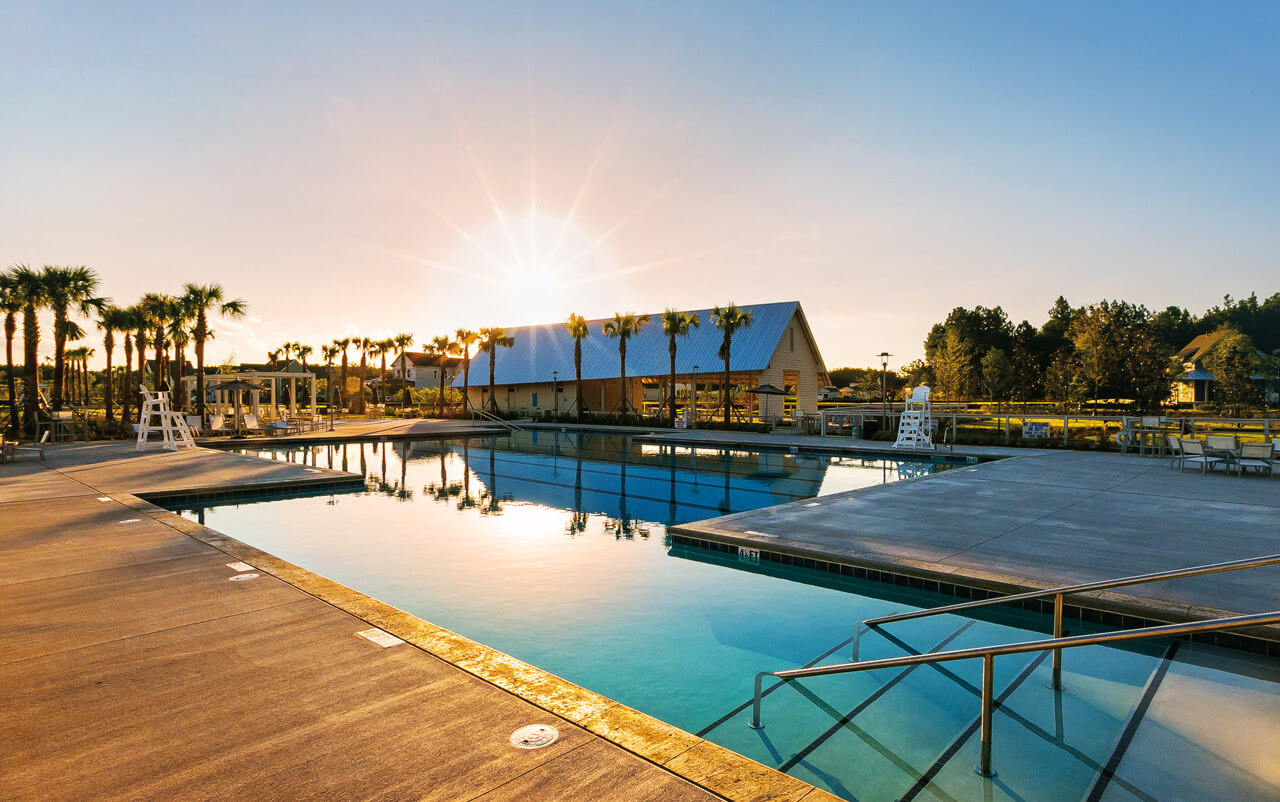 Where Learning and Innovation Collide
If there's a better, more sustainable way of doing something, the Nexton team wants to hear about it. "Being open to new ideas, continually learning, and getting better at what we do is what gets us up in the morning. Embracing innovation is of vast importance as we grow a forward-thinking community," Gibadlo says.
Early on, technology became a means of building a more convenient, more sustainable, and more rewarding community. Ideas like LEDs in street lights and implementing innovative ways to manage stormwater began to characterize the new community. In 2013, Nexton turned tech-talk into tech-walk, and became South Carolina's first Gigabit community, meaning every business, home, and school has access to Internet at speeds 100 times faster than the average.
For small and large business owners, the benefits of lightning-fast internet cannot be understated. For the Meade Agency, a video production company that opened a second office in Summerville in 2016, the technology isn't just convenient—it's essential. "It takes on average two to three hours per day, per video at the Florence office to apply and render video. It takes only two to three minutes for the same process using GigaFi at Nexton," business owner Kris Meade shared.
Nexton Elementary opened in 2015 with an innovative spirit. The Personalized Digital Learning initiative led to Rookie School of the Year award from the South Carolina PTA and awards from the MUSC / Boeing Center for Children's Wellness. It is currently the region's only Common Sense Digital Leadership School.
How We Live Today
If you could add a few hours to your day, how would you use them? Nexton was designed to give homeowners that time back.
"Time is the most precious commodity in today's world," says Gibadlo. "Our vision was to see people spending less time in their cars and more time with their families, enjoying their hobbies, or even working on the next big business idea," Brent says. 
To give Nexton homeowners and campus employees more time in their days, Nexton brought jobs, amenities, and conveniences closer to where people are living. "Lunch break, evenings, and weekends become infinitely more productive when everything you need is in close proximity—healthcare, grocery shopping, fitness facilities, and even retail."
At Nexton, it's not just where you live, but how you live that matters. "I want people to see Nexton and think we raised the bar for how people live, particularly in the Charleston region. If growth and change are inevitable in the Lowcountry, I want it to change in the best way possible. I hope Nexton can be a force in this region for building good communities."