Where Expansion Provides Opportunity
Nestled in charming Apollo Beach, Florida, Waterset sits just 12 miles south of downtown Tampa. Its proximity allows residents to seamlessly commute to this vibrant and award-winning city, which has racked up accolades such as the #2 Place to Live in Florida and one of the Top 100 Best Places to Live in the United States. Home to a vibrant downtown, steady job growth, and an appreciable climate, Tampa has its name firmly on the map as a top destination to live. Add in professional sports, excellent beaches, and a citywide appreciation for the arts, and it is clear why people of all ages are flocking to Tampa in droves – enough people, in fact, to rank Tampa as the 9th Fastest-Growing City in the US.
With three thriving Newland communities already established in the Tampa market -- FishHawk Ranch, Covington Park, and MiraBay -- it only made sense for Newland to continue to create exceptional places for people to live in Hillsborough County.
Additions to the south county region, affectionately known as SouthShore, since Waterset's inception have been countless and include restaurants and small businesses, both a hospital and a VA Clinic, and a new YMCA facility. Waterset has played a big part in this renaissance.

Where Families and Homes Come in All Shapes and Sizes
Part of Waterset's universal appeal is its expanding portfolio of award-winning homebuilders and a range of product offerings that appeal to a wide variety of homebuyers. Waterset residents live, work, and play in villas, townhomes, and a broad spectrum of single-family homes.
Home shoppers in Waterset also benefit from the host of advantages that come from working with high-quality builders: modern and convenient floor plans, state-of-the-art energy efficiency, and innovation that comes standard. From builders committed to exceeding Energy Star standards to DIY floor plans, Waterset's homebuilders offer contemporary solutions for today's homebuyers.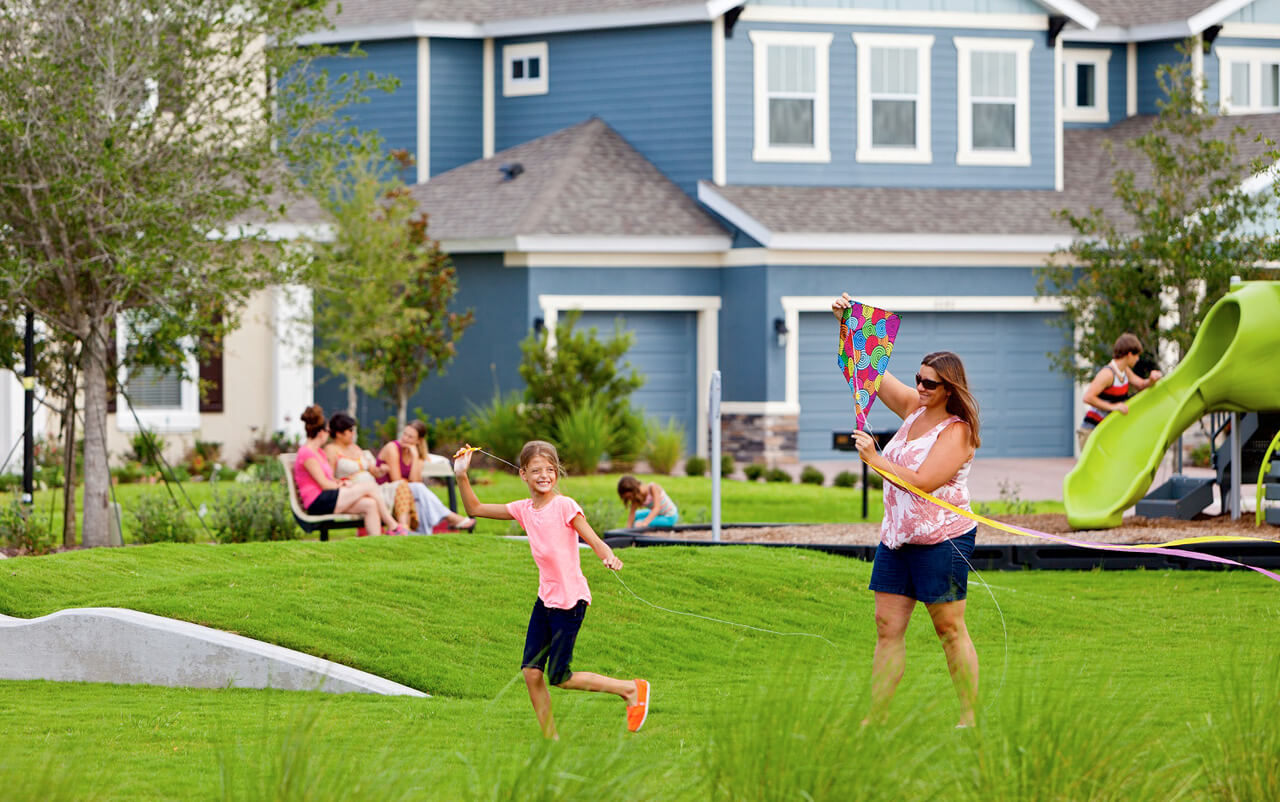 Where Connection Comes Naturally
The neighborhood's community clubhouse and social hub is The Landing Club & Café, the pioneer amenity that opened in Fall 2012. The Landing resides inside a stunning glass building that fully embodies Waterset's spirit of nature and inclusivity. Soaring windows provide an instantaneous connection to nature while welcoming visitors and neighbors alike. Even the name, The Landing, signifies the hospitable nature of life in Waterset: here, everyone can find a place to land.

The Landing Club and Café is just one of the many amenities that foster connection within Waterset. At The Lakeside, residents of Waterset and the greater SouthShore area come together for community events such as concerts and gatherings. Even pets are included in the fun at Waterset, with two dog parks and over twelve miles of trails. At The Waterset Club, residents of all ages enjoy various sports from basketball to pickleball, and friendly get-togethers aren't just encouraged – they're predictable.
In fact, those chance meetings of neighbors don't exactly happen by chance. Waterset has been carefully calibrated to promote community and unity between residents. Wide sidewalks encourage runners to partner up during their daily exercises. Thoughtfully-placed playgrounds and open green spaces inspire burgeoning friendships and imaginative fun. An on-site community café allows neighbors to connect over coffee or cocktails, depending on how the mood may strike. Each element in Waterset has been carefully designed to create a connected and convenient lifestyle for the modern homeowner.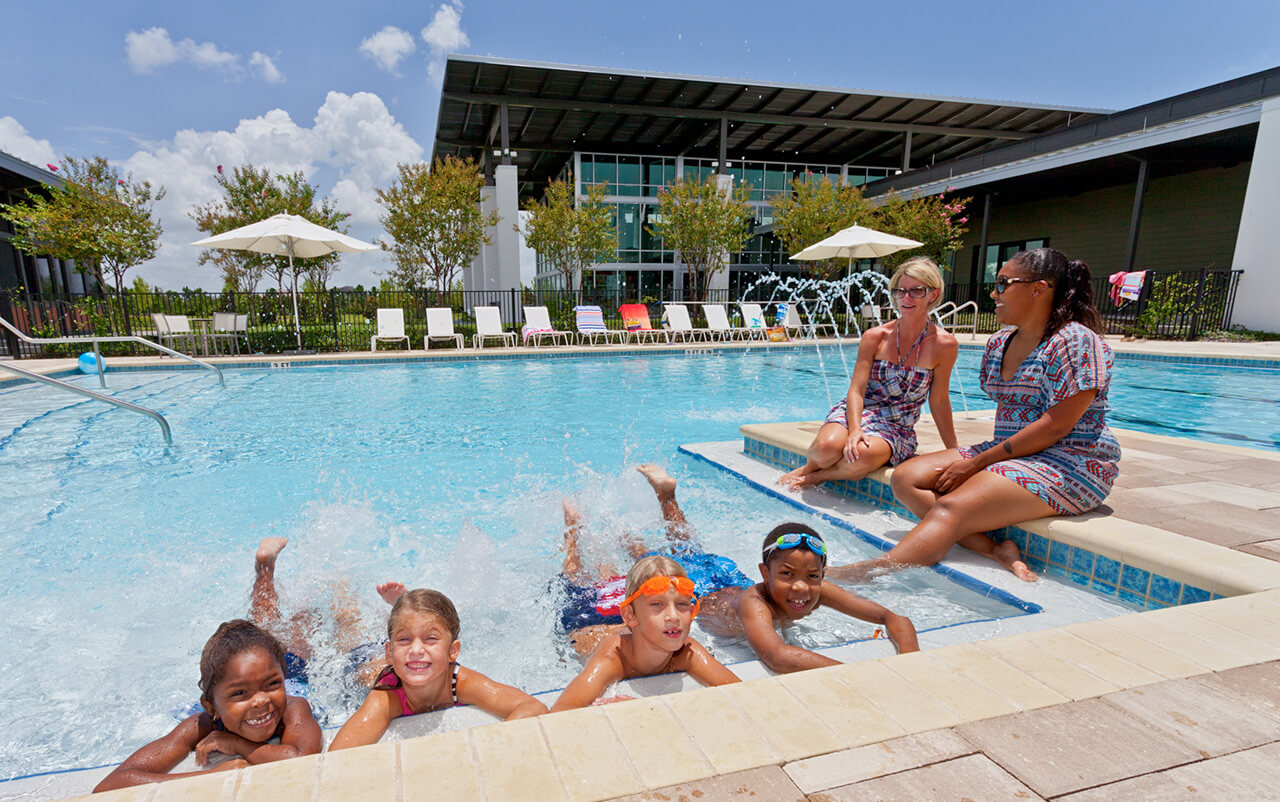 Where Neighbors Find the Unity in Community
In a community built on inclusivity and dedicated to the greater region's revitalization, it is no surprise that Waterset residents are committed to giving back and giving to each other.
Waterset has partnered with Feeding Tampa Bay from the outset. The popular Concerts 4 a Cause program, a tradition started in FishHawk Ranch and happily carried over to both Waterset and Bexley, brings together residents and SouthShore spectators and collects food for nearby families in need. The Thanksgiving morning Turkey Trot, now a tradition for many in the region, raises Waterset's local public schools' funds. Waterset homebuilders even host food drives and school supply drives of their own.
Of course, giving back and banding together aren't seasonal activities in Waterset. On any given day, you'll find neighbors helping neighbors – from assisting with household repairs to lending each other cups of sugar.
Where "Award-Winning" Is an Understatement
Just like the Tampa Bay in which it sits, Waterset is no stranger to awards. Only one year after its inception, Waterset won a Future of the Region Award for Excellence in Development and Infrastructure. Waterset is also a two-time winner of the Best in America Living Gold Award for Best Single-Family Community, 100 Units and Over, and a two-time feature on RCLCO's list of Top-Selling Master-Planned Communities.
Not just impressive accolades, this list of wins demonstrates Waterset's universal appeal and staying power in the competitive Tampa Bay market.
Where Future Connections Are by Design
As the future unfolds, Waterset remains positioned to innovate and adapt to the ever-changing needs of new homebuyers and current residents alike. Plans for the community include expanding education options, including the popular SouthShore Montessori School, with plans to grow to accommodate grades Pre-K to 5th and Hillsborough County, planning a K-8 Magnet School within Waterset. A 9.7 acre commercial property is proposed, giving residents access to shopping, dining, and everyday conveniences within their community. Likewise, a future Hillsborough County Sports Complex will allow all of SouthShore to come together for recreation.

One thing is for sure: Waterset will help shape the future as much as it is shaped by it. And we're welcoming that future like we welcome our new neighbors -- with open arms.