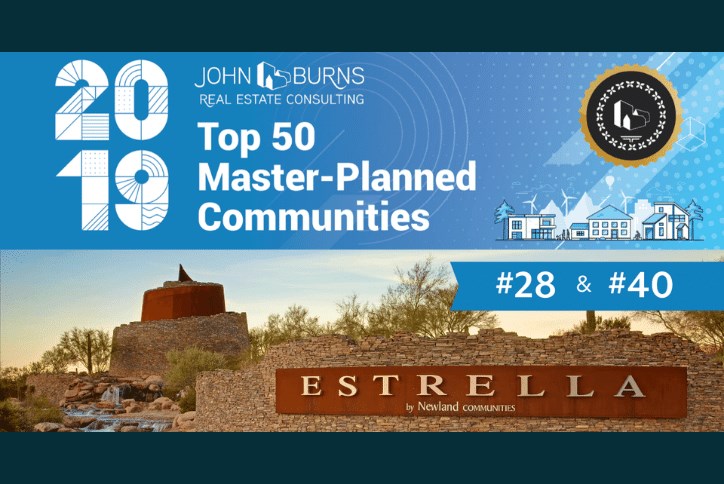 John Burns Real Estate Consulting Names Estrella, Bexley to Top 50
Newland communities Estrella and Bexley earned spots in John Burns Real Estate Consulting's  50 Top-Selling Master-Planned Communities of 2019. Winning communities that made the list sold at least 360 homes in 2019 representing a 13% increase from 2018. Phoenix-area Estrella placed 28th with 452 sales adding to the over 9,000 homes sold in the Southwest region. Three-year-old Bexley tied for 40th place with 401 sales in the Tampa market.
For the third consecutive year, Estrella has ranked among the Top 50 in the country. "While we call it a master plan, Newland has really created a special little town at Estrella, just outside of Phoenix," says Kenneth Perlman, Principal Consultant, John Burns Real Estate Consulting. "Embedded in the desert foothills, Estrella offers an 'escape' from the outside world that most master plans do not."
Perlman goes on to explain what sets Estrella apart, "With a diversity of housing product, Estrella attracts residents of all types from first-time buyers, to young and growing families, and retirees. Newland gives that diverse group the place to create their community with great amenities, shopping, and excellent schools. Our consumer research tells us that today's homebuyer values an active and healthy lifestyle, and Estrella has plenty of it including a 72-acres worth of recreational lakes, hiking and biking trails, and parks. I like the new Casa Lucero, where residents can hang out and grab a cup of coffee – and if they'd like, visitors can find information about the master plan. It reinforces the concept of 'community first,' and I think, represents the future of master plans."
Since opening in the fall of 2016, this the first year Bexley has achieved a place on the list of best-selling masterplans. "Newland has created a true multigenerational community in Bexley, located in the rapidly growing Pasco County in Tampa, Florida. Despite its location among a sea of masterplans, Bexley stands out with its cutting-edge amenity base and wide product offering, which enables the masterplan to offer a true sense of community for all its residents," notes Lesley Deutch, Principal Consultant, John Burns Real Estate Consulting.
Deutch continues, "Bexley residents can exercise on its unique trails (with numerous fitness stations along the way) or play in five parks all with a distinct character. They can also swim at the Bexley Club or eat and drink at the Twisted Sprocket Café. And with the addition of Del Webb Bexley, there are homes for buyers of every age."
Estrella and Bexley also made RCLCO's list of top-selling master-planned communities with two other Newland communities, Cinco Ranch and Telfair, named "Best of Decade" for appearing on their list multiple times since 2010.