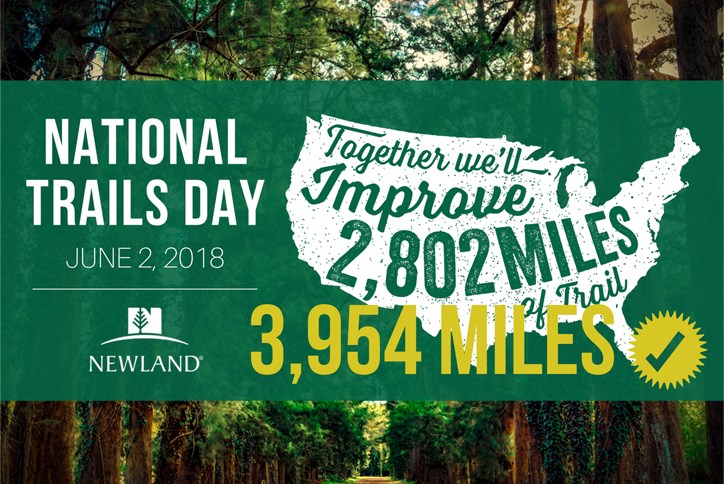 Happy Trails from Coast to Coast
Home shoppers, residents and Newland team members hit the trails for the first annual, multi-community celebration of National Trails Day.
Seven of our communities teamed up with the American Hiking Society to celebrate the 50th anniversary of National Trails Day on Saturday, June 2nd. Trails are an integral part of our communities, providing healthy living opportunities for our residents. That's why we invited residents, guests and Newland teams to rally together across the country to improve, clean up and enjoy our trails.
The annual holiday encourages people to discover and use their local trails, promotes awareness of the benefits that trails provide and instills excitement for the outdoors. This year the American Hiking Society had set an ambitious goal to improve 2,802 miles of trail—the distance across the US—and that goal was met by over 1,000 miles! Together we improved 3,954 miles of trails across the US. Our communities hosted trail improvement and cleanup sessions, guided hikes, scavenger hunts and more.
Here are some of the highlights of the #NationalTrailDay fun!
Residents and home shoppers alike were invited to experience our 10+ mile trail system in Canyon Falls. They were greeted with trail "koozies", family scavenger hunts and a Trail Mix Bar.
It was 108-degrees in Phoenix on Saturday, and a few brave residents joined us to build a new "Sidewinder" trail in Lucero, our new village opening next year. We have over 10 miles of trails going into Lucero, which is very exciting. Brings our total miles of trails in Estrella to over 50 miles!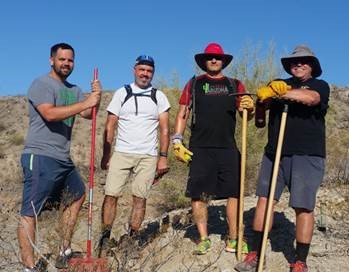 Nexton celebrated National Trails Day with a three-mile walk and a community concert. A little rain didn't spoil the fun for the walkers or the 750 people that enjoyed the rousing brass ensemble at Brown Family Park.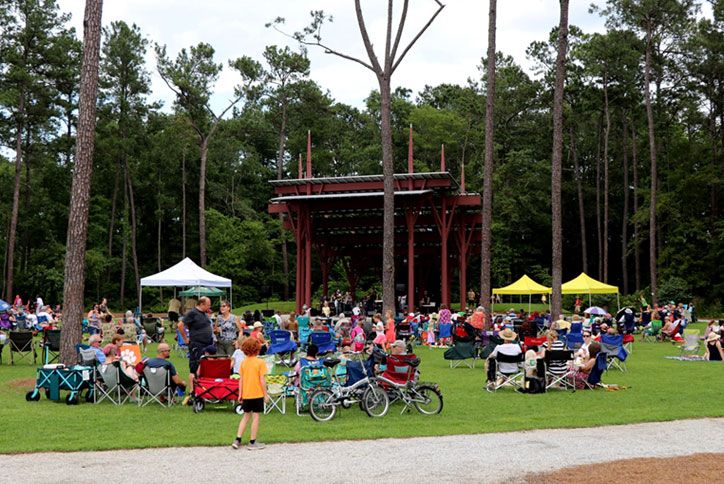 We had a pretty good turnout! Our trails were self-guided so our photographers followed a few people on the trails. Everyone loved the camelbak backpacks we gave out and enjoyed the healthy snacks as well. Most residents brought their entire family out…..including their furkids!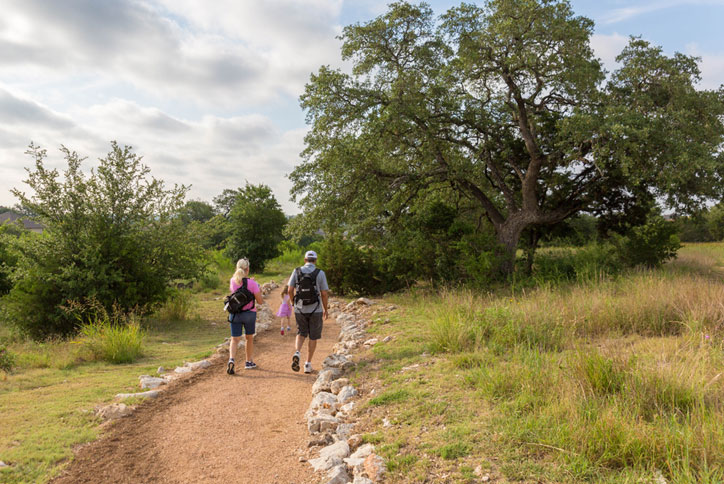 Our Parks and Trails cleanup day this Saturday went really well! As we were out there picking up trash, there were several groups of walkers, runners, and bicyclists that went past and they were all shouting "Thank you" to us. We started off with donuts and coffee at the info center, posed for a group photo, and then went out to designated areas where we collected about 35 bags of trash in total. We had our whole RiverLights team, some family members, several of our builders, their office mates, and residents all working side by side. Everyone was so pumped up and are already planning to do this again in September (queue requests for pizza & beer).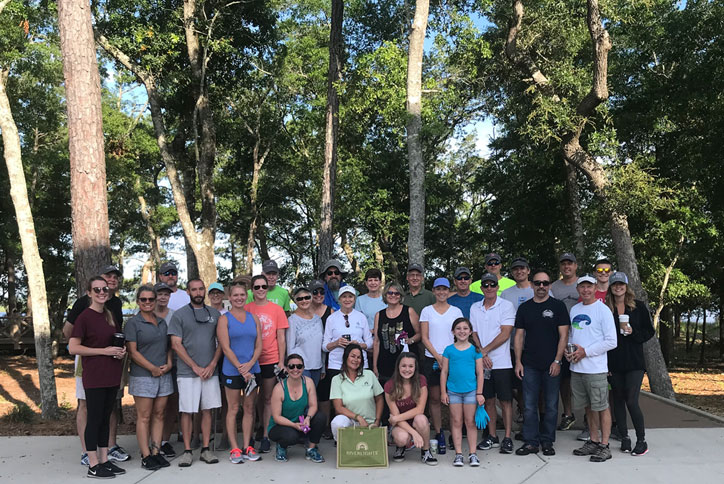 We had about 25 guests show up for the hike, all residents and a few Newland employees. We gave each participant a Newland camelbak and water bottle holder, a Sweetwater light up bracelet, as well as water, Gatorade and a variety of snacks, and of course a community trail map. We started our hike about 8:30 a.m. and concluded around 10ish. We were able to venture on several of the trails in the community, connecting from one to another. We received great feedback from everyone that joined us and we're proud Sweetwater participated in National Trails Day.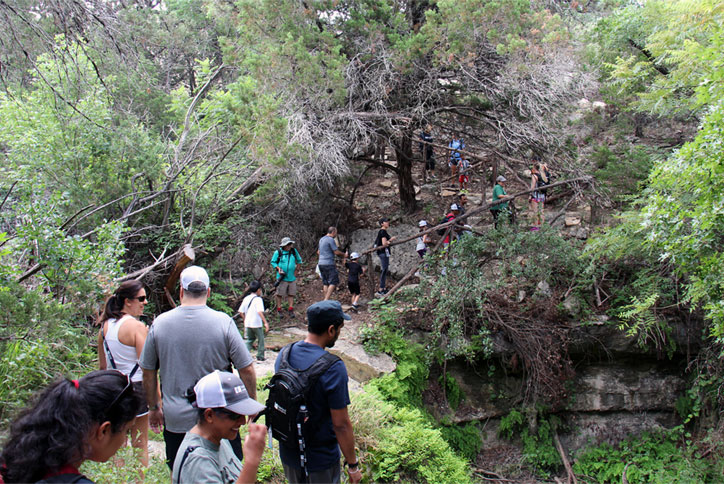 We set a community goal to explore 1,000 miles of Waterset trails. This was a BIG goal that we tracked throughout the day on our "miles of feet" poster at The Landing. We're happy to say we had over 100 walkers, bikers, and runners and our community logged 1,068 total miles – in just one day!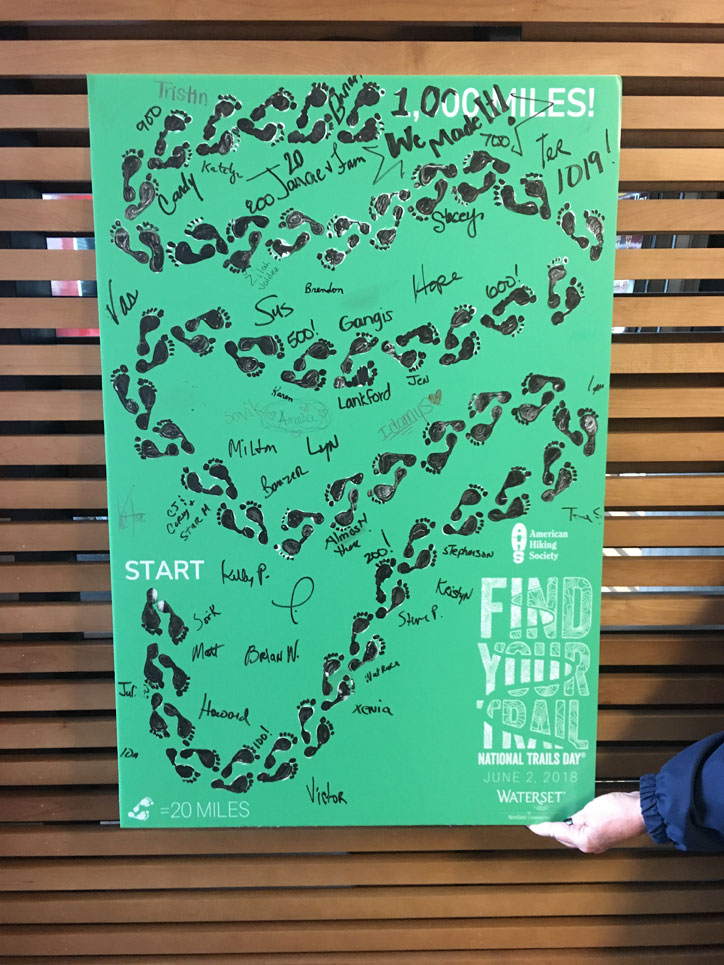 Another successful OneNewland event with happy residents and Newland team members! We are already making plans to celebrate National Trails Day again next year. Until then, we hope to see you out on the trails soon!