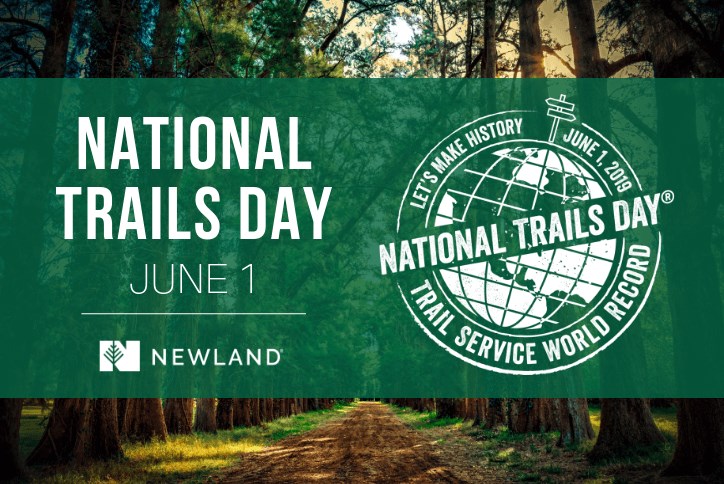 Newland Celebrates National Trails Day, June 1
At Newland, we love getting out on the trail! We also love creating new trails that contribute to the health and wellness of our communities. Between all of our communities across the United States, we have over 300 miles of trails! One of our communities, Estrella, in Arizona, just added 10 new miles of trails within their newest village, Lucero. With the addition of Lucero, Estrella now offers more walking paths, a BMX track, and hiking trails totaling 50+ miles with connections to the neighboring 20,000-acre Estrella Mountain Regional Park! They also provide beautiful hillside living with picturesque views of the Sierra Estrella Mountains. Hiking trails such as these speak to the health and wellness initiatives that we try to implement into each of our communities, nationwide.
For National Trails Day, we celebrate all of the work that goes into building and maintaining the trails we know and love, inside and outside of our communities. It's easy to forget that someone crafted every set of rock steps, paths, bridges, and more. That's why this year, the American Hiking Society is asking all of us to take a moment to think differently about the places where we hike.
At the American Hiking Society, the programs outreach and communications manager, Wesley Trimble, said, "It's so easy to get out on the trail without thinking about the people who have come before, who have advocated, built and maintained these amazing trail networks. There are a quarter of a million miles of trails across the country, put there by people like you and me."
Taking the 2019 National Trails Day Pledge
This year, the American Hiking Society asked that we all take the pledge to: "leave the trail better than you found it." They want us all to improve a trail somewhere. Improving a trail can be something as simple as picking up trash as you're hiking. The goal is to improve 2,802 miles of trail in a single day.
National Trails Day is a special day that unites the broader trail community behind a common cause of stewarding, celebrating, and enjoying our national trails system. As part of our OneNewland initiative, our communities will host and participate in events across the country with a collective goal of enhancing the quality and accessibility of our national trails for all.
Here's how Newland communities are celebrating National Trails Day:
Nexton - Summerville, SC
To celebrate National Trails Day, Nexton is holding an event called, Trails and Tails. This event is open to all residents as well as the outside community and invites everyone to get outside and explore the unique spaces in and around all of the Nexton parks, including their new dog park in Brighton Park Village.
Embrey Mill - Stafford, VA
To celebrate National Trails Day Embrey Mill is holding their 2nd Annual National Trails Day Scavenger Hunt. Families will receive a total of eight clues to a specific spot located somewhere on their trails. Residents will then need to go to each of the spots on the trails shown in the clues and take a photo or selfie. The clues are scattered throughout 10 miles of trails. Clues will be sent twice a week, with the last being June 13. The first for families who submit all eight of their photos after the last clue has been released will receive a $50 Amazon Gift Card! This event is open to all residents.
Canyon Falls- Northlake, Texas
Canyon Falls is celebrating National Trails Day with a whole day of wellness and trails! The Canyon Falls community is offering free wellness classes such as Fit4Mom, Strides360, and Camp Gladiator. The will also be a trail cleanup, scavenger hunt, trail mix bar, and more at the Canyon Falls Club. The first 200 residents to utilize the trails to get to Canyon Falls Club will receive a free smoothie!
Eagle Ridge - Spokane, WA
To celebrate National Trails Day, Eagle Ridge is planning a 3-mile run/walk on their trails to benefit the Ronald McDonald House Charities of the Inland Northwest. This event is for current for residents.
Waterset - Apollo Beach, FL
The Waterset community is celebrating National Trails Day by encouraging their residents and the surrounding community to explore their 12+ miles of trails (by foot or by bike) and then logging their miles at The Landing Club and Café. The community goal is to log 1,000 miles! Last year 1,067 miles were TRACKED!
Bexley - Land O' Lakes, FL
In honor of American Hiking Society's National Trails Day® on June 1st, the Bexley team is encouraging residents to get out on the beautiful Bexley trails! The community goal is to walk, run or bike 500 miles. Residents will track their miles, then stop at the Bexley Clubhouse to report their miles and add their name to the goal board. Every mile counts, but for those who walk 5+ miles, or run 3+ miles or bike 20+ miles will receive a special gift!
Wendell Falls - Wendell, NC
To celebrate National Trails Day, Wendell Falls is holding a trail clean-up event. This event is open to all residents to get everyone outside to explore and help their community trails.
It's essential that people who enjoy using trails take some time to help maintain and improve those trails during a time when there isn't always funding to support and maintain existing trails or to build new trails.
Look for National Trails Day events on the American Hiking Society's website and then find your perfect place at a Newland community and enjoy the miles of built-in trails.