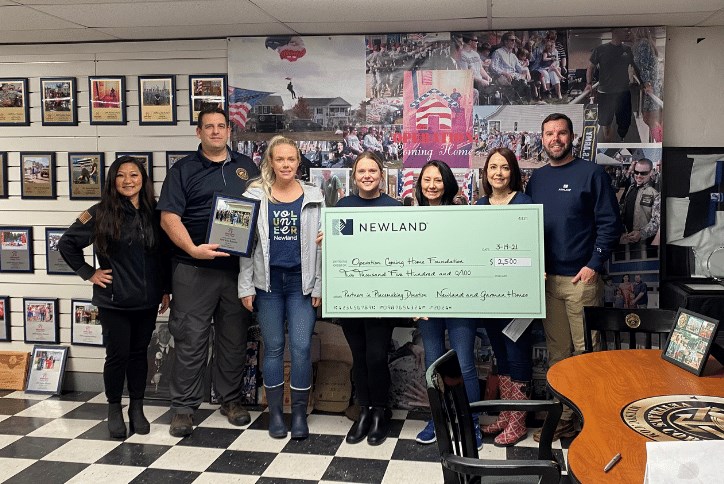 OneNewland Raleigh Team Volunteers for Operation Coming Home
When COVID started shutting down the country and adding meal insecurity to many first-time families, the U.S. Veterans Corps decided to step up. Rain or shine every Friday morning, they help with food distribution for roughly 500 families in Wake County and surrounding areas. Called Food Run Friday, the Raleigh Newland team volunteered to help sort and load boxes of food onto trucks at the Food Bank of Central and Eastern North Carolina. 
In addition to volunteering, Newland also made a donation for injured and fallen soldiers to the U.S. Veterans Corps: Operation Coming Home. In honor of Garman Homes' work spearheading the building of a home in Wendell Falls for a fallen soldier's deserving family, they were awarded the Robert B. McLeod Partners in Placemaking Award from Newland. The $2,500 donation was presented to Andy Ladner, President of U.S. Veterans Corps and Operation Coming Home. 
"We are grateful for this generous donation which will help take care of our veterans and honor our troops," says Ladner. "Operation Coming Home brings hope to those injured in combat and even families of fallen troops. OCH is successful thanks to caring organizations and individuals such as Garman Homes and Newland that continue to show gratitude to our military forces." 
More:
Robert B. McLeod Partners in Placemaking Award