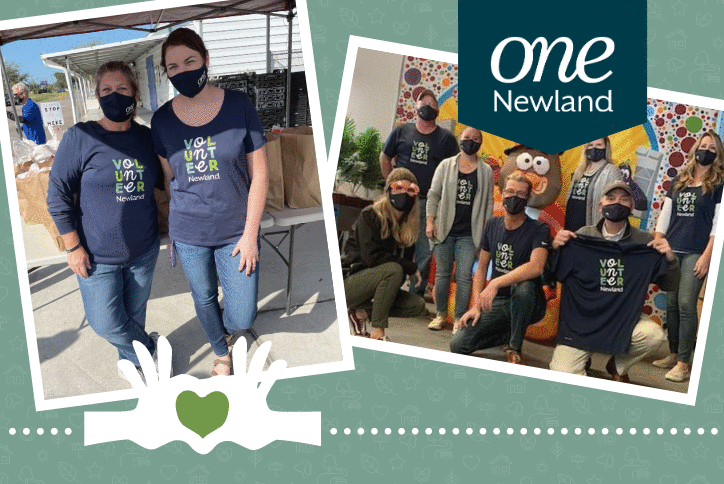 OneNewland Initiatives Channel A Community Give-Back Spirit
If ever our 'neighbors in unity' priorities were tested, it is during the COVID pandemic of 2020. But strength in unity in our communities prevailed as our team members rallied to spotlight local charities and bring awareness to caring causes.
OneNewland is just one way we contribute to our communities' well-being and share how we care. Thinking globally and acting locally, OneNewland invests in philanthropy at the community level with this year exceeding expectations to fight hunger, clothe the homeless, house the veterans, and provide children with toys and playrooms.
Much Needed Clothing for Homeless
Estrella by Newland partnered with HomeAid Phoenix to provide much-needed socks and underwear to help those battling homelessness by hosting the Seats & Feet Underwear & Sock Drive to collect new underwear and socks for those in need in the community. The goal of raising 30,000 pairs of underwear and socks was surpassed, with 48,000 pairs donated to help neighbors impacted by homelessness.
Serving Veterans Who Serve Us

Newland community support for veterans is particularly strong. For a deserving Navy veteran in Embrey Mill, wounded while serving, a basement playroom was the perfect pre-holiday present for his children. Selflessly passing on a man cave, this dad worked with a designer to deck-out the bottom floor with an indoor treehouse, climbing wall, and swing for year-round, weather-proofed fun.
The Embrey Mill team also worked closely with S.E.R.V.E., a local food bank in Stafford, VA, to put together food boxes for those that serve. 
Paying respect to those who gave their lives while serving their country is particularly meaningful during the holidays for our Estrella team. Wreaths were placed at gravesites, and the biographies of those that had been killed in the line of duty were read as a part of the honor paid through the Fallen Heroes Wreath Program AZ. 
Making a Case for Children at Christmas

Two of Newland's 'mamma bears' in our Houston regional office volunteered to 'shop' the toy donations for deserving children for BEAR – Be a Resource for C.P.S. Kids.  BEAR takes donations to help caseworkers supplement the needs of children placed in the care of child protective services. At Christmas, the warehouse overflows with gifts for children of all ages, and volunteers are needed to select items to fulfill the children's wish list! 
Further north in Texas, Dallas-area The Grove Frisco team and residents paired up to bring joy to the children of Dallas and Fort Worth by hosting a Toys for Tots toy drive. The Grove Frisco team collected new and unused toys at the Orchard House and Information Center to ensure the area children have a toy for Christmas.   
Making Health and Wellness a Priority

The help of hospice services at a time when families may be most incapacitated was particularly important this year. Our human resources team participated in a COVID-safe drive-through event creating remembrance bags and candles handed out to families at the Elizabeth Hospice, providing medical, emotional, and spiritual support to children and adults facing the challenges associated with a life-threatening illness, and restores hope to grieving children and adults who are feeling lost and alone.
The Newland home office team also generously contributed and assembled special holiday gift bags for seniors through Meals on Wheels. The bags included personal care items, pens, paper, stamps, and needed things to say, "We Care." 
Our caring philosophy is contagious and compels us to build a better society, community, and planet.