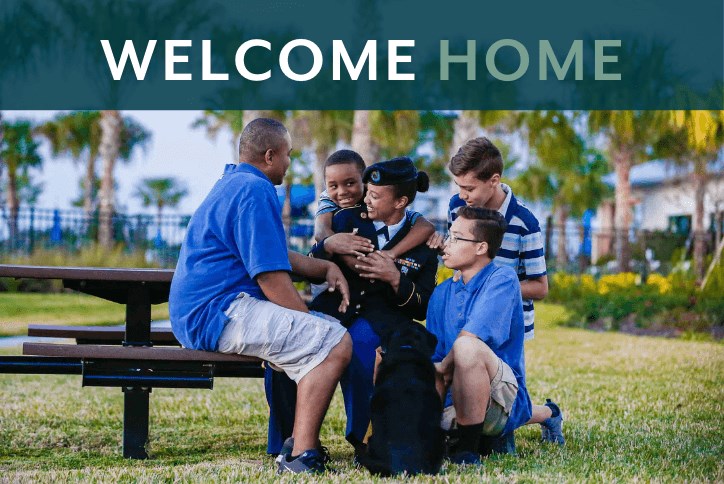 Newland Community Support Is Strong for Those that Serve Our Nation
There is something quite special about a person who selflessly decides to join the military and serve his or her country. And it is that extraordinary act that warrants a respectful salute by our Newland communities to honor military service with welcome home parades, scholarships, and even donating homes to the families of wounded and fallen soldiers.
Many of our Newland communities, home to active and retired military, facilitate a special kinship with their neighbors who serve. Community ties are strong and supportive for families of deployed service men and women as neighbors band together for food drives, lawn care, and events. For veterans, special bonds are formed through clubs and activities that keep connections long after their service has ended.
Welcome Home
The Tampa-area community of Waterset welcomed home a U.S. Navy Captain in a safe, drive-by parade. After 14 months of deployment in the Middle East and an additional 14 days of quarantine upon return to the states, Waterset neighbors lined the streets cheering, waving signs and flags, appreciative of his service. His wife and seven children waited patiently for his return creating a socially-distanced tribute that the Waterset community celebrated. With MacDill Air Force Base only 23 miles from Waterset, many active and retired military families call Waterset home.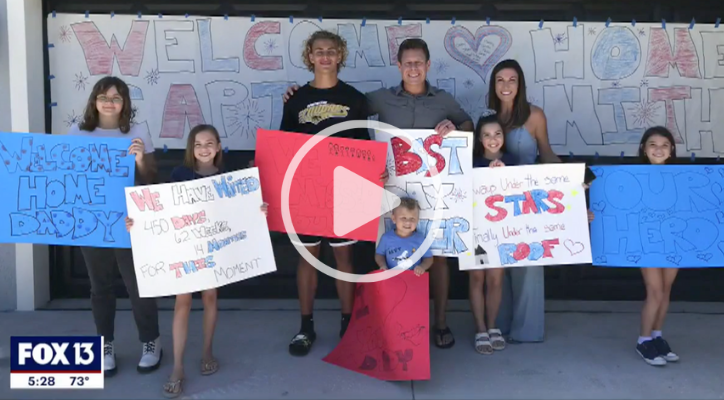 "Our military residents risk everything in order for us to enjoy our freedom. Since day one in Waterset, we've shown our gratitude however we can. We've implemented our Military Mow program, and you'll often find neighbors delivering meals to each other and celebrating homecomings," said Pam Parisi, Vice President, Marketing East Region. "Our current and former military residents may not be on base, but many have mentioned how the connections and support in Waterset is similar to that powerful, on-base sense of community."
Staying Active While No Longer Active Military
Several Newland communities are located near military bases making perfect home bases, for service men and women and their families.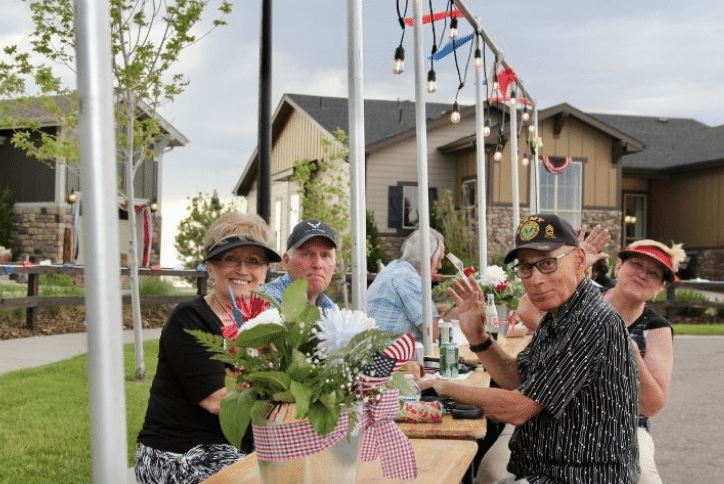 While proximity to a military base is convenient, having access to a supportive, active community is essential after service. The Newland community of Inspiration, located in Aurora, CO, has many excellent amenities for those who served and want to keep fit while being social. The Hilltop Club, which caters to active 55+ residents, has a pool, fitness center, pickleball, trails, and many social activities. And Veterans have their very own club at Inspiration where they can socialize, catch a football game, or enjoy events.
Our Communities Rally Around Our Military

From welcome homes to blood drives, Newland communities support those who serve. When buying a home, Newland community home builders typically have special offers for military families. Many of our communities also provide services for when our soldiers are deployed, like lawn service. Tampa-area communities of Bexley and Waterset say thanks through a Military Mow program that takes the stress out of maintaining the grass.
Embrey Mill, located in Stafford, VA, is near multiple military bases and installations, including Fort Belvoir, Quantico Marine Base, and Washington Navy Yard. Offering homebuilder incentives for the military and lawn care services, too, Embrey Mill also actively fundraises on behalf of its military residents. A recent cornhole tournament raised money for S.E.R.V.E. (Stafford Emergency Relief through Volunteer Efforts) and M.O.A.A. (Military Officers Association of America).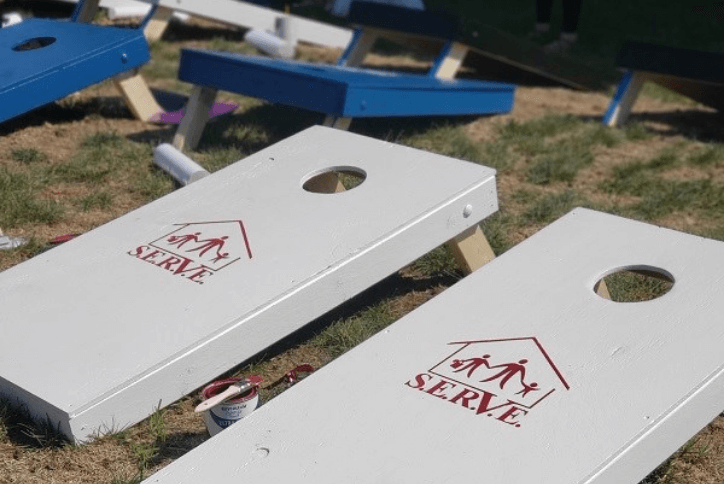 In Estrella, a Phoenix-area community near Luke Air Force Base, another partnership with M.O.A.A. is actively supporting R.O.T.C. students with annual scholarships. "We established a partnership with the Luke Air Force Base chapter of Military Officers Association of America more than five years ago. Part of their mission statement is to provide needed support to the surrounding communities and its members--a philosophy that aligns with the values of Estrella," explains Kimberly Banach, Marketing Director of Estrella. "Each year, Estrella contributes to their annual scholarship fund to help aspiring R.O.T.C. high school students attend the college or university of their choice."
Making a Home for the Injured and Fallen Soldiers Families
For military families that suffer the unimaginable loss of limb or life, a house can offer a level of security. Newland, along with builder partners and non-profit organizations geared to helping service men and women, provides mortgage-free homes to military heroes and their families.

Embrey Mill in Virginia, and Wendell Falls, located just outside of Raleigh, NC, have secured homes for military heroes in their communities. Through Operation Finally Home, a deserving family received a brand new, mortgage-free home in Embrey Mill, where homebuilders came together to make it a reality.
Dale Hall, vice president of homebuilder Miller & Smith, who led the process, said, "Such a big part of Embrey Mill is community. It has a large component of military families and government employees. This is the perfect community for a family."
Veterans Day 2020 marked the day when a fallen soldier's family takes ownership of a new home in Wendell Falls as part of Operation: Coming Home. Newland is incredibly honored to partner with Garman Homes, the U.S. Veterans Corp., and the Raleigh-Wake County H.B.A. as part of the Hero Home project.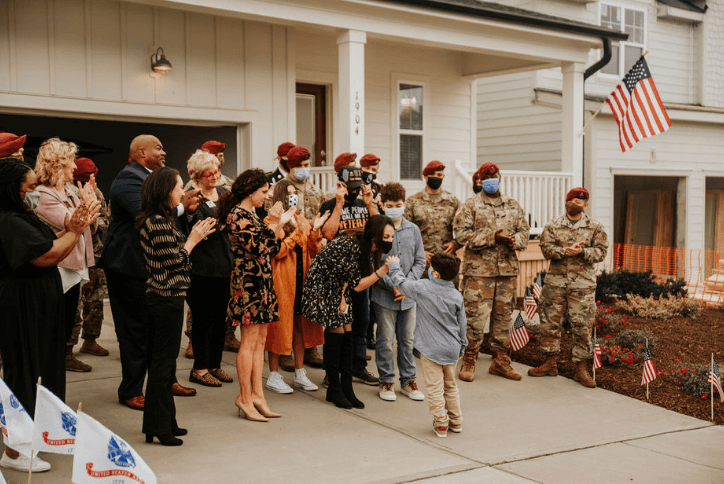 "We are so grateful for the impact Operation Coming Home makes in our community, and we are honored to be able to do our part to support our troops and their families," shares Newland Vice President of Operations Tanya  Matzen. "Growing up in a military family myself, I feel a special connection to the sacrifices our military personnel and their families make in service to our nation. Thank you for your service to ensure the great freedoms we enjoy daily.  We owe a great debt of gratitude to these heroes – the armed forces' men and women."
OneNewland: Building a Caring Community
From the moment a new family decides to make a Newland community their home, deployment of "get to know your neighbors" begins. Even during a pandemic, Newland neighbors unify to build a sense of community even while staying apart.
In Bonney Lake, WA, 30 miles from Joint Base Lewis-McChord, is Tehaleh, a perfect place for military families to call home. Enjoying time with family is precious for military personnel. This tight-knit community provides parks, trails, and activities for all to enjoy while taking in breathtaking Mt. Rainier views.
"Tehaleh is a comprehensive community designed to meet residents' needs, create community, and foster a deep connection to nature and each other," Scott Jones, Senior Vice President of Operations for Newland. "Close-knit communities are very important during a family member's deployment. Tehaleh holds regular community events to ensure that all homeowners have the opportunity to get to know their neighbors."
OneNewland – Giving Back Is Our Passion
Under our philanthropic umbrella, OneNewland, we engage the greater community to spotlight local charities and bring awareness to our causes. Thinking globally and acting locally, OneNewland invests in philanthropy at the community level. Our charities and causes are as diverse as the communities we build. Through OneNewland, our team members dedicate hours and resources to make a positive impact in a myriad of ways—from fighting hunger, saving natural resources, to promoting wellness, and rescuing animals, just to name a few. Our support of our military is one way we give back to those that give so much to us.