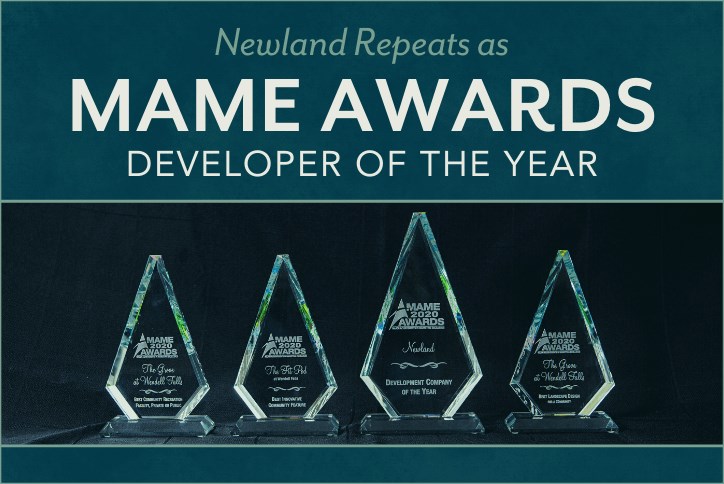 Newland Repeats as MAME Awards Developer of the Year
Home Builders Association of the Triangle (Raleigh-Wake and Durham, Orange, Chatham) hands Newland its second consecutive Developer of the Year at the MAME Awards.  The 2020 event was held virtually recognizing homebuilders and land developers, remodelers, real estate agents, and associates in the local home building industry.
Innovative Mixed-Use Community Development
Newland creates communities for people who care as much as we do about the connection between home, work, nature, shop and play. We envision from the ground up, committed to creating livable and sustainable developments for future generations to enjoy. Newland innovates and adapts to the changing needs of the families within our communities, the changing markets, our environment, as well as the unique influence of the local marketplace. Our communities build in lifestyle amenities such as trails, fitness centers, neighborhood centers, parks, schools, and much more.
Wendell Falls Wins More Accolades

A Newland community Wendell Falls, in Raleigh, NC, also took home three MAME awards. Known as having a small-town community vibe mixed with big-city urbanity, Wendell Falls won three "best" category awards for the Fit Pod,  community recreation facility, and landscape design.
See all of Newland accolades or catch-up on the Home Builders Association's 2020 MAME Awards. Learn more about our communities in the awards spotlight on the Wendell Falls and Briar Chapel news pages.