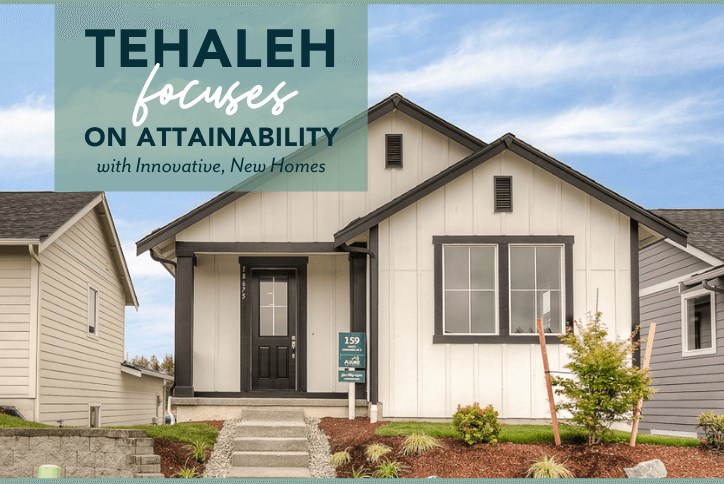 Tehaleh Focuses on Attainability with Innovative, New Homes
Washington's best-selling new home community, Tehaleh, teams up with the best local homebuilder, Azure Northwest Homes, responding to consumer needs creating one-of-a-kind, affordable, single-family homes in an amenity-rich community with picture-perfect views of Mt. Rainier.
New home designs by Azure Northwest Homes are the trifecta of house, community, and location in Bonney Lake, WA, where residents can enjoy open spaces—projected at over 1,800 acres — without sacrificing convenience.

Just 20 miles from Tacoma and 40 miles from Seattle, Tehaleh features a rustic-meets-refined Northwest-style of living popular for those looking to balance work-home life and enjoy outdoor activities. These new single-family homes by Azure Northwest Homes will appeal to those who are renting, wanting to right-size, or simply take advantage of lower mortgage interest rates to move into a newly-constructed home. 
It Starts with Listening to the Customer
Current headlines draw attention to rising home prices and the general lack of housing in the Seattle region. Prompted by growing families, or more recently, COVID, many who currently live in urban multifamily are seeking to purchase a single-family home or townhome with more space and indoor-outdoor living. Consumer research shows the consumer must-haves include a need for dedicated space for a pantry, functional laundry rooms that are close to bedrooms, and oversized garages for storage or other use, such as a home gym.
A competitive housing market and low existing home inventory have many pre-qualified buyers bidding up hard-to-find resale homes as rising housing costs compel people to stay in their homes longer. With a little over one month of resale inventory in the Seattle area at mid-year, there just isn't the inventory to prompt longer-term homeowners to move up and move out, leaving those looking to purchase a home for the first time with very limited options today.

Newland's Senior Vice President of Operations, Scott Jones, notes, "We want to meet the attainability demands of our homebuyers with the uniqueness and quality that Tehaleh and Newland are known for. So, we dug into how we could do even better and build a well-priced home that would appeal to a teacher, essential front-line worker, or those wanting to right-size their living choices."
Jones and the Tehaleh team spent months analyzing the research, intentionally reimagining home construction and seeking innovative, new designs and creative ways to build a home that meets the functional, budget, and esthetic demands of the market.
A Creative Partnership Built for Better
"Azure offers exceptional outdoor spaces and rooftop decks, oversized windows that give you picture-frame views, and innovative great room concepts that fit perfectly for how Tehaleh residents wanted to live," says Jones. "I approached the team at Azure, and we quickly aligned on this unique opportunity to really create something special for the customer, including the need for more attainable housing. The question was how we could stay true to the quality we're known for and meet the affordability requirements of the buyer."

Having worked with Tehaleh since its inception, Azure Northwest Homes Co-Founder, Isaac Stocks, was very familiar with the community. He was well aware of the need for more attainable homes and did a driving tour of an older section of Tacoma for some architectural inspiration. Prominent in the 1950s style bungalows and early 1980s tract homes was the split-level concept that is used mostly as crawl spaces to house the mechanicals. Stocks saw split-level design as a way to re-orient the home to save money on building materials, and subsequently as a way to keep the bedrooms cooler in the summer.
"It's pretty tough building something new in the under $400K price range. We had to think about housing differently," explains Stocks. "We knew a lot of people were tired of living in their 500-square foot apartments and wanted to move. They were also trapped and losing in bidding wars for older, less functional existing homes. Could they find a brand new home? They felt that would be out of their range."
Stocks and his team set to work on floor plans that not only considered what consumers were asking for but also took advantage of all that Tehaleh had to offer—including Mt. Rainier views. They came up with two-and-three bedroom contemporary homes with modern, clean kitchens and stainless steel appliances that are exactly what home shoppers wanted. Adding in a garage, a covered patio, and a laundry room helps homeowners with more space, access to the outdoors and picturesque views, and a place for their vehicle. Home shoppers were amazed that they 'could get all of this' in three different floorplans currently selling at $365,00, $379,000, and $399,000. 

"We reimagined the space, shifting the bedrooms downstairs with a one-half basement concept, and the cost savings could be passed along to the consumer," shares Stocks. "We'd use less lumber, which is always a cost challenge, and more concrete, where the costs don't vary as much. Prioritizing the garage, outdoor patio, and laundry room are aspects that are all very appealing to the people living in apartments—especially while in a pandemic."
Northwest Living in Tehaleh
Now, many home shoppers touring Tehelah are realizing they can afford a newly-constructed home in a mixed-use community rich with amenities. At Tehaleh, over 20 miles of trails connect the native forests, meadows, and wetlands where residents really connect with nature.

Twelve unique parks, open spaces, and native terrain provide the breathing space for picnics and playing with your dog.
The laid-back, Northwest vibe appreciates nature and how residents want to exist within it all under the watchful eye of Mt. Rainier. Sure, residents take pride in the mountain, maybe even a little ownership, but with home designs taking advantage of the views, who wouldn't be protective of that backdrop.
"People who visit Tehaleh already love the wooded, back-to-nature feel and are surprised to see that we have all of the creature comforts they had in the city," muses Jones. "We like to say Tehaleh is where 'rustic meets refined.' Now we can also say that the dream is doable, too."
Visit Tehaleh to learn more about the community and attainable Azure Northwest Homes. Use the convenient Homefinder to view floorplans, features, pricing, and lot locations. Estimate your mortgage with the handy calculator and set up in-person or virtual tours.