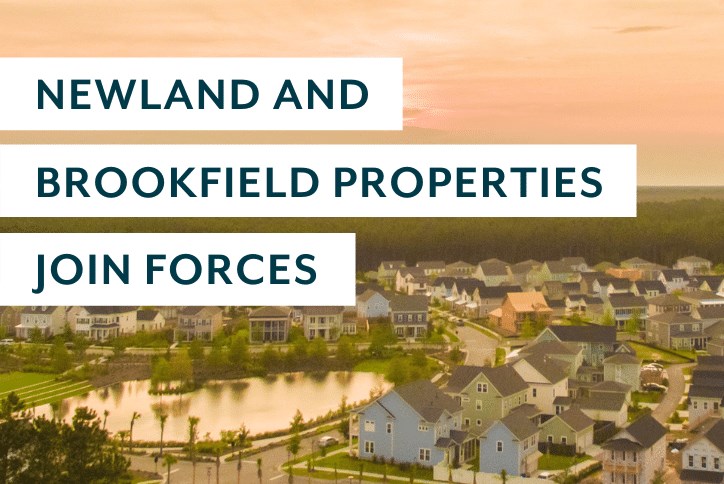 Newland and Brookfield Properties Join Forces
This is Just the Beginning:
Newland and Brookfield Properties Join Forces  
For five decades, we've created communities for people who care about the connection of home, work, shop and play. Today, we are thrilled to build upon that same mission as we join forces with Brookfield Properties and lay a new foundation of possibilities for the industry, our partners, communities and our amazing team members.
The joining forces of Newland and Brookfield Properties represents a momentous opportunity, one that is characterized by the widening of expertise, geography and talent, with a collective land development team representing more than 110 years between our two companies. Newland and Brookfield Properties share a vision of delivering high-quality, exceptional mixed-use places and communities for live, work and play, where consumers can build meaningful connections and live their best lives.
We now look forward to providing even more choices to consumers with coast-to-coast residential and commercial offerings and an extended geographic footprint now spanning: Atlanta, Austin, Charleston, Dallas-Ft. Worth, Denver, Hawaii, Houston, Greater Los Angeles area, Phoenix, Portland, Raleigh-Durham, San Diego, San Francisco/Bay area, Seattle-Tacoma, Tampa, Washington D.C. and Wilmington.
Our mission and incredible teams remain unchanged. Yet, we are now one of only a few select companies that have the breadth and depth of resources, enhanced capabilities, extensive geographic footprint and operational talent to successfully scale in the mixed-use area of the market.
None of this would be possible without our amazing team and we're thrilled to be part of the Brookfield Properties family. The possibilities are endless and this is just the beginning.