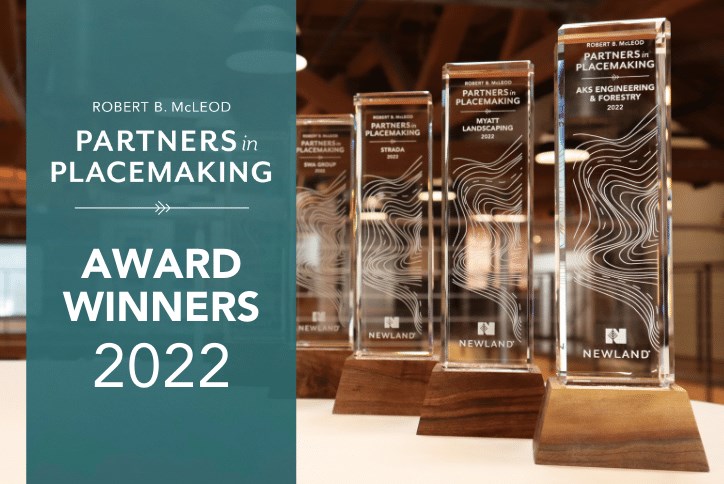 Meet Our Partners in Placemaking Winners
We are proud to announce this year's winners of the Robert B. McLeod Partners in Placemaking award. The Partners in Placemaking award honors our innovative partners and celebrates the legacy of Newland's founder Bob McLeod. Through their own brand of excellence, our partners have contributed to making our communities top-selling, award-winning neighborhoods for over five decades. The awards spotlight our partners' accomplishments and teamwork to design, problem-solve and enrich the lives of residents. This year's winners represent a diverse group of partners that have helped us create exceptional places and experiences where people connect, are inspired and thrive.
"Our incredible partners help bring to life our vision of creating thriving communities through their innovative ideas and talented, dedicated teams," states Bob McLeod. "These partners in placemaking are an extension of our team and are integral in creating exceptionally designed mixed-use communities."
The Partners in Placemaking award also includes contributions to community service and charitable organizations serving the needs of veterans, food banks and sustainability foundations. Acknowledging the collaborative work in community creation, the donations target local non-profits and community-based organizations with missions to improve the greater community and region.
Robert B. McLeod Partners in Placemaking Award Recipients
The award recipients include:
AKS Engineering & Forestry
AKS is the lead planning and engineering firm for Reed's Crossing in Portland, OR and has been fundamental to the community's success. With a team of local experts immersed in the community, AKS is part of why Reed's Crossing is desired by residents, sought after for its creativity and praised by professionals. Through close collaboration, AKS helps the community proactively problem-solve by incorporating modern design solutions and effectively applying resident feedback to influence future innovation.
AKS' contributions to the community's accessibility and sustainability included open-space pathways for all ages and physical abilities. The company also designed a 15.5-acre greenway park featuring pollinator gardens and a unique stormwater treatment facility designed to be a functional amenity. 
Myatt Landscaping
Myatt Landscaping is committed to the eco-friendly values at Briar Chapel and Wendell Falls in Raleigh, NC, adjusting its standard practices to rise above expectations and deliver excellent results. At Briar Chapel, Myatt Landscaping provided a polished yet natural aesthetic to 900 acres of open space containing parks, trails and public spaces, including the use of native stone. At Wendell Falls, the landscaping firm created a sense of "home" within nature, which includes a fishing pier, multiple scenic walking trails and community parks. In both communities, Myatt preserved natural forestry, including hundreds of acres of open space, waterfalls and indigenous habitats throughout the communities, and used only organic products.
STRADA
Strada is a long-standing strategic branding partner, responsible for the brand evolution of several community brands across the country, including Anthem, Canyon Falls, Elyson, Inspiration, Nexton, Sweetwater, The Grove Frisco and Wendell Falls. Strada's industry-setting approach was instrumental in uncovering each community's unique value and creating brands that resonate with changing customers.
With Strada's strategic guidance, Inspiration was awarded Community of the Year in 2019 by The Home Builders Association of Denver, and for the past four years made the top 10 list of best-selling communities in the Denver MSA. Nexton also benefited from Strada's expertise, winning numerous awards and being named the best mixed-use community in 2022 and the best master-planned community in 2021 by the National Association of Home Builders, the community of the year three times locally, winning the state's best master-planned community in 2020.
SWA Group
International landscape architecture, planning and urban design firm SWA Group took the Elyson community in Houston, TX to new heights with its innovative designs, including the 145-acre Elyson Commons at Bear Creek. Working alongside the community to create and execute a vision — and showing a mastery of problem-solving along the way — SWA Group provided an outstanding place where all residents can enjoy outdoor activities.
SWA Group's forward-thinking approach transformed a large portion of the land plan, which was previously designated for flood control, into a unique amenity with multiple activity areas, including a trail connection over a major drainage structure that is both safe and appealing. The 1.4-mile Wildflower Trail is now one of Elyson Commons' key focal points for resident enjoyment.
Congratulations to all the winners! We are proud to highlight the collaboration and innovation of our valued partners in placemaking.