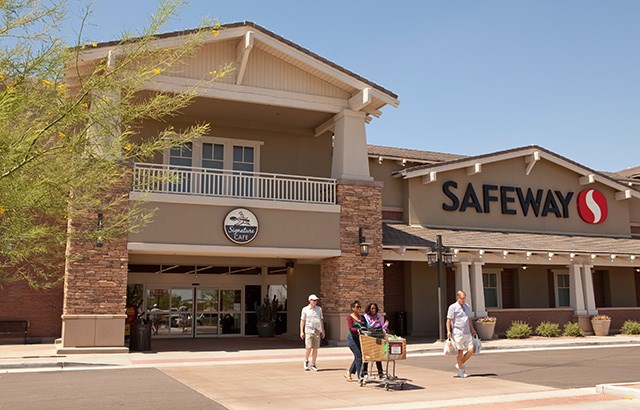 Mountain Ranch Marketplace at Estrella receives LEED Gold Certification

Goodyear, AZ – The Mountain Ranch Marketplace shopping center, a joint venture between Kitchell Development Company and Newland Communities, has received the designation of LEED (Leadership in Energy and Environmental Design) Gold certification for Core & Shell. Located within Estrella, an award-winning master-planned community by Newland, Mountain Ranch Marketplace is anchored by Safeway (scheduled to open in Fall 2010) and located on the northwest corner of Estrella Parkway and Elliot Road in Goodyear, Arizona. 
The Mayor of Goodyear, Jim Cavanaugh expresses his pride of the accomplishment and combined efforts of Kitchell and Newland Communities as he states, "As the first LEED Gold certified project in Goodyear, Mountain Ranch Marketplace has established a new standard that we hope all future developments in our city will strive for." 
"We are excited and honored Mountain Ranch Marketplace is the first neighborhood shopping center in Arizona – and one of the few in the United States – to be LEED Gold certified," says Chad Schubert, director of development for Kitchell, who handles leasing and overall management of the project. "This award represents leadership in the retail-development sector and is another example of what makes Estrella one of the premiere master-planned communities in Arizona." 
"LEED is the top program in the United States for the design, construction and operation of high-performance green buildings. The process for obtaining LEED certification is rigorous and requires a significant commitment from the entire project team," says Rob Schramm, design and construction manager for Kitchell. "Kitchell Development was fortunate to have a first-class design and construction team that was able to understand and execute sustainable design and building practices." 
To qualify, a project must accumulate points in six areas, including sustainable sites, water efficiency, energy and atmosphere, materials and resources, indoor environmental quality and innovation in design. 
Eighty-five percent of the construction debris – a total of 765 tons – was diverted from landfill and recycled. In addition, the project incorporates wood certified by the Forest Stewardship Council as coming from well-managed forests. 
Also among the many sustainable elements incorporated into the design are high-efficiency 15-SEER heating, ventilation and air-conditioning (HVAC) units; low-flow water fixtures and low-water-use landscaping; insulated low-emissivity glass; paints and adhesives with low levels of volatile organic compounds (VOCs); specially designed quality controls to help remove pollutants from storm water run-off; highly reflective roofing materials to reduce the urban-heat-island effect; and measures to reduce light pollution.
Beyond the environmental benefits to the community, the energy-saving features at Mountain Ranch Marketplace will provide tangible benefits for its retail tenants, such as lower operating costs, including a projected savings of 35 percent in annual energy costs, and a healthful environment for employees and visitors to the center.  
"At Newland we believe it is our responsibility to make a positive impact in the lives of our residents and in society as a whole. The development of Mountain Ranch Marketplace at Estrella has been a pioneering effort of innovation to support our goals in ensuring the highest standard of quality and value to our residents," says Greg Bielli, President of Newland Communities' Western Region. "We are proud of Kitchell and the entire design team for working so diligently for something so important to the continued sustainability of Estrella." 
At full build-out, the 22-acre shopping center will provide 165,000 square feet of grocery, drug, and retail space. The first phase will contain approximately 109,000 square feet. In addition to anchor tenant Safeway, a number of other retailers are locating in Mountain Ranch Marketplace, including Chase Bank, Walgreens, Phoenix Children's Academy, Papa John's Pizza, Great Clips, Estrella Family Dentistry, Estrella Homes and Land, SW Ambulance, Oasis Bagels and several others that are in various stages of lease negotiation.  
The shopping center is designed in the cottage-bungalow architectural style, characterized by low-pitched gabled roofs, rectangular composition and deep overhanging eaves. Signature elements include overlapping trellises, brick and stone accents, tapered columns, and open roof overhangs with exposed rafter tails and outriggers. Butler Design Group was the lead architect. Other members of the design and project team included Laskin & Associates Landscape Design; Paul/Koehler Associates, structural engineering; Kraemer Mechanical Engineering; McGrew Electrical Engineering; Kitchell Contractors; Double AA Builders; Quest Energy Group and AKA Green, LEED Consultants. Property manager Ana Spalding manages the property on behalf of Kitchell Property Management.