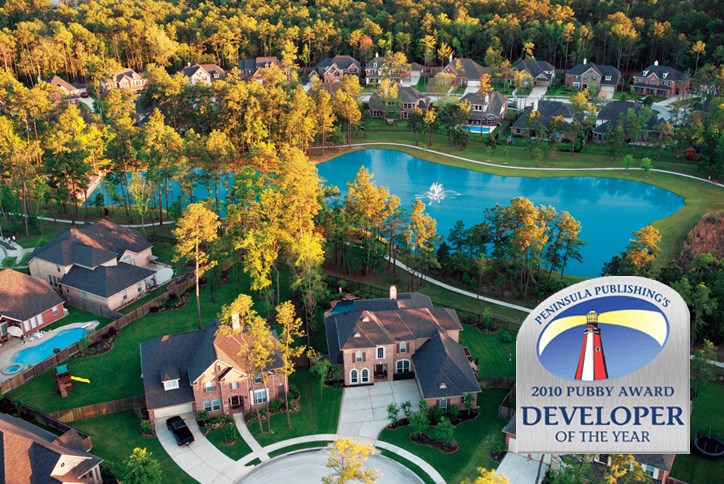 Newland Communities Named Developer of the Year for 2010

San Diego, CA – Newland Communities, the country's largest private developer of planned residential and urban mixed-use communities, is named 2010 "Developer of the Year" by Builder and Developer, a 20-year-old national business magazine published for the homebuilding industry.  
According to Kristen Eichenmuller, Editor of Builder and Developer magazine, this is only the second time in the award's history the award has honored a developer.  "Newland was the obvious choice for this award given the company's remarkable performance during one of the most economically challenging years in decades," said Eichenmuller. "Being a national company, they worked and were successful in many different markets, including having five of the top 15-selling communities in 2009," she continued.  
With 2010 home sales just completed, Newland expects the year will show to be a repeat of a very strong 2009. According to RCLCo, an independent real estate advisory firm that annually ranks communities in terms of overall sales, Newland Communities' Cinco Ranch was the No. 1-selling master-planned community in 2009 with 887 net sales.  Other Newland communities on the 2009 list included Telfair in Houston at No. 4 with 450 net sales; Eagle Springs in Houston at No. 13 with 206 net sales; Teravista in Austin at No. 14 with 174 net sales; and FishHawk Ranch in Tampa at No. 15 with 159 net sales. 
According to Bob McLeod, Newland Communities' chairman and CEO, geographic diversification is the foundation of the company's success.  "Several Newland markets, including Houston, Austin, Raleigh-Durham and Washington, D.C., are experiencing strong positive job growth, healthy inventory levels and significantly lower levels of foreclosures and distressed sales."
Newland boasts relationships with 100-plus production and custom homebuilders including D.R. Horton, Pulte Homes, Lennar Corp., Centex, K. Hovnanian Homes, Ryland Homes, Beazer Homes, and Meritage Homes, among others.   "We consider our homebuilders one of our greatest strengths," said McLeod.  "By partnering with quality homebuilders, we are able to fully focus on our primary expertise – that of community building," he said.  
Newland is expecting an even better year in 2011 in most of its key markets. According to McLeod, the company is in an active acquisition mode and is looking to acquire more projects in select locations. Current deals include launching a new active adult neighborhood at Estrella in Phoenix, continued growth of the 4S Ranch community in San Diego and a joint venture in Houston with Sekisui House LTD, the largest homebuilder in Japan.
"Understanding what our customers want is the key to our success," said McLeod, who has led the company since 1987. "Our team consists of dedicated experts in their respective disciplines who have created proven formulas for success in the various markets in which we do business," he said. "While we build on these best practices, we remain flexible as we identify and incorporate ongoing innovations and customer insights that take in regional differences. It's added value that sets a Newland community apart from the competition."