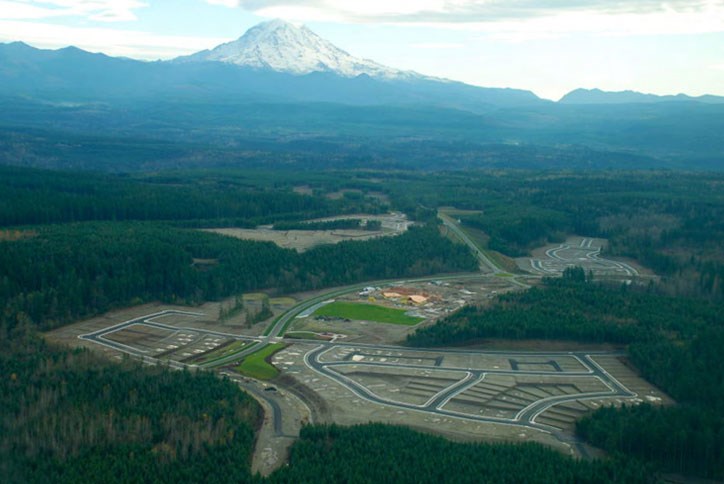 Newland acquires 4,218 acres of land from HomeStreet Bank

Seattle, WA – Newland Real Estate Group, LLC confirmed today that they have closed on the purchase of 4,218 acres (1,707 hectares) in the Seattle/Tacoma metro area of Pierce County, Washington, to be developed by an affiliate of Newland Real Estate Group, LLC.
Currently planned for more than 6,000 new homes, an employment center, and a variety of commercial and civic uses, this sale represents one of the largest remaining entitled master-planned community developments in the Seattle metro area and is a key component of Pierce County's urban growth plans. The project, currently known as "Cascadia," was acquired from previous developers through foreclosure by HomeStreet Bank in September 2010. HomeStreet selected Newland after considering acquisition proposals from a select group of developers of master-planned communities.
HomeStreet Bank President and CEO Mark Mason said, "We are very pleased to announce our selection of Newland to acquire and complete this project. Through the proposal and negotiation process we came to believe that Newland has the capability, respect for the land and focus on the community at large that is needed here.
"We understand how important this project is to Pierce County and to the state as a whole. We worked closely with county officials throughout the marketing process to ensure that the public's interests were appropriately addressed.  The employment-based community Newland will create will be of major importance to the Puget Sound area."
Pierce County Executive Pat McCarthy called it "great news" for the regional economy. "This development is poised to accommodate a significant amount of the county's future growth in housing and jobs," she said. "Pierce County has invested a great deal of time and effort into the planning and permitting of this project, and we are committed to its success. This community will be a jewel in the region."
Robert McLeod, Chairman and CEO of Newland, praised the project, stating that "Newland has a legacy in the Northwest we are very proud of, dating back to 1979 and our successful Fisher's Landing community outside of Vancouver, Washington. It became a catalyst for major area employers, with both Hewlett-Packard and Tektronix purchasing significant campus locations in our community. We expect this new community to become a catalyst for employment-based land use in this area of Pierce County as well."
Newland's mixed-use development business, Newland Communities, is one of the largest privately held land developers in the U.S., currently developing master-planned communities in 14 states. In the Northwest, in addition to Fisher's Landing, Newland Communities developed and sold out River Rim in Bend, Oregon, and is currently developing or entitling five additional projects in the region, two in Washington and three in Oregon.