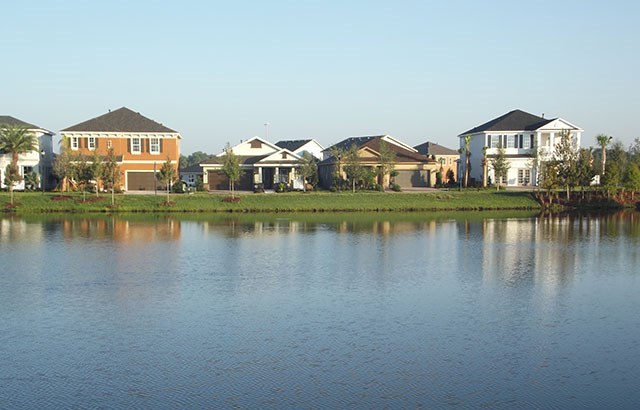 32 Homes Sold During Grand Opening of Waterset

Tampa, FL – On October 6, Newland Communities, the developer of the award-winning FishHawk Ranch community in South Hillsborough County, opened the new 1,300-acre Waterset community in Apollo Beach and announced that 32 homes were sold. Builders in Waterset's initial phase include Ashton Woods Homes, Cardel Homes, David Weekley Homes, and Homes by WestBay, all of which have built homes in communities developed by Newland in the Tampa market and around the country.  
The Waterset community is owned in a joint venture partnership between NORTH AMERICA SEKISUI HOUSE, LLC (NASH), the U.S. business unit and full subsidiary of SEKISUI HOUSE, LTD., Japan's largest homebuilder and leading diversified developer, and Newland Real Estate Group, LLC, whose development business, Newland Communities, is the master developer of the community. It is one of 30 communities the NASH-Newland partnership owns together in 11 states across the United States.
"This is the largest new home community to open in the Tampa market in more than seven years, and the crowd on opening day is indicative of the excitement Waterset is creating in South Shore," said Sandra Murman, Hillsborough County Commissioner.
More than 5,000 people attended Waterset's grand opening festival on Saturday, where nine model homes were featured along with 10 homes under construction and ready for immediate move-in. Homes are priced from $170,000 to the low $300,000s with home sizes ranging from 1,634 to 3,800 square feet. Many of the home sites offer extended back yards lined by conservation and ponds, and others will front on to community parks.
On grand opening, attendees also previewed Waterset's Greenway, the 12'-wide spine of the community's expanding trail system, which connects the many parks, play areas and natural areas, and which is also planned to eventually tie into Hillsborough County's Regional Trail System. The Landing Club & Café was also open for tours, featuring Waterset's welcome center and café, fitness facility, swimming pool, playground, screened pavilion and pier overlooking the pond. Waterset is also home to the South Shore Montessori Preschool, which is now enrolling students 2.5-6 years old.
"This was a huge success for us, and a long time coming," said Rick Harcrow, Senior Vice President for Newland's Southeast Division.  "The housing recession caused us to pause and wait on Waterset, giving us the opportunity to redesign the products and amenities being offered here to better meet the needs of today's consumers. With 32 homes sold already, clearly we think the effort was worth it."
Initial plans for Waterset include approximately 3,500 homes, including single-family homes and townhomes, and is planned to include schools, a Regional County Sports Complex, apartment homes and limited commercial space. 
About Newland Real Estate Group, LLC
Newland is a diversified real estate company leveraging a national platform and over 40 years of experience to perform challenging and diverse development, investment, management, and advisory services across a wide range of real estate. The company's mixed-use development business, Newland Communities, actively owns, operates and develops premier residential master-planned, commercial, retail, and urban mixed-use real estate across the U.S. Headquartered in San Diego, Calif., Newland and its affiliated companies have completed, or have underway, more than 140 diverse real estate developments, more than 20 million square feet of commercial and retail space, and 175,000 residential units in 14 states. 
About NORTH AMERICA SEKISUI HOUSE, LLC (NASH): NASH was established in 2010 as the U.S. business operations unit and a full subsidiary of SEKISUI HOUSE, LTD., Japan's largest homebuilder and a leading diversified developer since 1960. SEKISUI HOUSE, LTD. has built more than two million houses to date and expanded its operations to Australia, China, Singapore, and the U.S.  NASH establishes joint ventures to build innovative and sustainability-conscious master planned communities across the US. The Waterset development joint venture is one of NASH's consolidated subsidiaries in the US. NASH is headquartered in Arlington, Virginia.  http://nashcommunities.com/  SEKISUI HOUSE is headquartered in Osaka, Japan. https://www.sekisuihouse.co.jp/english/