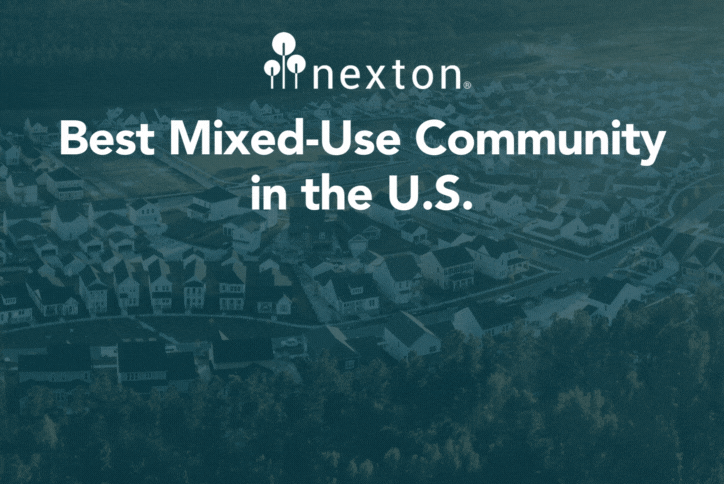 How Did Nexton Become a National Model for Mixed-Use Development?
Nexton, located just outside of Charleston, South Carolina, is a 5,000-acre master-planned community (MPC) that wows residents and industry standard-bearers alike. A nationally renowned model, the community was recently awarded the GOLD "Best in American Living Award" for Mixed-Use Community in the U.S. by the National Association of Home Builders as well as "Best Mixed-Use Community" by the Charleston Home Builders Association at the 2022 PRISM Awards.
Achieving an incredibly successful MPC like Nexton takes commitment, insight and expertise on multiple levels. To find out how Nexton excels in mixed-use development, check out this Q&A with Nexton's Senior VP of Operations Brent Gibadlo and Marketing Director Cassie Cataline.
What does it take to become a national model for mixed-use development?
According to Gibadlo, "It starts with connectivity." 
Community developers need to be in touch with the needs and wants of residents, biz owners and employees. All of these groups seek similar features in their environment, including walkability and a variety of entertainment, shopping, dining, and services. Connectivity is also reflected in design and amenities. Roads and trail networks weave throughout the various components of the community — from neighborhood to neighborhood and to the commercial areas. 
In the earliest stages of development, research is crucial. With insightful data in hand, developers can provide an authentic response. It's not enough to simply implement the wishlist of users, residents and businesses — it has to be executed as part of a larger strategy that will dictate the trajectory of the development. 
The success of a mixed-use community, he says, "boils down to providing an extraordinary customer experience delivered with creativity, foresight, and expertise."
How did Nexton get there?
Nexton's approach is a deep dive into contemporary best practices for community development. Marketing Director Cassie Cataline believes it sets Nexton apart, saying, "We established five community cornerstones that serve as the guiding principles for design, development and programming. Nexton's five cornerstones are innovation, wellness, learning, diversity and design. The 'secret sauce' of our success is staying true to those core values when creating new partnerships and building new phases."

Innovation
The Nexton team is hyperfocused on sustainability and ESG principles. We're also big on tech innovation and offer the only 10 gig Wi-Fi in the state of South Carolina. 
Wellness
Nexton encourages health and wellness, including an extensive trail system, fitness center, programmed events and other activities and amenities. Our builder partners also offer better-for-you options such as energy-efficient homes with sustainable building practices.
Learning
We create spaces for educational resources where residents can grow and thrive in multiple ways, such as a school, college, daycare and mentoring programs.
Diversity
Today's mixed-use communities must offer diversity in concepts, people and culture. Nexton aims to be a home for people of all ages and backgrounds, and our community welcomes ideas and inclusion. 
Design
Nexton goes beyond pure aesthetics to address greater design needs through insight, creativity and a focus on the human condition. 
Mixed-use is clearly the future, but it's complicated. How did Nexton make this community a success?
Cataline and Gibadlo attest to this key point: A successful mixed-use community needs a wide range of uses to make it work. 
For example, multifamily brings a sizable population and often leads to homeownership, and retail relies on rooftops to thrive. Hotels bring guests that support the restaurants. Office workers fuel lunch service while homeowners support dinner. Near 24-hour activation is crucial.  
Access is another major component. Nexton is located next to I-26 and is now considered a third job center in the region and central to all major employers. While a community doesn't necessarily need to be located in a central business district, it does need to be within reach of one. 
A variety of home-product types has become a must. Leading MPCs like Nexton will meet the demands of a culture in which living arrangements are increasingly diverse, from younger first-time homeowners to multigenerational households to retirees looking to downsize and stay active. A mix of apartments, condos, townhomes, cottages, build-for-rent and single-family homes will meet residents where they are. 
Words of advice? 
A strong mixed-use community grows when developers keep an ear to the ground, assessing needs, trends, and best practices, and an eye on the bigger picture, executing thoughtful planning and spaces that look and function beautifully. Gibadlo says, "Partner with companies who align with your values and seek out the best planners, architects and engineers possible. Select a fantastic technology partner and bring in a well-rounded team with different areas of expertise."
Nexton works with a handful of incredible partners, including Strada, a strategic branding firm that was recently named a 2022 Partners in Placemaking Award Winner. 
Check out Nexton's blog to stay up-to-date on what's next at one of the best master-planned communities in the country.