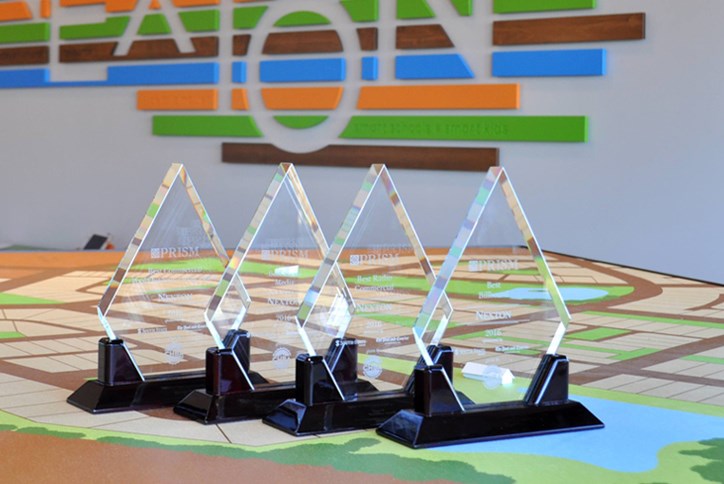 Nexton Wins Six Awards at the Charleston Home Builders Association 29th Annual Prism Gala
Nexton, a master planned community located in Summerville, South Carolina, received six awards honoring its work in sales, marketing and design at the 29th annual PRISM Awards. These marketing awards included Best Billboard, Best Magazine Ad, Best Print Ad and Best Sales + Information Center. In addition, The Parks at Nexton, a 350+ unit Class-A apartment community was named Best Multifamily Community of the Year. Held at the Charleston Gaillard Center on Nov. 3, 2017, the annual PRISM Awards and Gala, hosted by the Charleston Home Builders Association (CHBA) recognizes excellence in the new homes industry.
Nexton's award-winning design connects residents, campus employees (including South Carolina Research Authority (SCRA) and Volvo) with the greater Charleston community through its groundbreaking design, technology and planning. To foster a sense of community, Nexton hosts a number of public events every year like Piccolo Spoleto at Nexton, Cocoa Cup 5K and performances by the Charleston Symphony Orchestra.
In 2017, the community continued to grow with the addition of North Creek Village and Del Webb at Nexton along with new home designs from builders in Brighton Park Village.
The Nexton Greeting House is designed to provide a warm and welcoming environment that educates and informs potential homebuyers and employers who wish to learn more about the residential and business opportunities at Nexton.
"We are extremely focused on the customer experience and making sure every person who visits Nexton leaves feeling like part of our community," says Cassie Cataline, marketing director for Nexton. "We appreciate the recognition by our peers and take great joy in creating a vibrant place for people to live and work." Cataline was named Marketing Director of the Year for her work in branding and community relations at Nexton. 
The PRISM Awards and Gala was developed in 1988 by the CHBA Sales and Marketing Council to recognize excellence in the field of sales, marketing, construction and promotion of new homes. Over the years, the PRISM Awards and Gala has grown to encompass the growing market segments of the housing industry such as green building, remodeling, development and associate membership sector.
Since 1959, the CHBA has served as the leading non-profit organization dedicated to the future of the Lowcountry, encouraging growth and development within four counties – Charleston, Dorchester, Berkeley and Colleton. The CHBA works with organizations to promote and protect homeownership.
About Nexton
Nexton, located in the heart of Charleston's vibrant growth corridor, is a 5,000-acre mixed-use community features three housing villages: Brighton Park Village, North Creek Village and Del Webb® at Nexton that have homes ranging from the $200,000s to the $500,000s. Upon completion, Nexton is planned to have 6,500 single-family homes in addition to multifamily. Nexton is where innovation is fueled by South Carolina's first community-wide, gigabit broadband service. Nexton will continue to grow, but today is a complete community where you can live, work, eat and shop all within walking or biking distance from your front door. Nexton is being developed by Newland Communities, the largest private developer of planned residential and urban mixed-use communities in the United States.