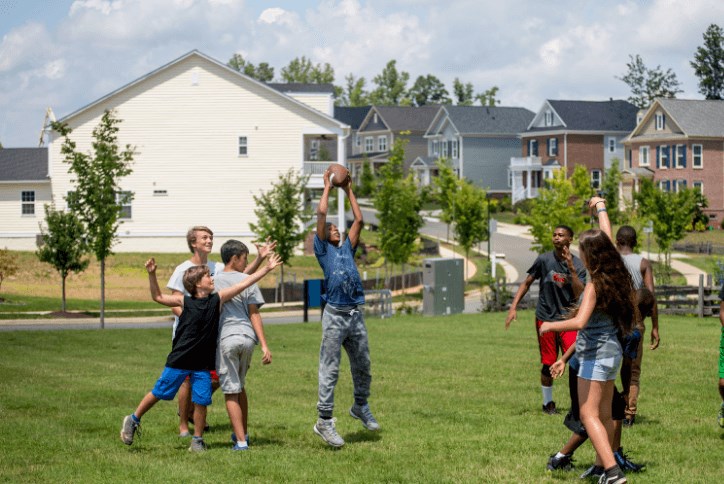 Embrey Mill's New Homes Featured in Builder Magazine
Embrey Mill is home to hundreds of families, nestled within North Stafford and is quickly becoming one of Northern Virginia's fastest selling communities. With more and more families wanting to be a part of these tight-knit communities, Embrey Mill has announced that they are expanding their community with new homes and even more amenities. Currently, families get their daily dose of fresh air, with over 285 acres of open space, parks, and trails integrated throughout the community making it a great, amenity-rich neighborhood to live in.
What is the Best Place to Raise a Family in Stafford County VA?
Stafford County is a wonderful place to raise a family. The homes are more affordable than Washington, D.C. but Stafford is close enough that the commute to D.C. or Northern Virginia is still very manageable.
The Embrey Mill community is one of the best places to raise a family in Stafford County VA, 22554. The community was created with an emphasis on the Traditional Neighborhood Development (TND) concept with a heavy focus on the pedestrian experience, with alley-loaded homes, parks, and open space throughout the neighborhoods. There is always something to do, without having to leave. In addition to the nature trails, parks, and playgrounds, there's Dogwood Dog Park, the Embrey Mill community garden, Grounds Bistro & Café, and the Embrey House where you'll find events day and night, pool, and a fitness center.
Embrey Mill's New Homes and Amenities
As Builder points out, Embrey Mill is expanding its community with award-winning home builders, new home styles, and more amenities for 300 additional home lots. As it is true with all communities created by Newland, there will be a strong built-in connection between where you live, work, and play for the families that call Embrey Mill home.
Embrey Mill's New Amenities Coming Soon:
The Knight House that will include a 3,500+ square-foot clubhouse, and a second  5,000+ square-foot outdoor community pool
 
A second community dog park, Dog Hill Downs
 
Embrey Commons, a new multipurpose community park with playing fields
Whether you love a tricycle sprint at Racetrack Park, dancing the night away to live music at Festival Park, or an impromptu game of soccer at Embrey Field, we know your family will also love what's to come at this amenity-centric Newland community in Stafford County, VA.
Read the full article on Builder here.