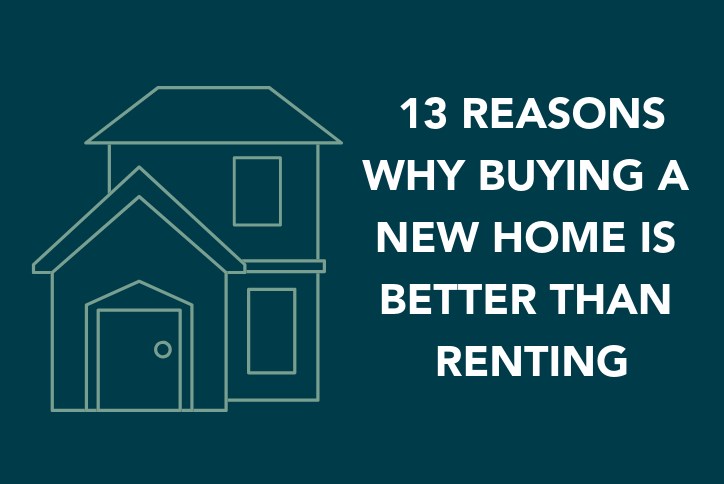 13 Reasons Why Buying a New Home Is Better than Renting
Whether it's a backyard for Fido or that you're ready to start paying your own mortgage, and not that of your landlord's, many first-time homeowners are seeing the benefits of buying a new home rather than paying rent with no tax benefit or return on investment.
Sometimes it is hard to get your head around actually buying your first home, much less building one. Our Newland communities make it irresistible with their thoughtful planning, resort-style amenities, and award-winning builders, but did you know that you can buy a new home and be involved in every step of the construction, or buy a "Quick Move-in" home? Quick Move-Ins are spec homes or inventory homes that have already been completed or nearing completion and are available for immediate sale and occupancy—a perfect alternative to someone relocating for a job or not wanting to wait for the construction process.
Quick Move-Ins are spec or inventory homes that have already been completed or nearing completion. These homes are available for immediate sale and occupancy. 
Benefits of Homeownership
Aside from sharing walls and navigating your neighbors in the hallway, buying a new home is truly the pinnacle of 'adulting.' Your social cache will rise considerably among friends and family when you are the go-to destination for events and holidays. And, imagine how happy your dog will be with a backyard all to themselves. Even your cat will enjoy more places to jump and roam in a new house.
There are also financial benefits including that as a homeowner, you're likely to have a net worth that's 44 times greater than the average renter. You can also start to build home equity and get a tax deduction. For those days that you want to work from home, most new home construction includes Smart Home technology and higher speed Internet connectivity.
See 13 reasons to stop renting and start owning.

The Advantages of Building a New Home
Yes, the idea of building a home may seem a little overwhelming, but think of the benefits to you and your family in the end. You can add in the changes you want and design it for the way you want to live. Newer homes are designed to allow for more fun and openness. If you like to entertain, today's modern homes are often larger and designed around a central focal point, usually the kitchen. These "great" rooms offer ample opportunities for socializing, game nights or just keeping an eye on your little ones watching a movie while you're cooking dinner.
If you are one of the many who like to use technology to streamline your home operations or save costs on utilities, you'll like the new 'smart' home. Newer model homes offer integrated technology that compiles your home's thermostat, security system, lights, and entertainment all into one central command center—typically your home computer, tablet or smartphone.
How many times have you heard "location, location, location" when in discussions about real estate? Newland communities factor in proximity living in all of our neighborhoods. From outdoor trails and parks to public schools and community gathering spaces, many new home communities are designed with a complete lifestyle in mind. Restaurants, shopping, and even employers are within close proximity so that you have the ease of everything you need so readily accessible and have more time to focus on the people and priorities that are most important to you.
Find Your New Home in a Newland Community
Today's new homes are built for how you live and where you want to live. Tour all of our communities to get a better idea of new home construction and what it would be like to live in a Newland neighborhood.