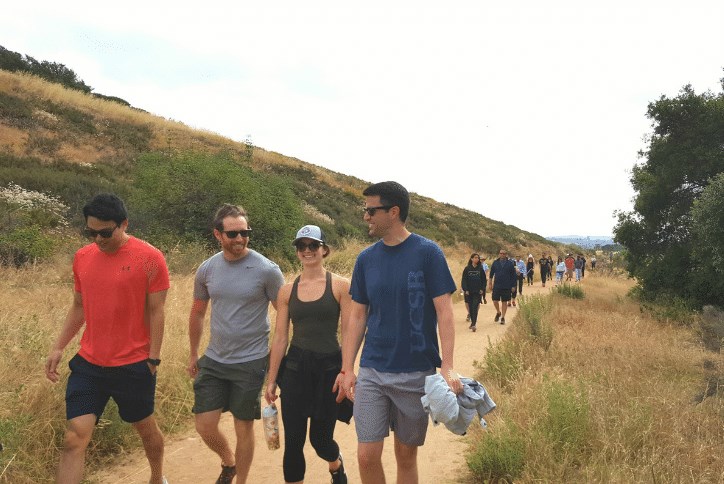 Newland Celebrates National Trails Day All Across the Country
Thinking globally and acting locally, OneNewland invests in philanthropy at the community level, within our Newland communities, nationwide. We rally our team members across the country to engage their greater communities, spotlight local charities and bring awareness to our many causes.

National Trails Day 2019
This year Newland partnered with the American Hiking Society for our 2nd Annual National Trails Day celebration. This year, over 40,000 people improved trails all across the county, setting the world record for most people improving trails on a single day. National Trails Day helps bring awareness to trail maintenance needs and helps to connect the neighborhood to their local trails.
Many of our Newland communities participated or held an event for National Trails Day, many of them exceeding their National Trails Day goals! With over 300 miles of trails between all of our Newland communities, it wasn't difficult to get people involved in our events. Our communities are passionate about health and wellness and hold a strong love for trails. National Trails Day is an excellent opportunity for people to give back, explore nature, and to celebrate our national trail system.
Newland Communities Celebrate Nationwide!
Below is a spotlight on a few of our Newland communities and how they celebrated this National Trails Day.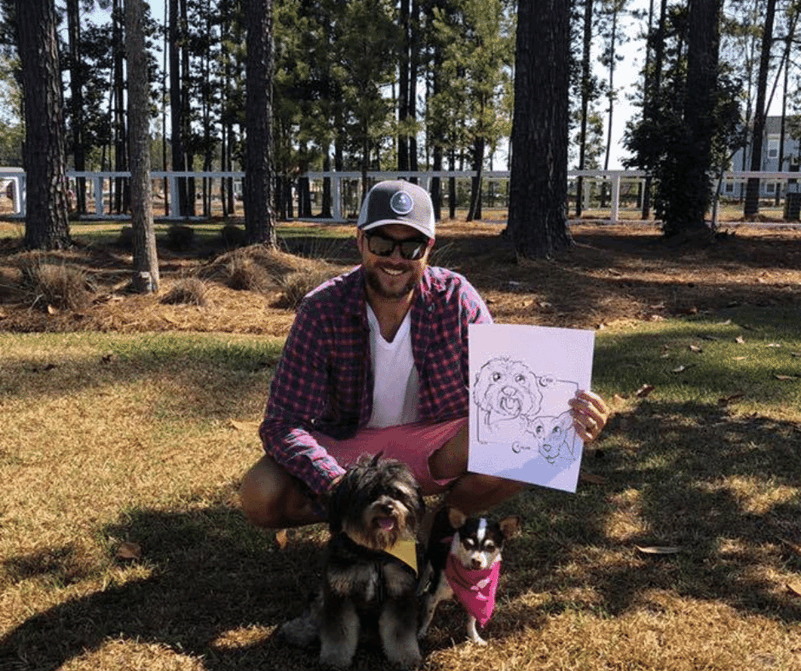 Nexton - Summerville, SC
Our Nexton community in Summerville, South Carolina celebrated National Trails Day with an event called, Trails and Tails. This event was open to residents and the outside community and invited everyone (and their furry companions) to get outside and explore the unique spaces in and around all of the Nexton parks, including their new dog park in Brighton Park Village. Over half of the Nexton community is comprised of parks, natural open space, and a network of paved paths and rugged trails.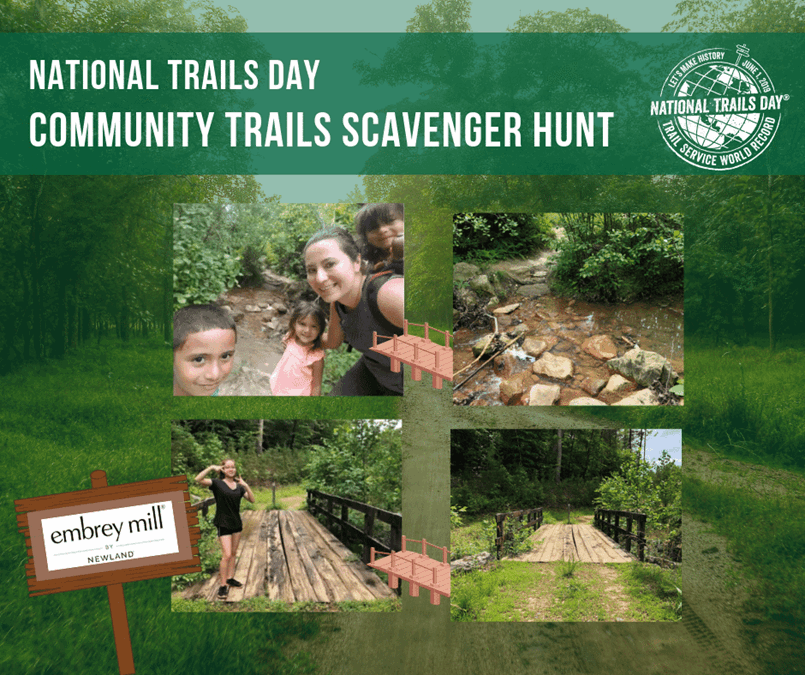 Embrey Mill - Stafford, VA
To celebrate National Trails Day, our Embrey Mill community in Stafford Virginia held their 2nd Annual National Trails Day Scavenger Hunt. Residents received eight clues to a specific spot located somewhere within the trails at Embrey Mill. Residents then had to find each of the places in the clues and take a photo or selfie there. The clues were scattered throughout a total of 10 miles of trails. Two clever families walked away with a great workout and a $50 Amazon Gift Card!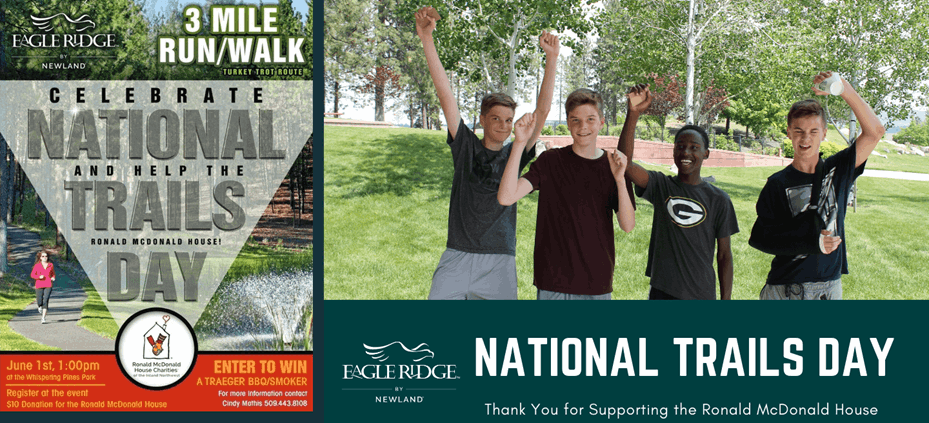 Eagle Ridge - Spokane, WA
National Trails Day was immensely supported in Spokane Washington at our Eagle Ridge community. They hosted a 3-mile run/walk on their trails that benefited the Ronald McDonald House Charities of the Inland Northwest. Residents from all over their neighborhood came out, young and old, got a good workout on their forested trails while doing good for kids in their community.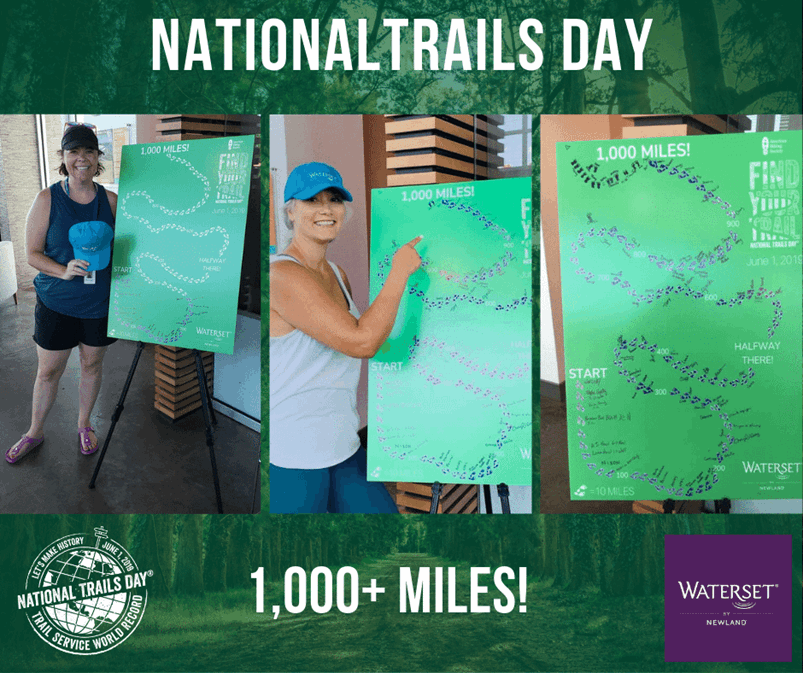 Waterset - Apollo Beach, FL
The Waterset community in Apollo Beach, Florida celebrated National Trails Day by encouraging their residents and the surrounding community to explore their 12+ miles of trails (by foot or by bike) and log their miles at The Landing Club and Café. The community goal was to log 1,000 miles. Last year 1,067 miles were tracked, and this year they surpassed their goal and last year's record with 1,080 miles!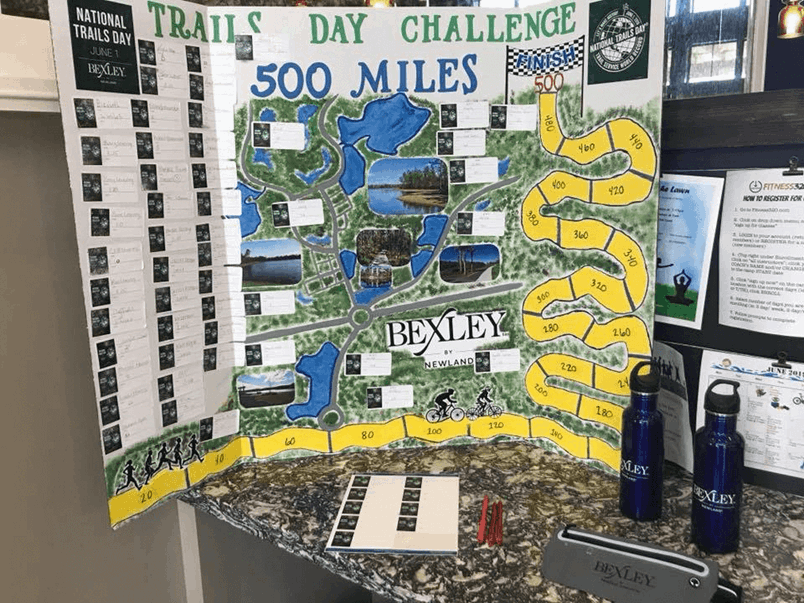 Bexley - Land O' Lakes, FL
In honor of the American Hiking Society's National Trails Day on June 1st, the Bexley team encouraged their residents, including their Bexley Trail Blazers group (of course) to walk, run, or bike a total of 500 miles. Bexley has 9 trails, totaling over 8 miles worth of trails to choose from.
Residents digitally tracked their miles and then stopped at the Bexley Clubhouse to report their miles and add their name to the goal board. Those who walked 5+ miles, or ran 3+ miles or biked 20+ miles received exclusive giveaways! Bexley was proud to announce that they reached their goal of 500 miles on National Trails Day!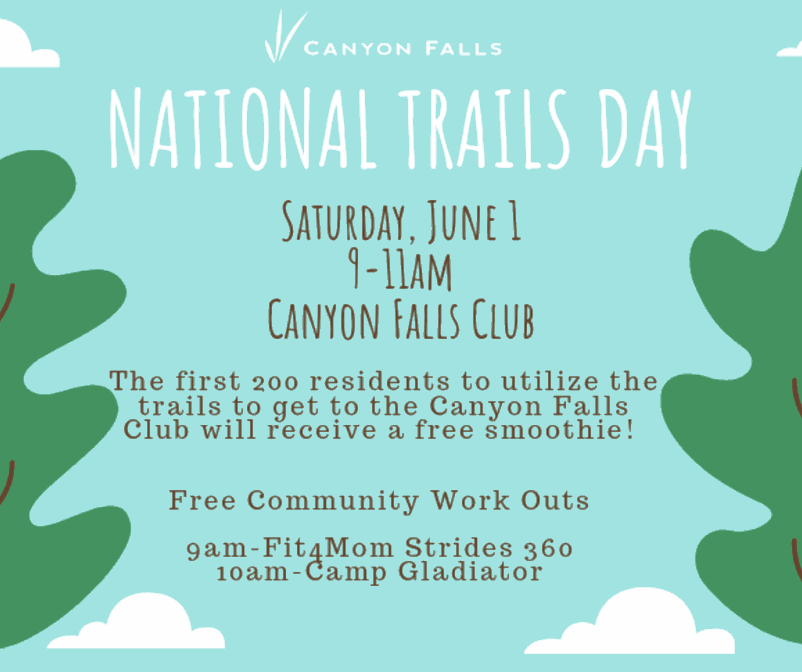 Canyon Falls- Northlake, Texas
In Northlake Texas, our Canyon Falls community celebrated National Trails Day with a whole day centered around wellness and trails! Free wellness classes such as Fit4Mom, Strides360, and Camp Gladiator were offered to everyone in the community. They also hosted a trail cleanup, scavenger hunt, and trail mix bar at the Canyon Falls Club. Attendees were encouraged to use the trails to get to the Canyon Falls Club festivities. The first 200 residents that arrived via trails received free smoothies! Now that's a sweet deal!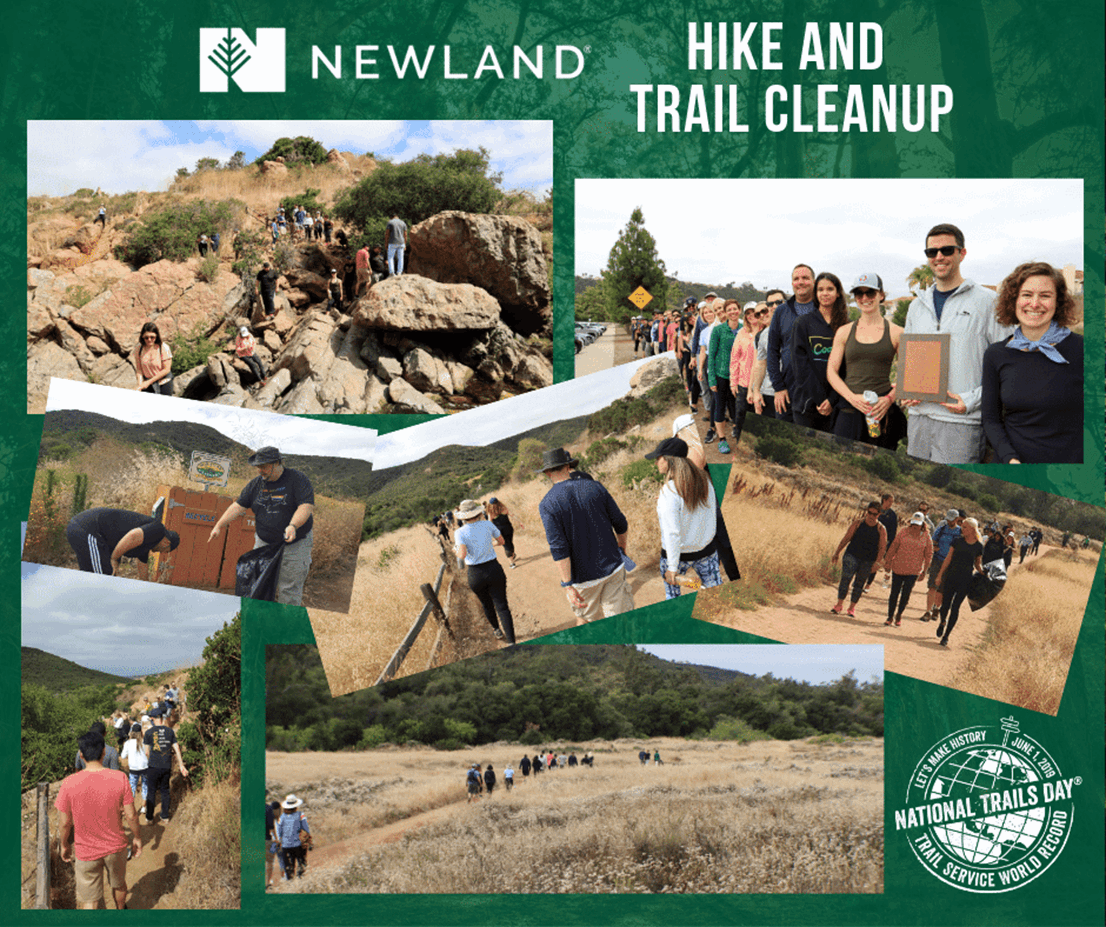 National Trails Day Hike and Trail Cleanup in San Diego, California
Even Newland's Home Office in San Diego, California got in on all of the National Trails Day fun. Newland hosted a 4-mile hike and trail cleanup along the Los Penasquitos Canyon Preserve. Over 30 people joined together picking up trash as part of their OneNewland Initiative. The Los Penasquitos Canyon Preserve is a rich part of Newland's history as the land was deeded to the City of San Diego from Newland's predecessor company-Genstar Land as part of their Torrey Hills community project. This area speaks to our values of creating green space and giving back to not only our residents but the overall communities that we develop in for nearly 40 years.
With long-term initiatives in sustainability, we use ecologically friendly practices across our industry which makes Newland a great place to build a career and a great place to live. Through OneNewland, our team members can dedicate hours and resources to make a positive impact in a myriad of ways—from fighting hunger, saving natural resources, to promoting wellness, and rescuing animals, just to name a few.