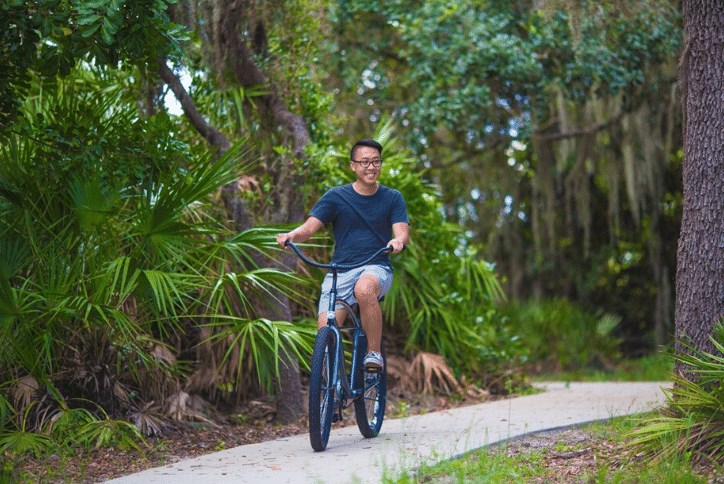 7 Ways to Keep Your Distance While Getting Closer to Nature
With "stay at home" orders quickly becoming the new normal, you may find yourself searching for something to do. Although many state parks and beaches are closed, there are still many ways to get closer to nature right here in Waterset, while keeping your social distance.
Go For a Scavenger Hunt
This one is perfect if you have kids, but could also make a cute day date! Make a scavenger hunt list and see how many items you can find. Add in things like feathers, flowers, acorns, leaves, and stones! Come up with your own scavenger hunt lists, or visit a site like Pinterest for inspiration! 
Backyard Camping
Even without campgrounds being open, you can still try camping! Just set up a tent and sleeping bags in your backyard! This is a great way to get out of the house, and can even be an educational opportunity for children! How many constellations can you spot? Adults without children will love the romance of a night under the stars. 
Plant a Garden
Now is the perfect time to test out your green thumb or to teach your child about gardening! You can easily buy gardening supplies off Amazon, bypassing the need to go to the store! Try your hand at flowers or vegetables, or, if you're not sure of your skills, start with succulents or cacti. For little ones, pick faster-growing plants - they'll be amazed when they see sprouts in just a few days! 
Make Nature-Inspired Art
There are many different art projects you can do that are inspired by nature! We suggest searching Pinterest for a variety of ideas like leaf prints, painted rocks, twig-and-string dreamcatchers, or leaf impressions in homemade salt dough. Although many are kid-oriented, creative adults can find plenty of ideas to hold their attention! 
Explore the Trails
One of the things that truly sets Waterset apart from other communities in the area is the 12 miles of trails that wind through stunning homes and landscapes. Our trails provide a background for many types of fun for everyone - walking, running, biking, rollerblading…. The list goes on! Plus, with so much to see, you can experience something different every day. 
Try Geocaching
Have you ever heard of geocaching? It's a popular hobby that can take you all over the world - or just around your community. You'll be given a specific location, and you have to find a tiny hidden treasure! You can take the treasure with you and leave a new one in its place. You can even track the treasure you leave as other geocachers move it to different spots around the world! Visit geocaching.com to sign up and start searching! Many, though not all, locations are easy enough for kids to join in too! 
Bird Watching & Bird Feeders
You can easily search online to find the different types of birds that live in your region - and you'll be shocked at how many different kinds there are! Order a pair of binoculars off Amazon and explore the community. Of course, you can always bring the birds to you by creating a DIY bird feeder! Kids can try something simple like a pinecone covered in peanut butter and bird seed, or adults can make something more elaborate. 
Looking for more things to do while social distancing? Try out these 30 boredom busters! Is all this time at home making you realize that home isn't where the heart is? Read our top 5 signs it's time to move, or explore our virtual homeshopping hub.