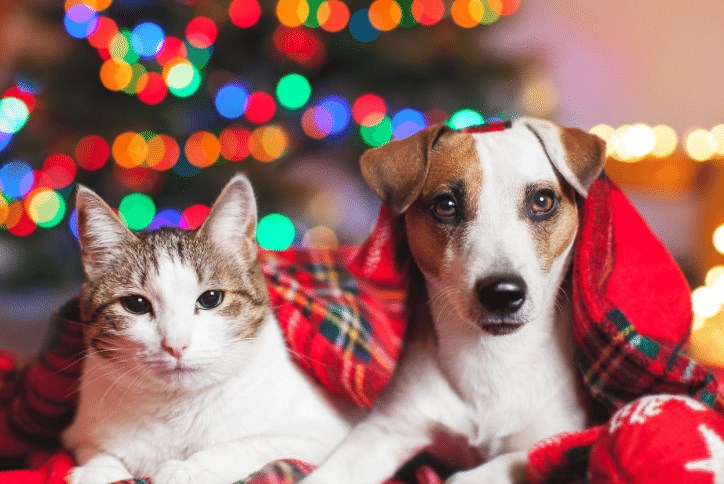 Holiday Safety Tips for Your Pet
Check out these tips to keep your pet happy and safe throughout the holidays. 
Decorate with your pet in mind
One of the biggest temptations for pets during the holidays pertains to seasonal plants and décor. Pets are naturally curious about the items that you have chosen to decorate their familiar spaces. Be particularly careful while decorating with the following: 
Poinsettias and Mistletoe – both of these seasonal plants can be toxic to your pets. If you must decorate with them, make sure that you place them out of reach of your pet. 

Christmas Trees – The water additives used to extend the life of your tree are harmful to your pets. Do not let them drink out of the tree stand. You also need to make sure that you are securely anchoring the tree. Pets chase the shiny objects on the tree sometimes pulling the tree down or over on top of themselves. Placing lemon-scented air fresheners in your tree may deter your cat from trying to climb it. 

Tinsel – Tinsel can be tempting for your pets, especially tempting to eat. If ingested tinsel can cause blockage to their airways or intestines. 

Candles – Candles left unattended can also be a hazard to your pet. Make sure to blow out candles if you leave the room, as your pet will be curious about the flickering flame.   
Holiday Foods to Avoid
The American Veterinary Medical Association distributed a list of foods that you should avoid sharing with your pet this holiday season.  The AVMA does not recommend sharing people foods with your pet.  The foods that made the holiday list of most hazardous include; chocolates, other sweets and baked goods, turkey and turkey skin, table scraps and yeast dough. For further explanation about these foods and your pet, visit AVMA. 
If you believe that you pet has eaten something harmful, call your local veterinarian emergency clinic immediately.  You may also want to call the ASPCA Poison Control Hotline at 1-888-426-4435. 

Keeping your Pet Calm for the Holidays:
One of the most important things to remember during the holiday hustle and bustle is that your pet still needs his or her daily routine. Feeding on time, taking potty breaks and walking are critical to keeping your pet calm and in their element. Providing a safe "happy place" where you pet can retreat away from guests and holiday activity is important. During the New Year's celebration, particularly when the fireworks are at their peak, please make sure that your pet is in their "happy place". It is during this time that many pets escape or run away from home to get away from the bright lights and loud sounds. 
Happy Holidays from Rancho Sienna!
We love our pets at Rancho Sienna! We want everyone to have a safe and happy holiday season including our four-legged friends. We hope to see you out at the Bark'N Park Dog Park where you can take your pet to de-stress by playing with his neighborhood buddies.