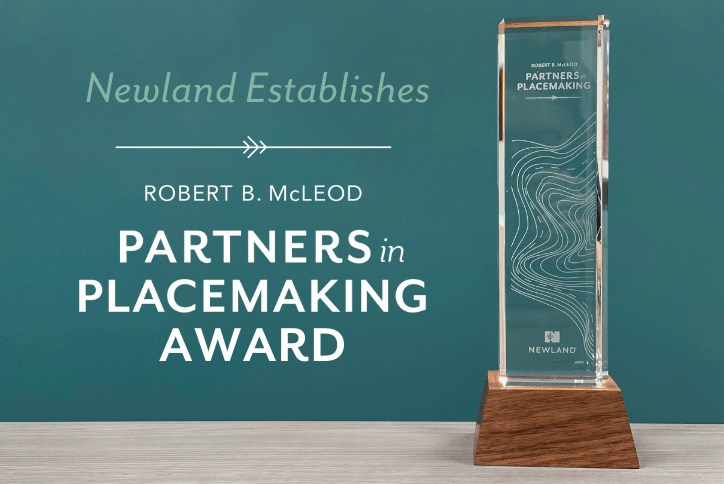 Robert B. McLeod Partners in Placemaking Award Recognizes Newland's Innovative Partners
Honoring business partners' contributions to top-selling and award-winning Newland communities, the Partners in Placemaking Award program showcases innovative, collaborative, and best-in-class partners.
When it comes to building great master-planned communities, Newland Executive Chairman Bob McLeod knows a little something about creating top-selling and awarding-winning mixed-use communities that always make what the customer wants a top priority. With over five decades of developing communities across the country, Newland's newly created Partners in Placemaking award acknowledges the business partnerships and relationships that helped create exceptional places and experiences where people connect, are inspired, and thrive.
"In reflecting over all of the innovative and collaborative work we've done with our partners, I'm just amazed," explains McLeod. "The strength of a team working together to innovate, problem-solve, and interpret our customer's needs has created enduring communities where, most importantly, people will live their best lives."
Acknowledging Partner Contributions to Newland Placemaking
Newland has exceptional partners, including innovative builders creating homes for families, commercial partners, designers, planners, and architects imagining mixed-use spaces for live, work, and play, creative marketing and branding agencies, and community service partners and organizations that enrich the lives of so many.
The Robert B. McLeod Partners in Placemaking awards recognize partners that go above to levels that raise an industry-standard, provide innovative solutions, and exceed customer expectations. Newland community leaders nominate their business partners based on the following criteria:
Innovation
Attainability
Sustainability
Design
Problem–solving
Community Support
2021 Robert B. McLeod Partners in Placemaking Finalists
For the inaugural 2021 Robert B. McLeod Partners in Placemaking Award, the finalists are as follows:
AKS Engineering & Forestry
AKS is the lead planning and engineering firm for Reed's Crossing in the Portland, OR market. With their experience and relationships, AKS was able to gain project approvals in a challenging regulatory and entitlement environment.
Berkeley County School District
From GigaFi internet to healthy lunches, Nexton partners with Berkeley County School District each year on fundraisers to enhance technology through tools, mentoring, and training, and to build the most tech-forward and innovative school possible.
ChappellRoberts
A true extension of the Newland marketing team, ChappellRoberts implements innovative marketing ideas and branding strategies in Bexley, Waterset, Sterling on the Lake, and Riverlights. Once the COVID-19 pandemic hit, ChappellRoberts quickly pivoted, creating a "Strength in Neighbors" campaign.
Garman Homes
A longtime Newland partner in the Raleigh, NC market, Garman Homes championed an industry-wide cause of building a home for a fallen soldier's deserving family in Wendell Falls with a tailored floorplan and paratrooper-themed playroom to commemorate the children's father.
McMillan Padzan Smith Architects
The architect for Nexton's commercial village, Nexton Square, McMillan Pazdan Smith Architects artfully envisioned, thoughtfully designed, and integrated Nexton Square into the community, making it a destination retail and restaurant center.
New Leaf Builders
Adopting the vision to focus on what the homebuyer wants, New Leaf Builders designed and built innovative courtyard homes in Nexton, offering flexibility that would appeal to a niche audience. The homes attracted local and out-of-state home seekers and quickly sold out.
Saussy Burbank
A strong partner for over seven years, Saussy Burbank was the first builder to sign on at Nexton and recently created a Cottage series to provide affordable single-family homes with oh-so-Lowcountry charm.
Swaback Architects + Planners
Respecting the natural environment, Swaback Architects designed a neighborhood that added to the overall character of what makes Lucero and Estrella so unique, building harmony with the Sonoran Desert and surrounding rolling hills.
Taylor Morrison
Designed specifically for Elyson in Katy, TX, Taylor Morrison researched and created the Venture Collection. Inspired by Frank Llyod Wright, the neighborhood fulfills the unmet demand of consumers wanting modern, upgrade designs.
Robert B. McLeod Partners in Placemaking Award Winners Announced March 1
The inaugural year of placemaking finalists is exceptional, with final judging and announcement of the winners on March 1, 2021.
"I again want to thank all of our partners for their continuous support," says McLeod. "We recognize all of their contributions to make our communities exceptional and look forward to more great collaborations in the future."
MORE