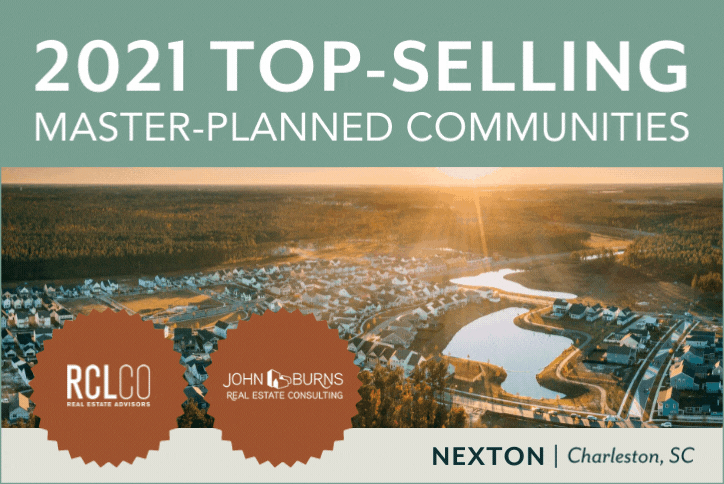 Bexley, Elyson, Nexton and Tehaleh Featured On Top-Selling Master-Planned Communities Lists
For 17 years, Newland communities have consistently landed on the industry's list of top master-planned communities (MPC) in the U.S. Four communities in total received the honor this year, with three making two lists. 
The results of these top-selling lists not only honor the top communities in the country but also highlight the overall state of the residential market and new trends in community development. Over 39,000 homebuyers purchased new homes in the MPCs that made these lists in 2021, reflecting a 9% increase from 2020. The Newland communities on both lists had a combined total of 2,019 new home sales in 2021. 
Nexton (Charleston, SC); Bexley (Tampa, FL); and Tehaleh (Seattle-Tacoma, WA) were included in both RCLCO's Top-Selling Master-Planned Communities and John Burns Real Estate Consulting's Top 50 Master-Planned Communities. Elyson (Houston, TX) made it on RCLCO's list. 
In 2021, the four properties on RCLCO's list maintained their positions from 2020, with Nexton at #33, Bexley at #39, Tehaleh at #44 and Elyson at #49. On John Burns' list, Nexton made the greatest strides, jumping from #47 to #35. Bexley held to its #40 spot, while Tehaleh slid up to #44 from its #48 position. 
New home demand remains unshaken
New home demand remained robust throughout 2021, despite many builders and developers facing challenges such as widespread pandemic-related supply constraints, an increase in cost for materials and a competitive workforce causing labor shortages and inflation. Last year's record sales were buoyed by low interest rates and the popularity of remote work. Nexton's impressive 24% growth in sales is a nod to the ever-rising popularity of the Sun Belt region. 
A glimpse into 2022 has builders and developers challenged to fulfill the demand for new homes as supply constraints continue to press the industry. House prices are expected to continue to move upward, though at a slower pace than in 2021. As builders and developers make an effort to broaden their reach, many are introducing new designs, including higher-density products and build-for-rent options in master plans. Overall, MPCs look to be in great shape for the year ahead. 
Check out all our master-planned communities here.