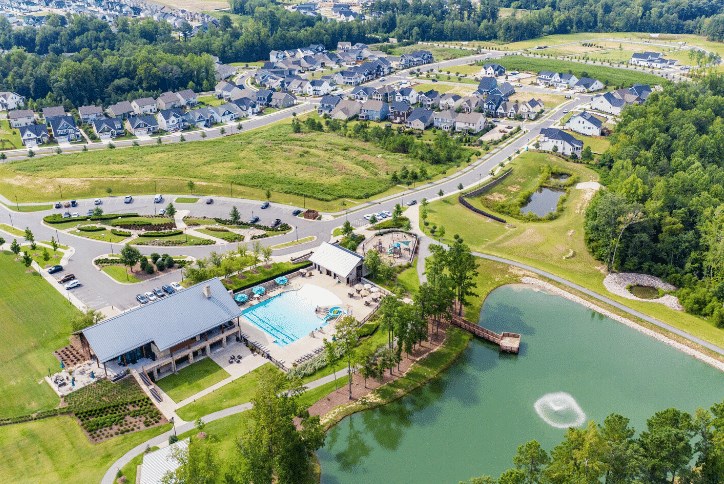 What's New at Wendell Falls
Wendell Falls is a community on the move in 2022, with the addition of new homes, a 55+ neighborhood, and, last but far from least, a bustling town center (with another on the way). 
Located in Wendell, North Carolina, a suburb of Raleigh, Wendell Falls is an exceptional example where connection is the driving force to community. "Wendell Falls has experienced immense growth over the past few years. We're excited for all the new retail and product in the pipeline and look forward to providing more places for residents to make memories with their families and friends," says Tabitha Spencer, Marketing Director at Brookfield Properties.
Ready for Retail 
Treelight Square
Treelight Square is a modern gathering place specially designed to support local businesses. This town center features a Mexican restaurant, nail salon, pediatric dentist, a craft beverage and food hub, and more. Not just a shopping and dining destination, Treelight Square offers beautiful townhomes, with models being introduced from Garman Homes this spring and Homes by Dickerson in the summer. The Treelight Square amenity, which will include a splash pad and casual seating, is also in the works for summer 2022. 
The Collective
Coming soon to Wendell Falls is another town square concept, The Collective. In contrast to Treelight Square's local focus, The Collective will offer a mix of regional and corporate businesses — including national restaurants, corporate headquarters, technical and medical facilities and maybe even a movie theater. Multifamily homes will round out its offerings.
A Bustling 55+ Community: Encore
Later this year, Encore by David Weekley Homes, an incredible community for age-qualified living, will open its amenity center. The expansive amenity center will include a gym, kitchen area and meeting space inside, with a pool, pickleball, tennis and fire pits outside. A lifestyle director will develop day-to-day activities and social events, and residents will also have access to Wendell Falls' amenities, such as the dog park, town centers and 10+ miles of trails.
Southeast Wake County continues to grow, both in population and job opportunities. Buyers are attracted to thriving communities with a wide array of amenities — and MPCs fit the bill. With all the changes and additions at Wendell Falls, new home sales are sure to rise in 2022. 
Interested in Wendell Falls? Learn more at www.wendellfalls.com.