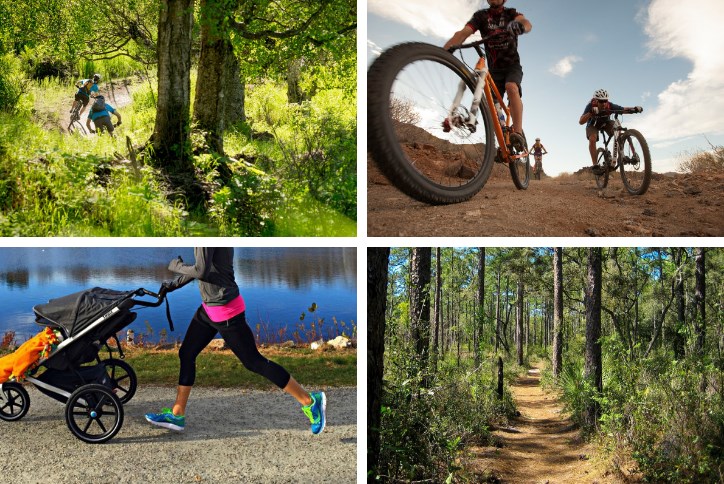 Bexley Community to Introduce Expansive Community Trail Network with Connection to Suncoast Trail
The 10+ miles of Avid Trails to be first of its kind in Florida
Bexley, the fourth master planned community in Tampa being developed by Newland Communities, will include an authentic, multi-purpose community trail network, designed by Avid Trails, a national leader in trail planning and design.
Bexley will be the first venture for Avid Trails in Florida, and will include single track, scenic walking, hiking and jogging paths and bicycle pump parks. Located in Land O'Lakes, the Bexley community is scheduled to open in Fall 2016.

Bexley is owned in a joint venture partnership between NORTH AMERICA SEKISUI HOUSE, LLC (NASH), the U.S. business unit and full subsidiary of SEKISUI HOUSE, LTD., Japan's largest homebuilder and leading diversified developer, and Newland Real Estate Group, LLC, whose development business, Newland Communities, is the master developer of the community. Bexley is one of more than 30 communities the NASH-Newland partnership owns together in 11 states across the United States.
Avid Trails at Bexley, accessible to residents and the public, will feature a variety of trail types built along and highlighting nearly 1,000 acres of conservation land with both paved and natural pathways for walking, hiking and biking, along with unique outdoor fitness stations, family-friendly mountain bike trails, and two bike parks featuring pump tracks for adults and children of all ages, skills and fitness levels.

The first phase of Avid Trails at Bexley will feature four main components:
Ten miles of trails that connect to the existing 21.6 miles of the Suncoast Trail in Pasco County.


• Trails will have various widths ranging from 18 to 24-inch single track to 6-foot wide walking, hiking, jogging and multi-use paths with both soft and hard surfaces, which are friendlier on the knees and joints of runners and walkers.

• The trails will be for walking, hiking, running and biking, and will weave around Bexley's picturesque, preserved wetlands and other open spaces.

Two bike parks with advanced and beginner pump tracks, skills loops and practice areas for mountain bikers, BMXers and bicyclists of all ages and skill levels. 
A 14-foot wide multi-use trail featuring both hard and soft surfaces will run East/West along Tower Road as part of the Tri-County Trail.
Eleven Avid Exercise Stations will be located along the ten-mile trail network, offering an array of outdoor fitness opportunities for adults and children of all fitness levels. Users may participate in planned outdoor fitness boot camps along with finding workout suggestions and exercise options on the Avid Trails website.
"We're thrilled to partner with Avid Trails and to offer these incredibly unique trails, biking, and outdoor fitness experiences in the Bexley community. There's truly nothing like this in the area," said Pam Parisi, Vice President of Marketing for Newland Communities. "Our relationship with Avid Trails exemplifies both Newland and NASH's commitment to building communities that honor the environment, and encouraging residents to get outdoors and enjoy the beautiful Florida weather."
Future homeowners will be able to access the Avid Trails from nearly anywhere within the community. Exclusive resident fitness classes, running and bike clubs will be offered, plus public bike festivals and adventure races. Bexley also plans to seek certification as a Bicycle Friendly Community from the League of American Bicyclists.
"Avid Trails at Bexley offers a great mix of real trails, not just glorified sidewalks as are sometimes seen in residential communities," added Justin Lax, President of Avid Trails. "The trail has been thoughtfully designed to offer users a diverse and engaging experience, regardless of one's age, skill or fitness level. Our goal is not only to increase connectivity, but to promote health and well-being among community members. We want people to get outside and have some fun."
The first phase of Avid Trails at Bexley, including the fitness stations, will start construction this month with completion expected in Fall 2016. Additional phases will be planned as the community grows.