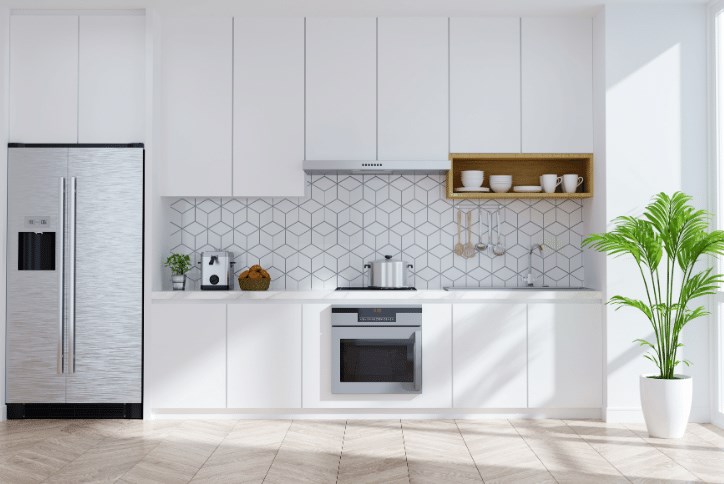 Millennials Want Clean, White Kitchens
Millennials prefer to keep to the basics when it comes to designing their kitchen cabinets, choosing appliances and selecting kitchen countertops. A majority of 31% want their kitchen cabinets white, while the other two-thirds look to brown, black or gray. Stainless steel is a big winner with 64% of Millennials preferring it over the distant second and third of black and white. And to top off those white cabinets, 62% of Millennials want granite or natural stone in their kitchens.
Many Newland communities provide the white, clean spaces Millennials, and other generations, crave for their kitchens. Providing a timeless palette, white kitchens allow for flexibility to decorate, incorporating modern with rustic while being a clean, fresh neutral.
Stainless Steel Appliances and White Kitchens Are a Perfect Match
With white cabinets, trim, and backsplashes, stainless steel appliances with black accents can give the owners flexibility to change things up with wall paint, countertops, and accents to add color how they like and later make inexpensive updates. 
Not only is Charleston, SC-area Nexton the city, state, and now national best master-planned community, but it also has award-winning white kitchen combinations in its Saussy Burbank homes. 
Here are two kitchen styles that make clean, white kitchens spectacular:

To the Pacific Northwest outside of Portland, Reed's Crossing offers home shoppers variety and unique architectural styling with modern white kitchens in Hillsboro, Oregon. Ichijo USA, a builder combining energy efficiency with artfully designed homes, has created stylish, white kitchens with stunning piano finish cabinets and stainless steel energy-saving appliances.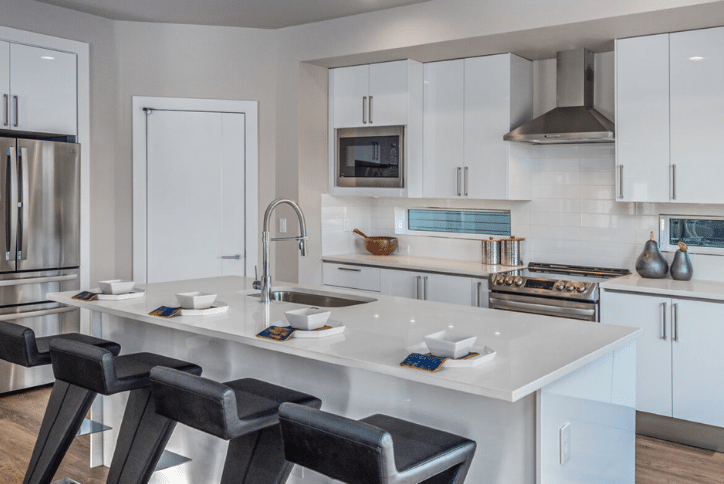 Elyson by Newland in Katy, TX, is an oasis from the hustle and bustle of Houston and offers white kitchen havens for cooking, dining, and entertaining. With stainless steel appliances, white cabinetry, a walk-in pantry, and a Texas-sized kitchen island, this kitchen is a masterpiece in functionality and style.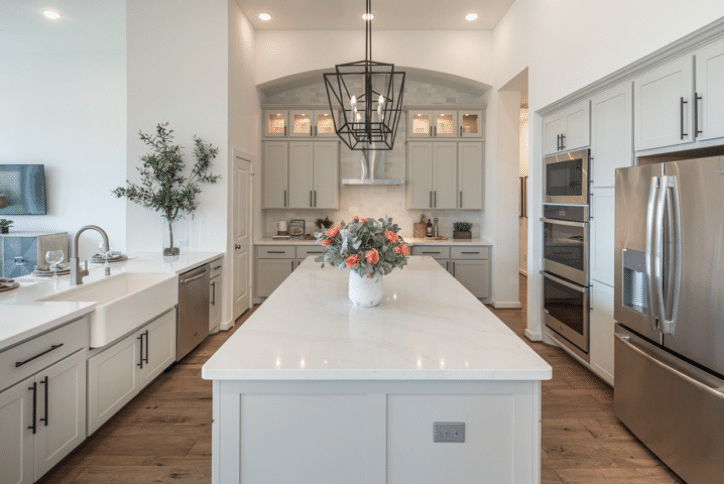 In Florida, Newland communities Waterset and Bexley, located in the Tampa area, are also on the white-hot kitchen trend with builder partner Cardel homes. Clean, white spaces allow for flexible color palates that can be updated and changed with little expense.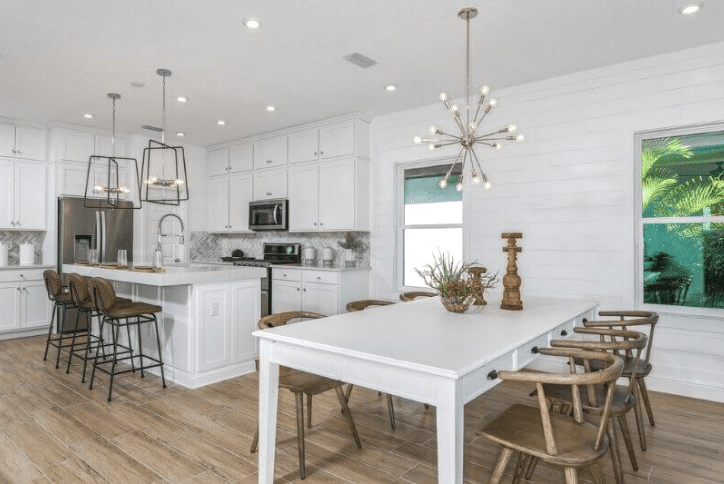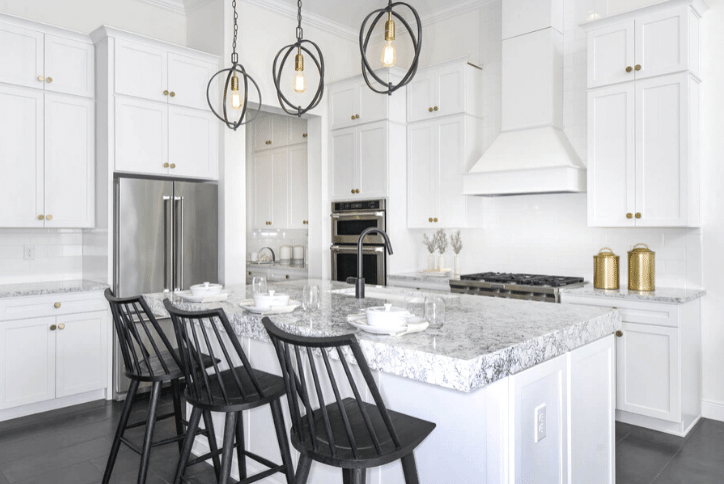 Backsplashes Add Texture, Dimension to a White Kitchen Palette
Creative textures, a splash of color, and easy clean-up are hallmarks of a good kitchen backsplash. Coupled with a clean, white kitchen, backsplashes can add a little personality complementing a white color palette.
Denver-area Anthem Reserve is at the top of the white kitchen list with The Pinnacle by Epic Homes. A patterned backsplash with beautiful natural wood floors gives these white kitchens a design edge.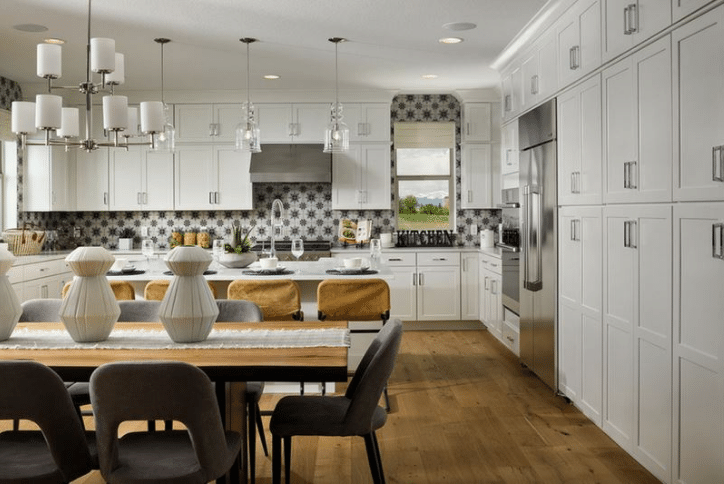 View some white kitchens with edge below:
On the other side of Denver, Inspiration motivates home shoppers with an all-white kitchen by Richmond American at Inspiration with an added, textural backsplash. White countertops and gold fixtures give this kitchen a regal feel.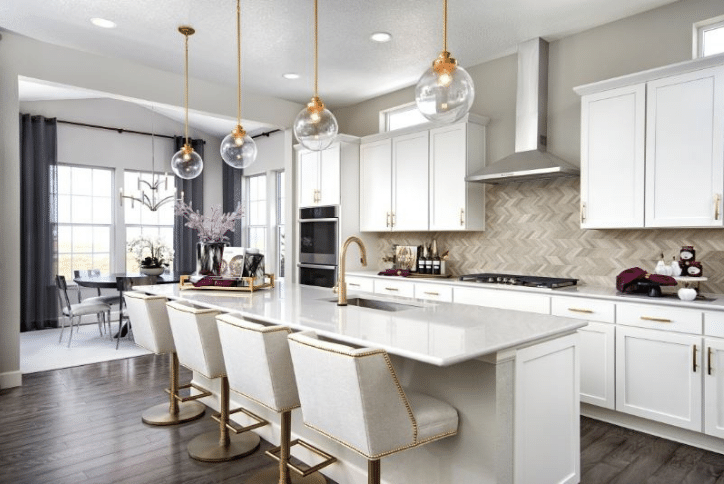 View some Inspiration kitchens below:
The Austin-area homes at Sweetwater by Newland is also showcasing how white kitchens with a splash of color on the island and some patterned backsplashes can add dimension to a "cocina blanca."
View some white kitchens with a splash of color below:
Perry Homes in Sweetwater pairs a natural-looking floor with natural light to add vibrance and brightness to their all-white kitchen.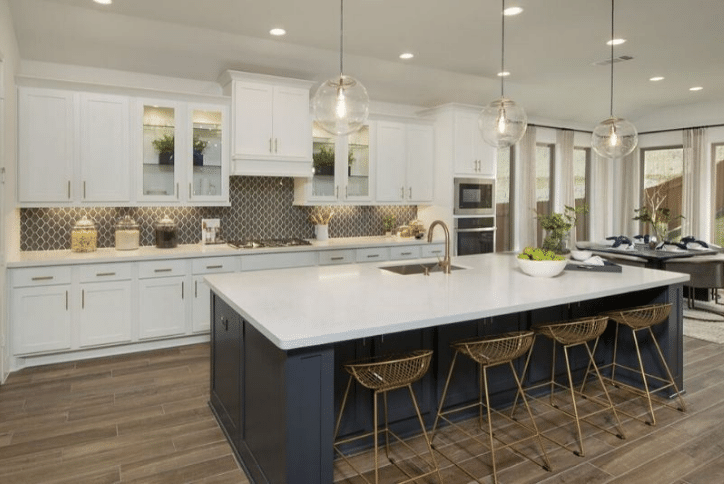 Need more white kitchen ideas?
Browse Newland communities and find your dream kitchen in a dream home in a community that matches your style and personality.