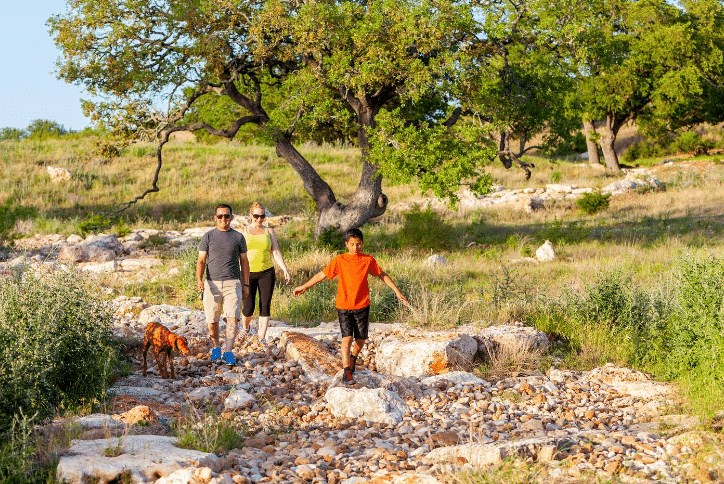 10 Reasons Rancho Sienna Residents Love Their Austin Community
From young families just starting out, to empty nesters scaling down for the time of their life, Rancho Sienna residents are a diverse group. One thing they all have in common: they love life here. Here are the Top 10 reasons why our residents love living in the Rancho Sienna master-planned community, offering move-in ready homes in Austin, Georgetown and the Liberty Hill Independent School District.
1. Over 100 Acres of Parks, Trails and Natural Open Space
From day one, Newland Communities envisioned Rancho Sienna as a scenic community where residents could make meaningful connections to nature. That vision has become reality through the master plan, which devotes more than 100 acres to parks, trails, recreational amenities and natural open space. Some of the community's most beautiful Hill Country terrain has been preserved in these amenities, for all residents to enjoy as often as they wish. Our two newest parks are Checkmate Park and Wilderness Park. 

2. Highly Regarded Liberty Hill ISD Schools
Rancho Sienna is proud to be part of the highly regarded Liberty Hill Independent School District, and we're most proud of our own onsite school, Rancho Sienna Elementary. Liberty Hill ISD has an overall grade of A from Niche, with As for Academics and Teachers. Rancho Sienna also offers an onsite preschool and daycare center, Primrose School at Rancho Sienna.

3. Leading Homebuilders Offer Variety
Rancho Sienna offers new homes priced from the $200,000s to the $700,000s and up by some of the leading homebuilders in Texas and the nation. From cottage-style traditional homes, to low-maintenance detached condominium homes, Rancho Sienna has new homes designed for many different stages of life. Distinct Hill Country architecture and spacious front porches make new homes in Rancho Sienna unique from other communities. Many neighborhoods offer scenic homesites with views of parks and greenbelts, so residents can enjoy Rancho Sienna's Hill Country beauty all day long. 

4. Sienna House
What's Sienna House? Think of it as a living room and front porch for the entire community. With its Hill Country style clubhouse and outdoor gathering areas under huge oaks, Sienna House is a place where residents gather throughout the year for festive events like Harvest Fest and the Back to School Bash. Outside, residents enjoy the fun pool complex, with its splash pad and giant water bucket. There's also a playground and basketball court. Residents can keep in shape with the fitness center and weekly classes in yoga, zumba and other activities.

5. Great Shopping & Dining Just Minutes Away
Check out our Local Flavor Guide to see our residents' favorite picks among the many shopping, dining and entertainment options near Rancho Sienna. There's plenty to see and do in nearby North Austin, Georgetown, Cedar Park, Liberty Hill and Round Rock. There are also many natural treasures to enjoy close to home, from Georgetown's iconic Blue Hole swimming oasis, to the unique Balcones Canyonlands wildlife refuge.

6. We Love our Environment
The 10,000-gallon cistern at the Sienna House is one of the most visible signs of Rancho Sienna's commitment to sustainable development. This gleaming silver cistern captures up to 80% of the rainwater falling on the roof of Sienna House, enough to irrigate the beautiful Hill Country landscaping around this community center for several cycles. Highly efficient drip irrigation and native landscaping are used throughout Rancho Sienna, and the community has one of the most active tree preservation programs in the Austin area.

7. Unique Parks & Trails
Rancho Sienna's many parks and trails offer unique local flavor. Sienna Trail Park is a great place to stroll through the wildflowers and take a break in a giant Adirondack chair. Greenleaf Park has a bird watching blind, picnic areas and sand volleyball courts. The Outdoor Dining Room offers al fresco dining with a bocce ball court. Overlook Park helps residents of all ages learn about the stars above. Big View Trail, part of an overall trail system that extends for nearly six miles, lives up to its name, with rugged and inspiring Hill Country views. Our newest park, Wilderness Park, is like three parks in one, offering a series of delights and surprises as you meander along a wooded trail.

8. Dogs Love Rancho Sienna
Rancho Sienna residents love their dogs, and that's reflected in the popularity of the Bark'N Park Dog Park, the most woof-worthy amenity in our dog-friendly community. Located next to a scenic pond with a peaceful pavilion, this park includes fenced play areas for large and small breeds, along with a water fountain and a dog wash station. The unique agility course features mounds and tunnels made from boulders, tree trunks and other materials recycled from the park site.

9. Convenient Austin Address
Rancho Sienna effortlessly combines Hill Country beauty with a convenient North Austin address, located along Ronald Reagan Boulevard, just south of S.H. 29. Residents can easily commute to downtown Austin and other major employment centers via the 183A Toll Road, Ronald Reagan Boulevard, Parmer Lane and Interstate 35. 

10. Fun & Festivals
Whether it's a community-wide festival, or a weekend gathering at Sienna House, fun is a way of life at Rancho Sienna. Residents look forward to annual traditions including the Spring Fling, the Harvest Festival, Chill Out Grill Out and the Back to School Bash. A fun lifestyle is one of the top reasons why Rancho Sienna has repeatedly won Community of the Year awards from the Home Builders Association of Greater Austin and the Austin Business Journal.