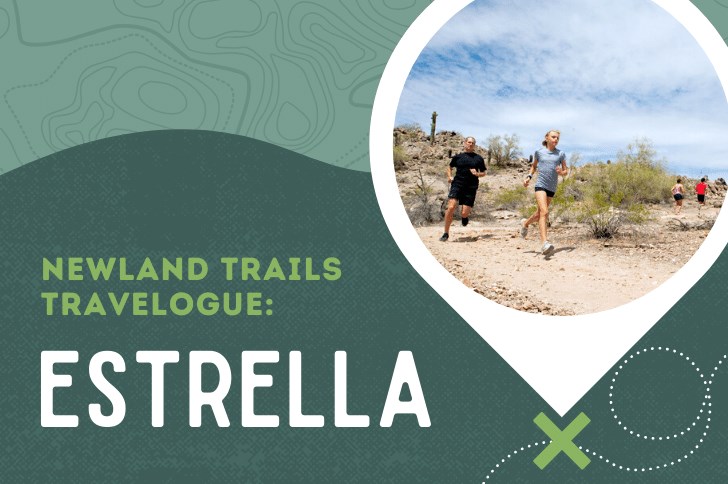 Trail Travelogue: Explore, Hike, or Run 50 Miles of Trails in Estrella
Residents at Estrella in Goodyear, AZ., never get bored with their outdoor workouts when they have so many options and miles to choose from in the community. And Estrella has made it a science creating trails and pathways for everyone to enjoy—over 50 miles of them with the one-of-a-kind scenery of the Foothills, Sonoran Desert, and Sierra Estrella Mountains.
Wheels, Two- or Four-Legged Friends All Welcome on the Trails of Estrella
Whether you like to get moving solo or with some company, Estrella offers the flexibility to hike with like-minded walkers with the Estrella Trailblazers hiking club or pointers on getting exercise for you and your pooch.
If you'd prefer your feet on pedals, the newest village of Lucero features not only 10 new trails perfect for biking but also Copper State Bike & Hike, which is conveniently located at Casa Lucero. Not only can they help you find the right equipment for your riding style and allow you to test ride new bikes, but the team also offers some basic bike servicing making it community convenient for those minor repairs.
Safety on Trails Is a Priority
Before you start off exploring the trails of Estella, make sure you have all of the right equipment to safely make the most of your time on these expansive pathways. Trail running can mix up your daily jog by strengthening your endurance, agility, and balance. Move your run to the trails with these helpful tips. If you decide to partner up with your dog and share an outdoor stroll, be sure to heed these safe practices to keep your furry friend fit and full of energy.
Before embarking on your trail adventure, be sure to download your map and guide to the trails of Estrella to keep you on track with your trek.
Are you hankering to be a part of the hiking scene in Estrella?
Learn more about the trails, open spaces, and parks in Estrella. Even better, find your home in Estella at Mountain Ranch, Montecito, CantaMia for 55+, and the newest village in Estrella, Lucero, and enjoy the trails whenever you want, right from your own backyard.