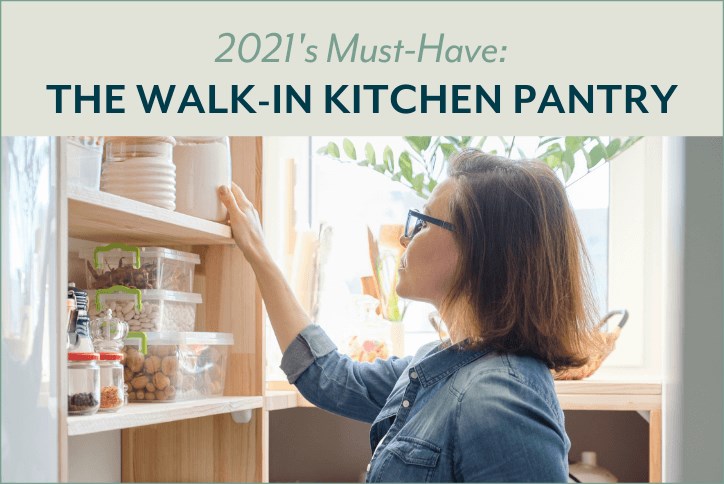 The Walk-In Kitchen Pantry Is A Must-Have for '21
Whether considered a luxury or much-needed pandemic essential, walk-in pantries are becoming increasingly popular for the new year - which would undoubtedly make decluttering and organizing experts Clea and Joanna from Netflix's The Home Edit happy!  
Today, a walk-in pantry has become the most desirable kitchen feature for home buyers, according to a survey published by the National Association of Home Builders in 2019. Last year, a report by the NAHB's economics and housing policy group found that more than 85% of new large homes (more than 3,500 square feet) featured walk-in pantries.
In Newland's Tampa market, homebuilders in Bexley and Waterset have certainly taken notice with more requests for storage and kitchen pantries. A well-organized and well-placed pantry can be a money and time-saver, eliminating duplicate purchases of misplaced or out-of-date items and eliminating the wasted time and steps searching for things.   
Hidden Pantries Highlight Kitchen Efficiencies in Bexley

Whether you subscribe to a neat and orderly pantry or one that has that 'used often' look, a kitchen pantry can be kept out of sight and still very functional. Consider the Avalon series of homes by Arthur Rutenberg Homes in Bexley. These homes feature a luxury kitchen with two-toned cabinets, a marble backsplash, an impressive kitchen island, and a hidden walk-in pantry. With ample shelving, these veiled storerooms make for aesthetically-pleasing functional storage space.
"The pantry is the first thing I look at when I'm looking through homes," explains Jessica Robinson, Marketing Manager at Bexley in Land O'Lakes, FL. "Storage space helps keep you organized, and a well-organized pantry keeps you from buying things you don't need or wasting food that you may have forgotten that you have."
Waterset Home Shoppers Want Walk-In Pantries

If you are touring new homes in Waterset in Apollo Beach, FL, you have an option to build a walk-in pantry. David Weekley Homes offers the popular Tangelo model in both Waterset and Bexley, allowing buyers the flexibility to customize their kitchen plan and include a walk-in pantry. As families stay home more, their storage priorities shift, making smart spaces and organization essential to smooth home operations.
"Families of all sizes love the extra storage space offered by a walk-in pantry. For many, a well-organized walk-in pantry is a new focal point of the kitchen," explains Lynda McMorrow, Marketing Manager at Waterset. "Walk-in pantries aren't just functional - these days, they're also beautiful."
Read More On: