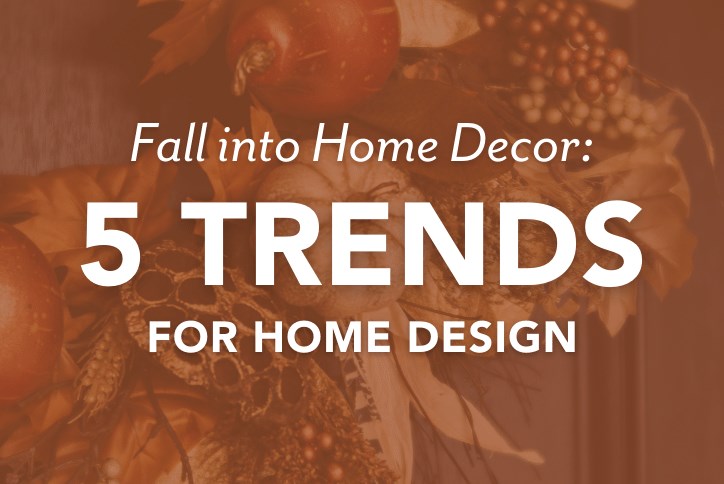 Fall Into Home Decor: 5 Trends for Home Design
Fall ushers in a list of welcome changes. Schedules return to a regular rhythm, hoodies and sweaters make a comeback, trees unveil their colorful leaves and soup is back on the menu. From apple flavors and pumpkin-spiced everything to football and fireplaces, there's a lot to love about the season. 
And what about your home? There's something about fall decor that makes it feel even cozier and more inviting. Whether it's a shift in color scheme, a new statement piece, or small touches around the interior or exterior, it's time to dig into fall design. 
Pinterest, bloggers, and interior designers offer endless inspiration for seasonal decorations. Here are some of the latest trends to help you get your house ready. 
Pumpkin Archways
Bold outdoor decor has traditionally been the realm of Christmastime, but the fall season has caught pace—and has the wow factor to show for it. Floral pumpkin archways add loads of seasonal curb appeal. They can be customized to complement the color of your house or your door, and you can use whatever textiles, flowers, and add-ons you like. 
Decorating with yellow
This list would be incomplete without mentioning the steady popularity of yellow accents. Although yellow is often associated with summer, it's also a perfect choice for an autumn palette and one of the most vibrant colors we see as the leaves begin to change. It works well as an accent color on pillows or wall art, and on a signature statement piece such as a sofa or chairs. For fall, a light mustard yellow is a great choice for however you choose to incorporate this color into your decor. 
Cool interior paint
Ocean blue and natural green are frontrunners for interior paint this season. When you paint your walls in these cool colors, your home suddenly feels more soothing—just in time for you to curl up in a chair to read or catch up on your favorite Netflix show. 
Porch lights
Who said lighting up your porch can't be done before the holidays? Pinterest is aglow with ways to light your porch for fall. Our favorite fall porch decor idea is this beautiful entry lit up with twinkle lights amidst layers of mums and pumpkins. What's great about this trend is it can be modified for entryways without steps, patios, or balconies. 
Fall trees
It might sound over the top, but see how beautiful a skinny Christmas tree can look decorated in fall colors. When done right, this trend adds a sophisticated touch to your fall decor. As with the light trend above, this home decor idea is also versatile. You can use two trees on either side of a fireplace, one tree in a corner or next to a chair, or even a few smaller trees for that layering effect.