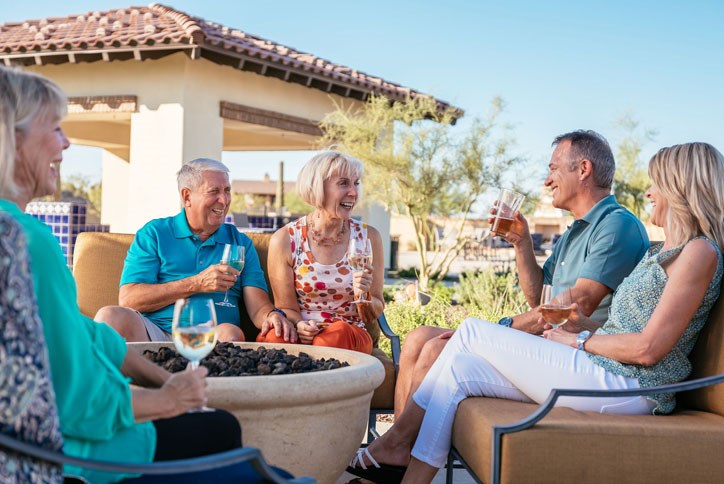 Newland closes on option contract with Joseph Carl Homes launching new Active Adult neighborhood at Estrella

Goodyear, AZ — Newland announced the newest neighborhood in Estrella today, CantaMia by Joseph Carl Homes, an active adult neighborhood specifically for residents 55 years and better. CantaMia will be Estrella's first active adult neighborhood, adding to the abundance of home choices and amenities already offered by the developer and enhancing the multi-generational demographic of the master-planned community.  
"We are very pleased with Joseph Carl Homes' addition of CantaMia to the Estrella community," said Greg Bielli, president of Newland Communities' western region. "We have always believed that an active adult neighborhood would be a good fit for Estrella and we are glad that it is finally coming to fruition." 
Estrella, which has been voted the number one master-planned community in Arizona by Ranking Arizona for four consecutive years, offers state-of-the-art amenities in a resort-inspired setting and features a wide selection of homes ideal for first-time homebuyers, growing families and empty-nesters. With the addition of an active adult neighborhood, there will be even more options for retirees and snow birds desiring Estrella's lifestyle.
CantaMia will be located at the southern end of Estrella and will occupy the development that was originally called Province. Joseph Carl Homes is planning to pick up where Engle left off, transforming Province into CantaMia, an innovative model of financial and environmental sustainability.
CantaMia is scheduled to celebrate its grand opening in mid-February, offering an active adult community with outstanding amenities and affordable home prices. Phase I of CantaMia at Estrella will consist of more than 600 home sites with a wide selection of single-story homes ranging from approximately 1,200 to 3,000 square feet.
CantaMia also plans to include its own recreation center, featuring indoor and outdoor swimming pools, a fitness center and tennis courts.  In addition to the neighborhood recreation center, CantaMia residents will have access to all of Estrella's unparalleled amenities, including the Starpointe Residents Club, Estrella Yacht Club, North and South Lakes and the Golf Club of Estrella.   
The word "CantaMia" artistically means "song of myself," which is fitting for the community's brand promise to help residents discover and live the songs of their lives.  CantaMia will be a visionary neighborhood focused on sustainable living and healthy relationships with the environment and others. 
Using the latest green construction practices, while offering affordable choices and amenities that encourage activity and connection, CantaMia will establish a new standard of innovation for adult living.  
"Joseph Carl Homes has built a solid team with over a century of accomplished leadership in the homebuilding industry and we are excited about the opportunity to become part of the Estrella community," said Carl Mulac, founder and CEO of Joseph Carl Homes. "CantaMia will offer home choices in tune with nature and will exemplify our commitment to sustainability, keeping with the high standards of the surrounding community."   
CantaMia is scheduled to celebrate its grand opening in mid-February; however, pre-sale opportunities will be beginning soon. www.cantamia.com