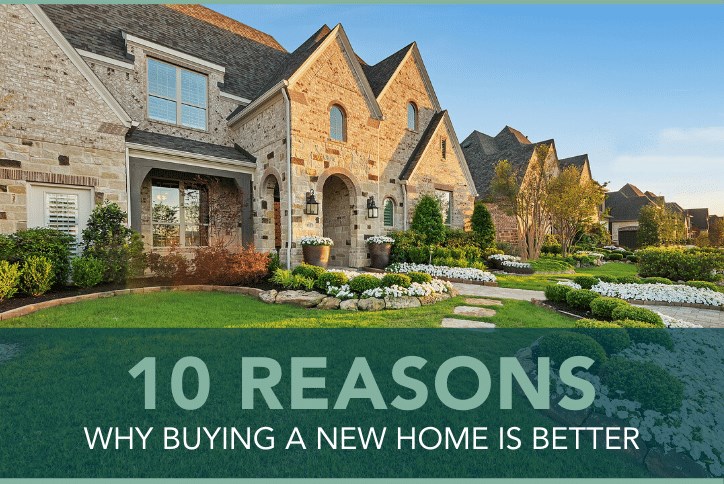 Why Buying A New Home Is Better
Purchasing a new, fresh, smart-technology enabled home is not only a good fit for your lifestyle but also the centerpiece of your well-being.
Have you ever noticed that the more time you spend in your current home, the more you start to notice the little things you'd like to change? And maybe it's the big things you can't fix with by ordering new drapes and pillows online? With the added stress of remote work, learning from home, and living in your house 24/7, do your daydreams turn to a bigger, more functional kitchen with smart appliances? Perhaps you've always wanted a front porch, or maybe you need a real home office in a more secluded area?
In a recent Marketwatch.com post on "New home sales edge upward in April despite coronavirus stay-at-home orders," homebuilders are shifting toward what consumers need post-pandemic. "As consumers spent long weeks at home, they discovered the value of additional space and updated kitchens," said George Ratiu, senior economist at Realtor.com. "As remote work policies are being extended into 2021 by a growing number of companies, and likely to become permanent in some cases, demand for home offices is projected to grow."
There is nothing like living in a newly-constructed home with finishes of your choosing and that first-time freshness. As the original homeowner, you create history and fashion how you want to live in a newly built home. Whether it's a dedicated dog-washing station for Fido or flex space that works for a classroom or home office, many homeowners are seeing the benefits of buying a new home.

Benefits of Buying a New Home in a Master-Planned Community
Master-planned communities (MPC) typically consist of many mindfully-designed neighborhoods, each offering one or more homebuilders, home styles, and price ranges. The "glue" that connects these neighborhoods is an overall lifestyle envisioned by the MPC developer and delivered through amenities, landscaping, resident activities, and more.
Newland has created MPCs for over five decades, creating communities for people who care about the connection of home, work, shop, and play. From the ground up, Newland envisions bringing to life communities where families live in the ways that matter most to them—places that are intentionally designed and created with the customer in mind and that only get better with time.
The 10 Reasons Newly-Constructed Homes Are Better?
Design Your Dream Home Your Way - Why settle for someone else's choices when you can select your favorite cabinets, countertops, appliances, carpets, and flooring? While you're at it, you can choose gorgeous bath and kitchen fixtures, lighting, and other options that you love. Your new home will reflect your style, not someone else's taste.


Floor Plans and Room Layouts Meet Your Needs - Want a master bedroom on the first floor? It's yours. With massive his and her's walk-in closets? Done! Want high ceilings and a luxurious, resort-style master bath? Perhaps you need a quiet space to manage online conference calls? It's easy when you build your flex space how you want it.


Homes Are All-New, Under Warranty – Having been home more lately, you may have noticed appliances, flooring, or cabinets that may need replacing. What's the cost to replace a roof, appliances, countertops, or a water heater in your home? Buying a newly-constructed home — and the products that comprise it — comes with brand-new everything--and its all under warranty. Those components of your new home feature the latest designs and building materials and should offer you years of comfort and enjoyment before needing replacement.


New Construction Yields Energy and Cost Savings - Today's new homes are far more energy-efficient than homes built just five years ago. Versus homes built ten or 20 years ago, it's game over, advantage new. Why settle for drafty, energy-wasting single-pane windows in a used home?


Improved Comfort and Indoor Air Quality - Today's new homes meet stringent energy standards and codes not in place in the past. They combine high-performance energy efficiency with state-of-the-art ventilation and air filtration. The result is year-round, draft-free comfort, and higher indoor air quality.


Low Maintenance and Upkeep - Today's new homes are made of cutting-edge building products that require less care and maintenance. Another plus? The latest building systems and components are designed and engineered to work together.


Well-being and Community Activities - Many new homes are constructed in master-planned communities where health and wellness, education, and social activities are built-in. Many new home communities feature hiking trails, protected open lands, and some of the best new schools and shopping near (or even within) your new home community. Newland communities also come together even when they may have to stay apart, offering neighbors support and kindness.


Advanced Technology and Design - It's costly to replace dated appliances, cabinets, windows, landscaping, and countertops in a used home — and you still may not get it exactly how you want it without remodeling your space. If you build a new home, you can have it your way, reflecting the way you want to live.


Safety and Security - State-of-the-art circuit breakers. Electric garage door openers with infrared beams that stop if a tricycle or child is too near. High-efficiency furnaces and air conditioners that use the latest environmentally-friendly coolants. For your loved ones, peace of mind may also come through video monitoring of your home.


That "New Home" Feel - A used home may have been fine when starting out, but that was someone else's dream, not yours. It reflects another family's choices and is not unique to the memories you want to create with yours. You may learn to love outdated appliances and be willing to scrub stained countertops, but more and more people prefer that never lived-in feel.



Find Your New Home in a Newland Community
Today's new homes are built for how you live and where you want to live. Sometimes it is hard to get your head around actually building a new home. Stop daydreaming of owning a new house and take a tour of all of our Newland communities and begin building home.
Want to move faster? Research "Quick Move-in" homes. These spec or inventory homes have already been completed or nearing completion and are available for immediate sale and occupancy—a perfect alternative to someone relocating for a job or not wanting to wait for the construction process.