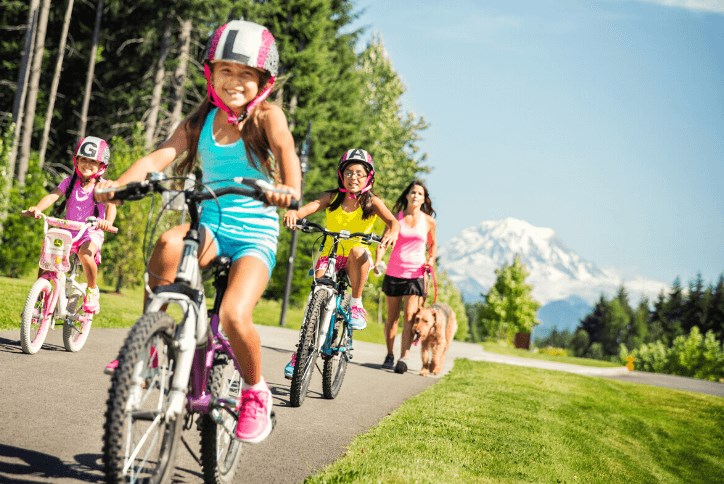 Why Choose to Live In A Master-Planned Community?
Even in times of social distancing, feel-good news focuses on neighborhoods coming together for drive-by birthday parties and grocery shopping for others, which is a valuable part of living in a community. Research proves that for human beings to thrive, they need to feel a part of community self-selecting when and how they engage.
For home shoppers, how you live matters as much as where you live. Whether a family with children or an empty-nest couple enjoying retirement, both value the kinship and location of a community. Living in a master-planned community blends individual preferences within a collaborative ecosystem, where the overall quality of life is greater than the sum of its parts.

Master-Planned Community Defined
A master-planned community (MPC) typically consists of many mindfully-designed neighborhoods, each offering one or more homebuilders, home styles, and price ranges. The "glue" that connects these neighborhoods is an overall lifestyle envisioned by the MPC developer and delivered through amenities, landscaping, resident activities, and more.
Newland has created MPCs for over five decades, creating communities for people who care about the connection of home, work, shop, and play. From the ground up, Newland envisions bringing to life communities where families live in the ways that matter most to them—places that are intentionally designed and created with the customer in mind and that only get better with time.
Five Key Ingredients of an MPC
Residents are flocking to MPCs because of the many benefits they offer. Here are five elements of a Newland master-planned community:
Community Built Into a Neighborhood - A master-planned community often feels like a self-contained environment of work, live, learn, and play. All within proximity are schools, employers, entertainment, shopping, and recreation which builds connections.


Amenities at Your Convenience. An MPC devotes hundreds of acres to recreational amenities, knitting neighborhoods and residents together with a strong sense of "community." From parks and trails to pools and fitness centers, Newland creates amenities that focus on health and wellness.


A Lifestyle Designed for How You Want to Live. Years of envisioning and planning go into the development of each MPC. The best MPCs strive to design and anticipate an overall lifestyle for residents. For Newland, the framework is set, and residents of a community build-out what they want in their neighborhood. Lifestyle directors add programming, create social events, and schedule activities to make each Newland community a special place.


The flexibility of Home Choices – Master-planned communities offer a wide variety of homebuilders, price ranges, and home styles to suit a variety of tastes and needs. With such variety, an MPC attracts a wide variety of residents, including first-time buyers, move-up buyers, and those who want to scale down. The result is a diverse community, where longtime residents can move up or scale down to new homes that fit their current needs while keeping their friendships.


Capitalize on Your Housing Investment. It's tricky to predict the growth or stability of property values. A baked-in lifestyle, resort-style amenities, and planned common area upgrades and upkeep are a few reasons why some analysts predict an appreciation of home values in MPCs. According to the Urban Land Institute, "Residential master-planned communities have traditionally performed better than general subdivisions in terms of sales volume and value appreciation."
MPCs Are Adaptable
MPCs are typically self-contained environments that can offer residents much more assurance of their future surroundings as well as when the unexpected happens. For long-term planning, MPCs usually designate land along major thoroughfares, typically along the edges of the master plan, for mixed uses such as retail, office and medical space. This provides convenient onsite services for residents and neighboring communities. MPCs create strict architectural guidelines for the construction of new homes and alterations of built homes, along with covenants for maintaining landscaping. The goal is to create both variety and cohesiveness, for an overall look that is visually pleasing.
And in the case of the COVID-19 pandemic, MPCs offer some reprieve from congestion and crowds, but also some ways to connect while social distancing.

1. Enjoying the Outdoors for Health and Well-Being - Families, joggers, walkers, teenagers looking for sanctuary and stroller warriors dominate the paths and trails continually, rain or shine. While some of the "active" parks and playgrounds cannot be accessed because of 'stay' orders, the "serenity" parks are more conducive to families spending time outdoors with little interactions between groups. At Embrey Mill outside of Washington DC, the 7 miles of wooded trails and 2 miles of asphalt paths are continuously used.


2. Unexplored Places and Play Off of the Beaten Path - Residents also have a new-found love for exploring the natural woods and preservation areas. They have literally gotten OFF the beaten paths and found old logging road and vast stands of pine trees to enjoy forest-bathing. Families can explore together, or residents can hike solo for when they want to be more with nature and solitude.



3. Front Porches Let Neighbors Connect While Social Distancing - The front porch that has long been a standard home design feature has been the hub of our residents' social lives in some Newland communities. It has allowed neighbors to retain their connection to each other while staying at their own house. Seven years ago at Nexton in Charleston, SC, porches were intentionally designed to be a minimum of 8' deep, ensuring plenty of room for some rocking chairs, joggling boards, and a porch swing. Neighbors have had porch sing-a-longs, painting parties, chalk art, and #frontporchproject portraits.

4. Enjoying Outdoor Views - As people are searching for respite in the outdoors, they are also seeking areas in the community, they can enjoy great views of nature. Whether it's enjoying a walk along the Cape Fear River or enjoying stunning views of Mount Rainier, residents can find open spaces to enjoy. At Tehaleh in Pierce County, WA, the space on the front patio and beyond has become popular social distancing location in the foothills of Mount Rainier. 



5. Places for Teens – Also at Tehaleh, The Edge, a popular skate park, is populated with masked teens letting off some adolescent steam as they glide in around the course.
6. Take-Out at Cafés Provide Comfort - The coffee shop carry-out style has been a true respite for people, just as it's always been but even more so now. It's familiar—the baristas care about residents and how they're doing—and it's available and reliable.


Innovation Drives MPCs and Virtual Homeshopping
Newland has fast-tracked many of the innovations and transformations that were previously in the works to help home shoppers research communities, builders, home floorplans, and resident reviews. After temporarily closing our welcome centers per state, county, and local orders, we expanded our use of technology to meet the customer where they are in their homeshopping process. Here are five safe and convenient homeshopping tools you can access before ever leaving home:
Virtual Tours – Explore Online Before Going Onsite - Cutting-edge technology allows walk-throughs of our model homes and amenities, just as if you were there.


Live Chat for Answers to Your Questions - Have a question that needs answering now? Chat with us online.


One-Stop Online Shopping Portals - Virtual hubs serve as a useful jumping-off point for home shopping with homebuilder details, useful links, and how residents feel about living in the community.


Schedule Timesaving Appointments - Using an online appointment scheduler, you can easily schedule your community overview.


Homefinder & Mortgage Calculator – Where home meets budget and, in many ways, a convenient way to do online home shopping and learn everything a community has to offer.
To learn more about virtual homeshopping, visit Newland's Top 5 Safe And Convenient Online Home Shopping Tools. After that, look for the house of your dreams in a Newland community you'll love. Browse all of our communities to find your new home from home.