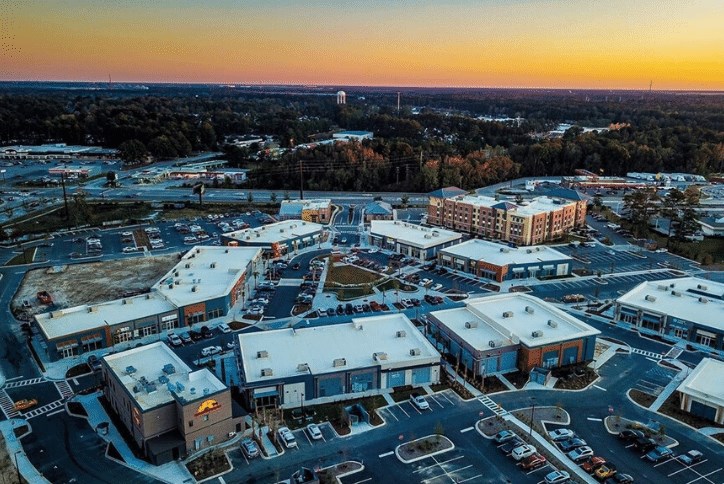 Nexton Marks 1,000th Home Sold
From pine forest to an award-winning community, Nexton sets new standards in the first five years of development
The 1,000th house recently sold in Nexton, an award-winning Newland community in Summerville, SC, just 25 minutes from Charleston.
The mixed-use community broke ground in 2015 with a vision to build a community for the way people want to live today – more healthfully, more efficiently, and more connected. "We have a true vision, but more importantly, we have cornerstones at the heart of everything we do," Brent Gibadlo, Vice President and General Manager of Nexton, shared in 2018. "I want people to see Nexton and think we raised the bar for how people live, particularly in the Charleston region."
The market – and Nexton's peers – responded favorably to the approach, allowing the accolades, homes sales, and other wins to pile up. Most recently, Nexton was awarded Best Mixed-Use Community by the Charleston Home Builders Association.
Live, work, play at Nexton equals more time for families
Nexton's interconnected design aims to make life more convenient, allowing people to spend less time in their cars and more time doing the things they love – spending time with family and friends.
"In today's uber-busy world, simple efficiencies like having restaurants, shopping, and schools within walking (or go-carting) distance makes a big difference in the quality of life," said Cassie Cataline, Nexton Marketing Director. "Homeowners get so much more than a house here; they get an instant lifestyle upgrade."
Nexton has partnered with famed Charleston-area brands like Halls Chophouse, Taco Boy, and Poogan's for their central shopping and dining district. Nexton Square includes more than two dozen local and regional restaurants, retailers, and services – from a donut shop to an orthodontist.
Dozens of employers, and more to come, also call the campus home, allowing residents the option of walking or biking to work.
And one of the region's largest conference centers just opened up in the community, a much-needed amenity that benefits the Charleston area as a whole.
Homes types for all
The housing options at Nexton are diverse, too. Three neighborhoods – including 55+ brand Del Webb – include home styles and floorplans from eight different regional and national builders.
"There's no 'standard' Nexton homebuyer. They range from single millennials to active adults into their 80s or 90s," said Cataline. "So finding partners that we knew could offer the options and variety needed to suit any demographic and stage of life was crucial."
Del Webb Nexton also took home significant accolades at the 2019 Charleston Home Builder Association awards – including Best 55+ community.
What's next for Nexton
With five years of development and 1,000 home sales under its belt, Nexton is poised to take on the next 10-15 years of development with aplomb. Ultimately, 7,000 homes will fill the former pine plantation.
"Nexton is changing the way development is done in the Lowcountry," Cataline said. "We hope to raise the bar for the way all people in Charleston live."