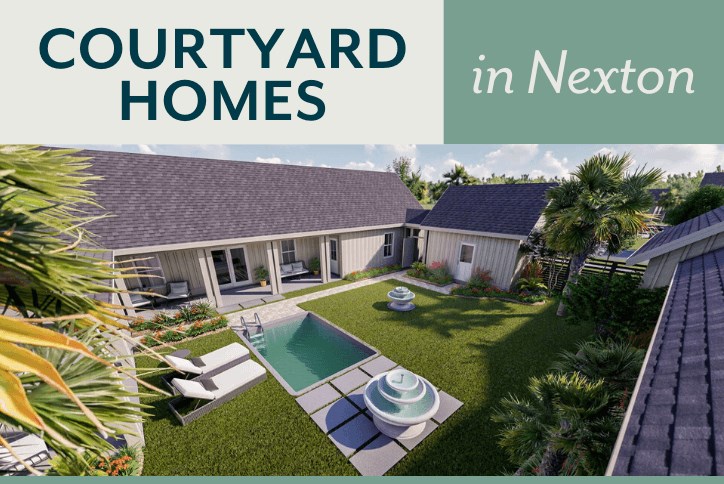 Innovative Courtyard Homes Capture the Attention of Shoppers in Nexton
Newland's focus on residents, homebuilders, retailers, and economic partners begins with a vision and a dedication to building a diverse community for how we live today and in the future. Understanding what homebuyers want is the key to creating great neighborhoods and building community.
The saying goes, "what's old is new again," even drawing on architecture principles from 2,000 years ago. Charleston-area Nexton, an innovative and walkable mixed-use community in South Carolina, welcomed New Leaf Builders and their innovative courtyard homes specifically designed for Nexton.
Mindful Community Planning

"Our vision for Nexton is to focus on what the homebuyer wants and to deliver not only on a community that offers miles of trails, pocket parks, shopping, and amenities but also the individuality of the homes," explains Nexton Vice President of Operations Brent Gibadlo. "At Nexton, we have thoughtfully selected innovative homebuilders to be part of our community, and these builders offer homes designed to take advantage of the Lowcountry's mild climate with unique outdoor spaces.
It's precisely why home shoppers are flocking to the Brighton Park neighborhood of Nexton with comments of "it's so different," and "very clever design." Careful consideration for sightlines, privacy, and the ability to customize home designs has attracted local and out-of-state home seekers. In fact, this first residential neighborhood of Nexton is nearing completion.
Courtyards with Class
Rooted in classical Roman architecture, the domus was an urban villa featuring an open courtyard of peaceful gardens and pools used to host guests outdoors. The style allowed for entertaining while also adding in some privacy within ancient Greek cities. New Leaf Builders modernized the concept by giving each home in the Domus Collection a private fenced courtyard to provide a unique indoor-outdoor living experience.

"Today's homebuyer wants flexible spaces with seamless transitions from indoor to outdoor living," says Adam Baslow, co-founder of New Leaf Builders. "Each home in the Domus Collection at Nexton builds on this idea with private courtyard entrances that create a unique sense of arrival that can't be found anywhere else in the Charleston region."
Agent Glen Wilkes of New Leaf Builders sums up the uniqueness of the Domus Collection in three ways: a private courtyard that is turnkey; an option for a detached garden shed, cabana, or casita; and the quality of the construction and design. "We put a lot of thought into room sizes, window size and placement, and how natural light will fill the room," explains Wilkes. "Our courtyard design maximizes the space down to every inch indoors and out. In the end, it is all about how homebuyers envision how they will live in the home. And honestly, people who view the model home 'get it' right away as it has very wide appeal for first-time homebuyers, multigenerational families, and those looking to downsize." 

The Domus Collection at Nexton offers a lot of flexibility with options of 1,420 to more than 2,500 square feet, yards large enough for three sizes of pools, and a choice of a garden shed on up to a casita complete with a bedroom, living room, kitchenette, and full bathroom. Nearly sold out, a new phase will be released in late 2020. Virtual tours of Domus Collection are available to look around and get a feel for how you might live there from the comfort of your home.
A Bigger Idea of Home
Once settled into your New Leaf Builders' Domus home, it's time to feel the hometown energy that is the community of Nexton. Neighborly by nature, Nexton offers miles of trails, parks, pools, and general well-being in the shape of classes, clubs, and events. Education is mission-critical with top-notch K-12 schools and local universities. The walkability of a community is so important, which is why Nexton Square is residents' first stop to shop, dine, and enjoy their spending time with their neighbors. Nexton really is where it all comes together for front porch waves, inspired healthy living, creative play, and community spirit in the Lowcountry.
"We've had great success in Nexton," says Wilkes. "The development team at Newland has a real vision for Nexton, and as a builder or resident, I would choose Nexton. Anyone looking for a great neighborhood in Summerville should make their first stop at Nexton."